Regardless of the occasion, finding the perfect gift for someone you love can pose itself as quite the challenge. Maybe you're searching for a way to surprise your sweetheart. Perhaps you'd like to treat newlyweds with something extraordinary. Rather than settle for the expected, consider gifting them one of the best travel gift certificates! Select Registry's gift certificates give people the opportunity to stay at the destination and the property of their choosing! Whether you're celebrating a holiday, birthday, anniversary, etc. you can't go wrong with the gift of travel. 
The Best Travel Gift Certificates for Someone With Wanderlust
Who doesn't love an excuse to get out of town? We all know someone who needs a vacation. Make it easy for them by giving them a Select Registry gift certificate, which can be used at any one of our hundreds of properties across the United States. 
3 Reasons to Give Someone a Select Registry Gift Certificate 
1. Hundreds of Properties to Choose From 
One of the best reasons to give someone a Select Registry gift certificate is that they will have hundreds of properties from which to choose. From the East Coast to the West, our properties adorn beaches, mountaintops, farmland, vineyards, and more. Guests can find their home away from home in a romantic mansion on a hillside or a cozy yet luxurious cabin in the woods. They can also find respite in a historic, Queen Anne Victorian-style home in New England or a spacious ranch with views of the Pacific. 
2. An Opportunity to Visit the Trendiest Travel Destinations in the US
Give someone the chance to cross some items off of their bucket list! If they're yearning to live lavishly and lushly, they can visit California Wine Country. If they're hoping to travel along the Blue Ridge Parkway, they could plan to stay in the NC Mountains. Send someone you love to one of the most popular vacation destinations in the US. 
3. Quality-Assured Stays, Personalized Service, and Unforgettable Experiences 
In addition to offering a wide variety of properties across the country, the Select Registry brand also serves as the industry's quality seal of approval! You can rely on our properties and their respective innkeepers to ensure your stay is one for the books! 
Don't Just Book. Stay Select.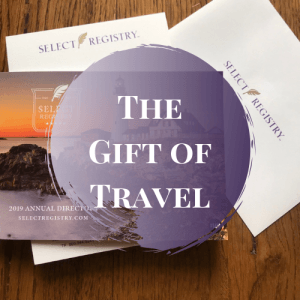 Select Registry offers the best travel gift certificates for those seeking to surprise their loved ones with the ultimate gift. Giving someone the chance to get out of town and enjoy a trip is a meaningful gift they will remember for a lifetime. Our properties aim to welcome guests and serve as an ideal destination for the ultimate vacation.