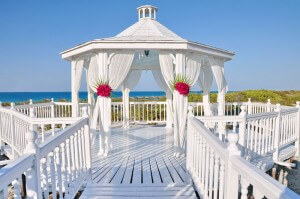 You don't have to be a millionaire to have a wedding that makes you and your guests feel like royalty. Our Select Registry Inns boast some of the most exceptional settings in which to take your vows and celebrate the event, with hospitality that matches the finest and grandest hotels in the nation. Below you will find just a few selections that will help you create the right magic for your wedding, without having to break the bank.
The Iris Inn Bed & Breakfast
This gorgeous inn in Waynesboro, Virginia overlooks the Shenandoah Valley, with vistas that defy the imagination. Sitting on 12 acres, the Inn is surrounded by 28 wineries within a 30-mile radius, making it an exceptional destination for those who enjoy the good life.
With the generosity, warmth, and great service it is known for, the Iris Inn is the perfect environment for hosting and entertaining your wedding guests. Guestrooms come with decks opening out to a majestic view, and you can even book the new contemporary tree house suite that features every amenity you could wish for, including a hot tub on the screened in porch and a fully equipped kitchen.
Your wedding party can be held indoors or out, with a maximum of 44 guests indoors for a seated dinner and additional tables placed on the outdoor covered decks if you need more space. If you wish to have a reception using the outdoor decks, dining room, great room, and library, the Inn can comfortably accommodate up to 75 people. With a wide variety of dinner menus to choose from, the low per-person price in addition to the affordable venue cost makes the Iris Inn a great destination for anyone looking for a classic celebration that stays within budget.
The Barn Inn Bed and Breakfast
Millersburg, Ohio is Amish country, where you will find this comfortable and charming traditional Inn. Only two hours from Cleveland and Columbus, the Inn features lovely guestrooms with luxurious beds and linens, private baths, and great amenities. For the most royal members of your wedding party, there are six magnificent suites available, coming complete with jetted tubs or Jacuzzis.
The restful, serene setting makes the perfect frame for an intimate wedding where all of the details are handled impeccably, including an Amish style reception. With horse-drawn carriage rides, farmer's markets, handicraft shops, and other traditional sites nearby, your guests will enjoy the chance to bask in another world before and after the festivities.
The Villas at Gervasi Vineyard
Perched on a 55-acre estate, The Villas at Gervasi Vineyard are located on a most exquisite landscape in Canton, Ohio. This Tuscan-inspired locale features luxurious guestrooms where guests can enjoy 24 luxurious villa suites at The Villas, the boutique bed & breakfast in Gervasi Village. Reserve an entire villa or individual suites, each uniquely decorated to create the perfect ambiance, and you will be accommodating your wedding party in style.
The Villas at Gervasi Vineyard makes an exceptional wedding destination with its cozy fireplaces, stucco walls, rustic wooden details, and rustic yet sophisticated ambiance. Seating up to 200 can be arranged at The Pavilion, overlooking the spring-fed lake and the thoroughly picturesque grounds. You can also choose the indoor Villa Grande for a more intimate wedding, with room for up to 120 guests. At the south end of the lake, this is a jewel of a setting, also with magnificent views.
While at the Villas, guests can explore the grounds or experience some of the ritual wine tastings at the vineyard. The European feel matched with the gracious hospitality and attention to service offered will make your day more than complete.
The Stonefort Inn
Charm and history come together in this delightful 1909 limestone and brick Inn located in Chattanooga, Tennessee. Here you will have your pick of 15 luxurious guestrooms, each boasting their own unique personality. With exceptional amenities, the Inn makes a magnificent choice for small weddings and receptions.
The refined setting is perfectly comfortable for up to 150 guests, and provides the bride and the wedding party upstairs guest rooms in which to prepare for the event. Have your rehearsal dinner here, as well as your bridal shower luncheon or brunch, enjoying the company of friends and family in a relaxed and elegant setting.
At the Stonefort Inn, the focus is on one event at a time, so yours will receive full attention, from planning to completion. After consulting with you in regard to your vision, the Inn will provide you with just the right seating and service options, with the Chef creating a feast that defies expectation. A full bar with beer, wine, and mixed drinks is available, as are bridal suites with their distinctive décor. And with Chattanooga functioning as the beautiful backdrop it is, your guests will find many interesting things to do in town before and after the celebration.
Glynn House
In Ashland, New Hampshire right in the heart of lake and mountain country, this romantic and elegant Victorian Inn shines like a beacon. With its top-tier hospitality, the Inn offers 12 spacious guestrooms with all that you could desire, including eco-friendly amenities, plush robes, and a sense of comfort and ease that puts you at your best. Book one of the eight deluxe suites, and enjoy a double whirlpool spa along with a separate sitting room, so perfect for a bride and groom.
For an exceptional intimate wedding, Glynn House offers the Grand Hallway or Sitting Room in which to enjoy the celebration. Catering is offered for up to 30 people, and you can also opt to have the Inn supply you with flowers, as well as a wedding photographer. Book your rehearsal dinner and bridal shower here to get the full benefit of the exceptional setting and low prices. With art galleries, fine dining, and exciting outdoor activities, your guests can enjoy the surrounding areas before and after your event.
For more information on low budget wedding venues and great bed and breakfasts in Ohio and  throughout the U.S., please contact us today!