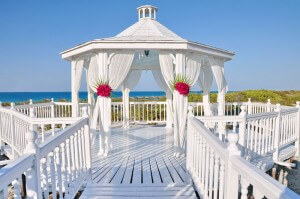 You don't have to be a millionaire to have a wedding that makes you and your guests feel like royalty. Our Select Registry Inns boast some of the most exceptional settings in which to take your vows and celebrate the event, with hospitality that matches the finest and grandest hotels in the nation. Below you will find just a few selections that will help you create the right magic for your wedding, without having to break the bank.
The Villas at Gervasi Vineyard
Perched on a 55-acre estate, The Villas at Gervasi Vineyard are located on a most exquisite landscape in Canton, Ohio. This Tuscan-inspired locale features luxurious guestrooms where guests can enjoy 24 luxurious villa suites at The Villas, the boutique bed & breakfast in Gervasi Village. Reserve an entire villa or individual suites, each uniquely decorated to create the perfect ambiance, and you will be accommodating your wedding party in style.
The Villas at Gervasi Vineyard makes an exceptional wedding destination with its cozy fireplaces, stucco walls, rustic wooden details, and rustic yet sophisticated ambiance. Seating up to 200 can be arranged at The Pavilion, overlooking the spring-fed lake and the thoroughly picturesque grounds. You can also choose the indoor Villa Grande for a more intimate wedding, with room for up to 120 guests. At the south end of the lake, this is a jewel of a setting, also with magnificent views.
While at the Villas, guests can explore the grounds or experience some of the ritual wine tastings at the vineyard. The European feel matched with the gracious hospitality and attention to service offered will make your day more than complete.