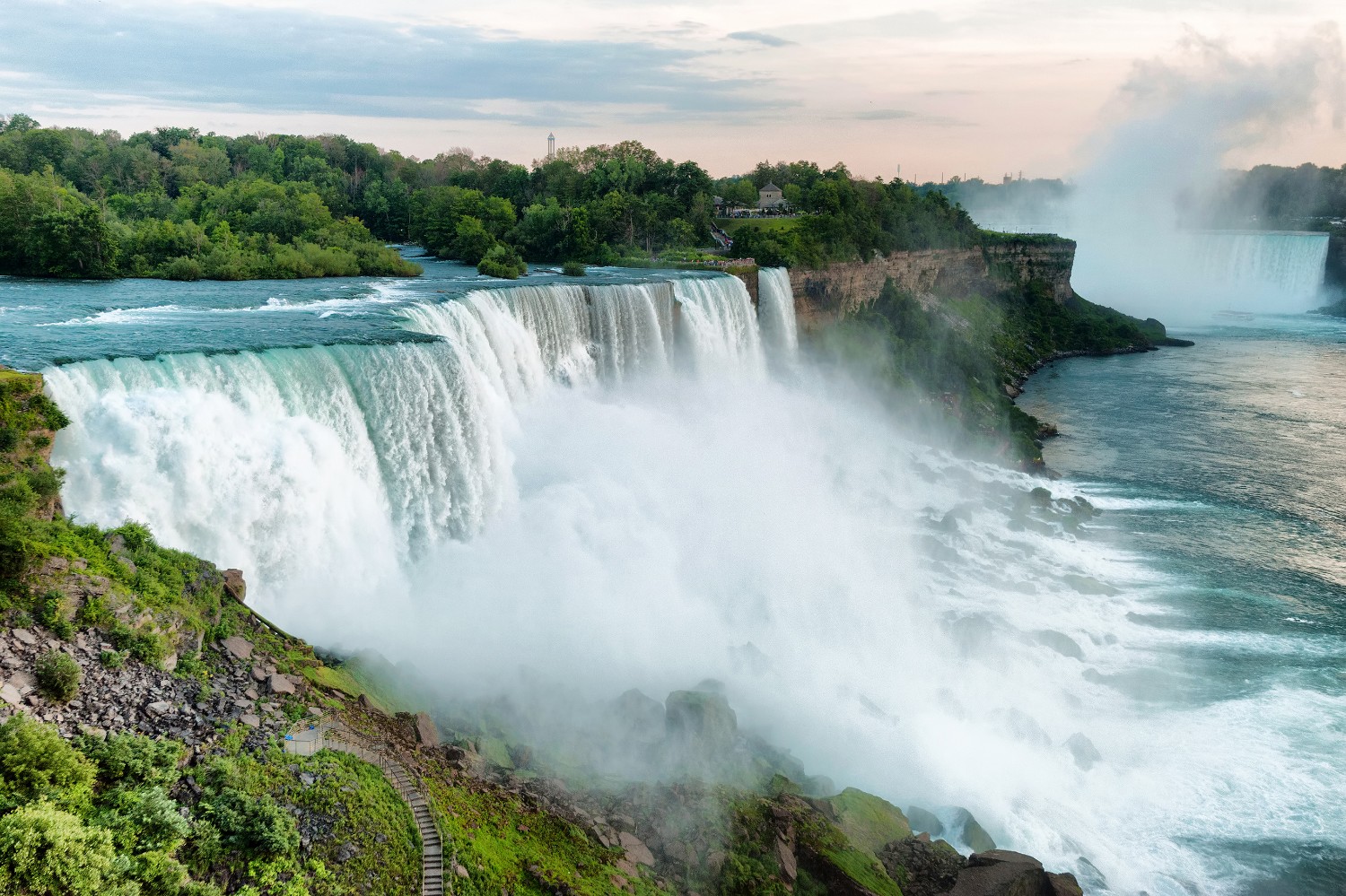 Home »
1

property in
Niagara Falls
Welcome to Niagara Falls, NY
Head to Niagara Falls, NY, for an experience you can't get anywhere else. This destination in Western New York takes "scenic" to a whole new level. If a trip to the Falls isn't on your bucket list yet, it's worth adding.
Check out stunning views of the three major waterfalls along the Niagara River. Watch the water crash over the American Falls, Horseshoe Falls, and Bridal Veil Falls. With so many remarkable attractions and fun activities, it's no wonder this city is a popular tourist spot. Read on to find out everything you need to know for a spectacular trip to Niagara Falls!
Things to See & Do
The city of Niagara Falls has endless options for excitement and adventure. Make memories to last a lifetime by exploring some of them! Of course, we recommend starting off with an up-close look at the waterfalls. Step aboard the Maid of the Mist for a unique trip on the water. This company has several years of experience bringing passengers along for incredible tours. Be sure to use the poncho they provide; you might get splashed!
If boat tours aren't for you, feel free to explore the area on walking paths, bridges, and observation towers. Head over the bridge to Goat Island for a remarkable vantage point between the major waterfalls. Bring your camera with you and snap scrapbook-worthy photographs from Terrapin Point.
A little further north, visit Niagara Falls State Park. Frederick Law Olmsted, the designer of Central Park, created this 400-acre area. Go on a peaceful stroll through the trails, spot fascinating wildlife, walk through gardens, and even take a ride on the Niagara Scenic Trolley. On certain evenings, you can see fireworks shows and the waterfalls lit up in beautiful colors!
Where to Eat & Drink
After a long afternoon of exploration, get some food at one of the many restaurants nearby. Grab a quick bite to eat at a cafe or sit down for a delicious, three-course meal. For great food with views of the Falls, get a table at Top of the Falls on Goat Island. Order from their menu of burgers, wraps, soups, desserts, and more. This seasonal restaurant is open from May to September and is well worth a trip.
Best Time to Visit
We recommend visiting Niagara Falls in the summertime when days are warmer, and many of the attractions open up to the public. This season creates a perfect opportunity to take a boat tour and feel the cool mist. Fall visits are also excellent for hikes through the state park when the leaves are changing colors. While some parts of the area close for winter, you can still check out the Falls for a unique mixture of splashing water and layers of ice.
Where to Stay
Do you need a place to stay so you can enjoy the wonders of Niagara Falls? You're in luck! Select Registry has excellent options in Western New York within driving distance of the city. Stay at a charming bed and breakfast near Niagara Falls, NY, and wake up to fresh breakfasts, elegant decor, and lush gardens. You can even stay at a top-notch hotel and spa to relax after your day trip. Everyone should experience Niagara Falls at least once in their lifetime. Explore our lodging options below and book your adventure today!