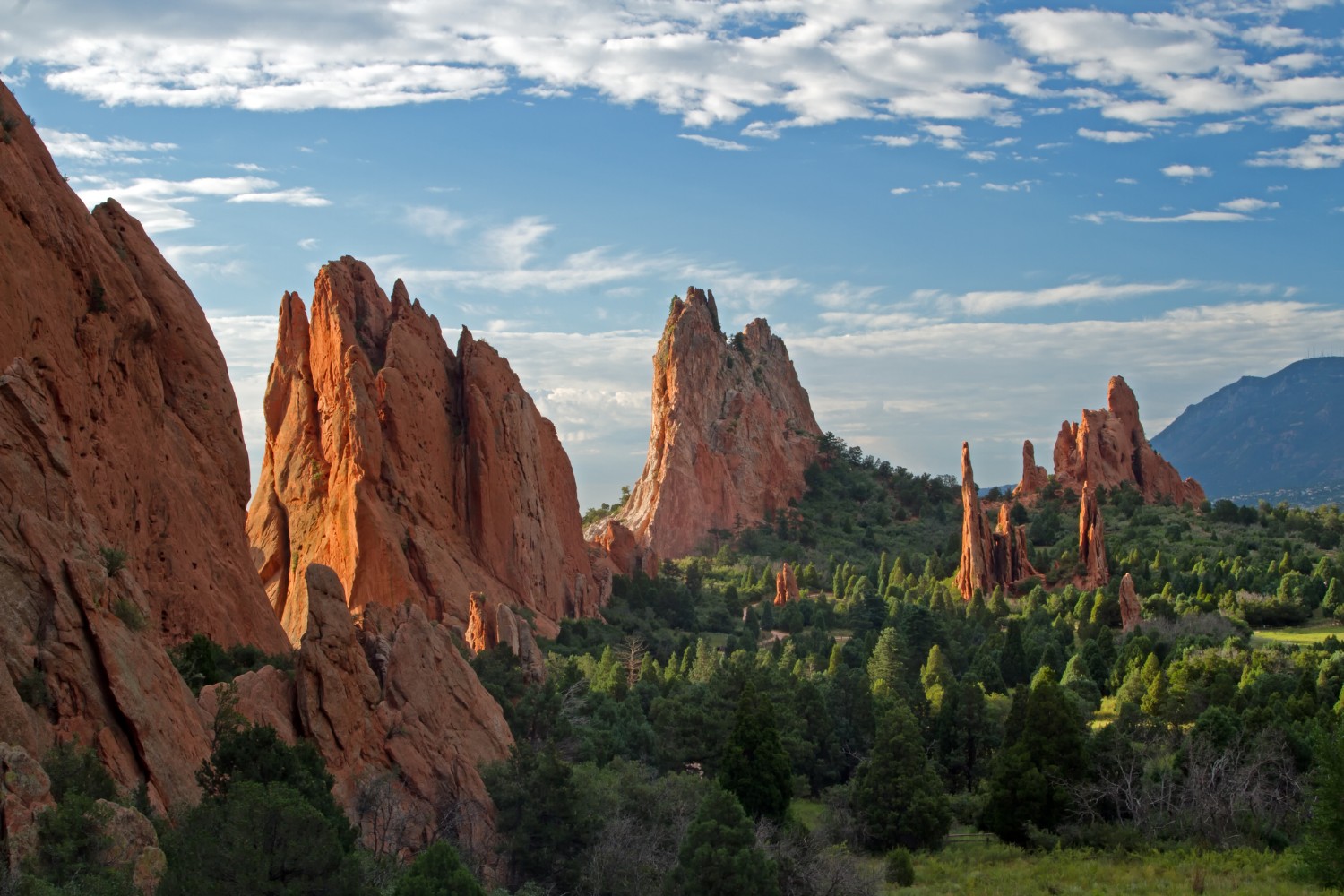 Home »
Colorado Springs Bed and Breakfasts & Inns
Welcome to Colorado Springs
Nestled at the foot of the Rocky Mountains, Colorado Springs is a city made for people with an outdoorsy and adventurous spirit. It is the largest city in the state of Colorado and offers a unique traveling experience for couples and families. Imagine yourself hiking in the lush forests or climbing on the red rocks. Let the stunning beauty of the desert and the slow pace of life wash away all your worries. Witness the high peaks of the mountains spring from the ground before your eyes!
Bed and Breakfasts in Colorado Springs are like the city: warm and friendly. Happiness is a way of life here, and the sun that shines on people's faces translates into their actions. How could it be otherwise when every time you step out on your doorstep you get to see the big blue mountains, endless hills, and green plateaus? It's one of America's treasure, and you have to see it at least once in your life. You will never be the same afterward, we promise.
Experience wilderness like never before and embark on the adventure of your life when you stay at any of our bed and breakfasts in Colorado Springs!
Things to See & Do
Colorado Springs offers a wide variety of outdoorsy options from hiking and biking to climbing and even skiing in the winter, there is so much to do and see! Go on a romantic adventure with your significant other or take your family on an unforgettable trip to our Colorado Springs bed & breakfasts! When it comes to hiking, you'll start your journey in the Pikes Peak region right at the foot of the peaks and make your way up as you witness a jaw-dropping natural setting. You'll be blown away by the vibrant colors of Red Rock Canyon, moved by the scenery at the lovely Cheyenne Mountain State Park, and marvel at the hidden tunnels and waterfalls of Bear Creek Canyon. Colorado Springs is heaven for athletes and nature lovers. You can spend your days mountain biking on the 80+ miles of bike trails, climb on the mountain rocks and boulders. Garden of the Gods offers some of the best trails to bring your bike on or a rental electric bike. It's also a fantastic place for hunting. You can find a large variety of doves, pheasants, geese, wild pigs, deer, elk, and more! If you're wanting to change up your pace of exploring nature's wonders here, visit one of the many museums in the area including the Ghost Town Museum and the Western Museum of Mining to learn more about the how the city evolved. You're on vacation, so why not do a little bit of shopping? Downtown Colorado Springs and the historic Old Colorado City feature some of the finest high-end boutiques and locally owned shops. There's a world of adventure and new experiences awaiting you in Colorado Springs!
Where to Eat & Drink
When the sun goes down, take a walk downtown and enjoy Colorado Springs' exciting nightlife! Restaurants offer delicious and fresh food straight from the field! Try the famous flavors of the Rocky Mountains such as Palisade peaches, green chili, Colorado lamb and even Rocky Ford Cantaloupes! Try the newest cocktails or original craft beers at the various bars and distilleries and relax in a laid-back atmosphere. For dinner, go to The Rabbit Hole for incredible cuisine and unique drinks. Once you've spent your day exploring, sit down and relax for happy hour. The best happy hour in the area can be found at Brewer's Republic serving up craft beers, bar snacks, and awesome pizzas! Visitors with late night sweet tooth cravings should take a stroll to Sasquatch Cookies where you can find mouth-watering cookie perfection. If you are feeling cozy in your Colorado Springs inn, they will deliver right to your doorstep!
Where to Stay
Our bed and breakfasts in Colorado Springs are an adventurer's dream come true. Experience nature in a unique and powerful way while enjoying all the comfort of modern amenities including award winning homemade breakfast served every morning. Become the adventurer you are meant to be and make exceptional memories during your romantic getaway at the heart of the Rocky Mountains. Offer yourself and your loved ones an authentic taste of the wild and get ready for the most wonderful getaways of all in Colorado Springs!
New listings coming soon.