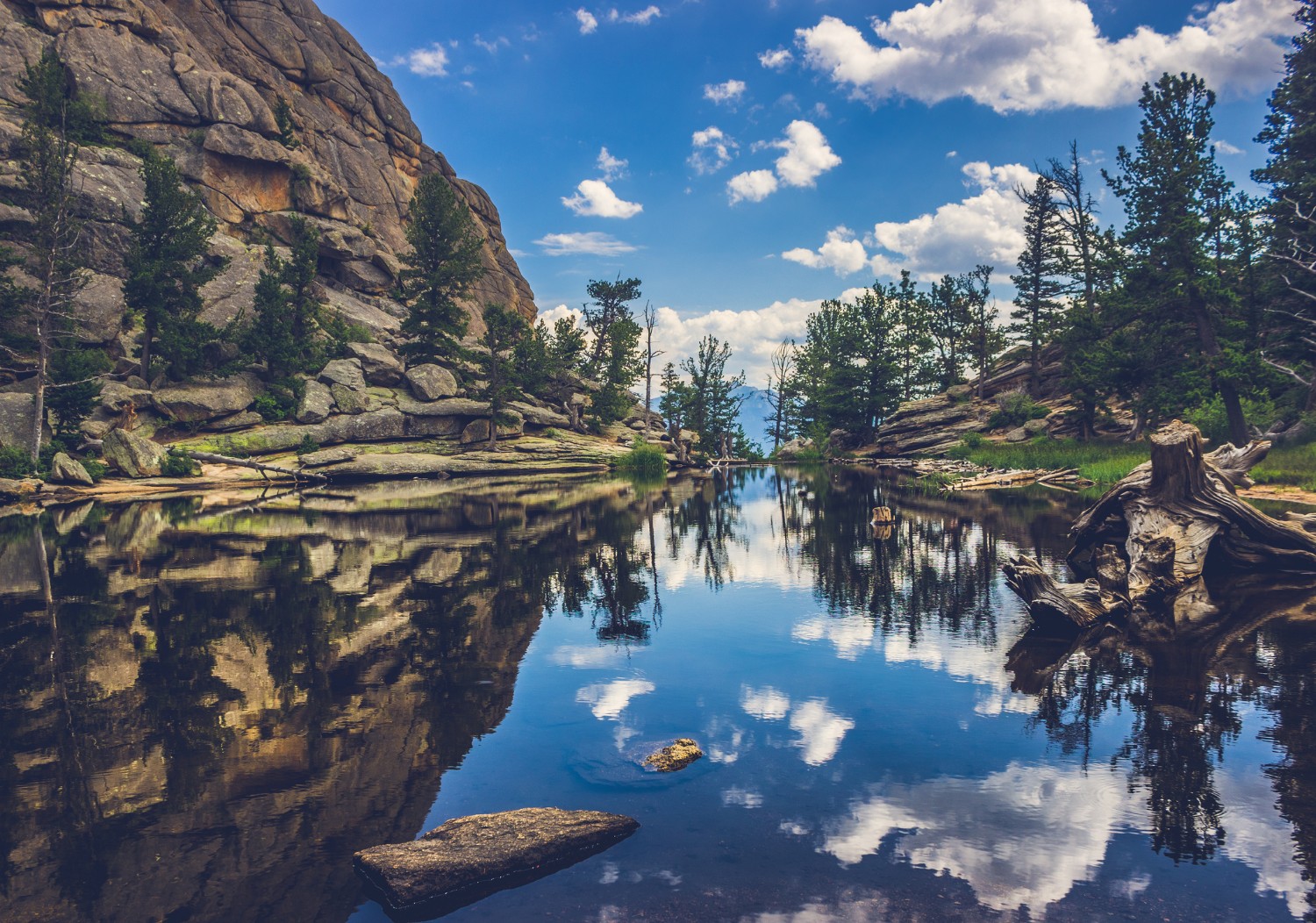 Home »
Estes Park Bed and Breakfasts & Inns
Welcome to Estes Park, Colorado
Have the adventure of a lifetime in Estes Park, Colorado! This beautiful, quaint town is a natural playground just waiting to be explored. From Rocky Mountain National Park, which boasts over three million visitors every year, to the local shops lining the streets of downtown Estes Park, you'll have plenty to do during your visit. Plus, when you stay in an
Estes Park bed and breakfast
from Select Registry, you can feel confident knowing that you'll be staying in the best accommodations available. Get the inside scoop on the best things to do, places to eat, and where to stay in Estes Park, Colorado.
Things to See & Do
Estes Park is located near the eastern entrance of Rocky Mountain National Park. The town is often seen as the base camp or headquarters for the park, which means that visitors have easy access to this national site. Rocky Mountain National Park is open every day of the year and offers stunning views of the mountainside as well as miles of great hiking trails, fishing opportunities, and picnic areas. You can purchase a day pass for one vehicle into the park for $20 or opt for the 7-day pass for just $30. The sights here, such as Dream Lake, are like no other and you won't want to miss out on them. There are also fantastic museums and historic sites in Estes Park. You'll be able to learn about everything from the history of the railroad in this region to how you can help protect the gorgeous land. If you dare, visit the famous Stanley Hotel that plays a key role in Stephen King's novel "The Shining". Special tours are offered during the day and at night, depending on what you are up for. For a chill day, take a leisurely stroll in downtown Estes Park and stop in one of the more than 300 local shops. There is so much fun and adventure to be had in Estes Park for visitors of all ages!
Where to Eat & Drink
You can't stay in Colorado without visiting a few of the hundreds of craft breweries. There's something for every preference at these sites, from hearty stouts to light wheat brews. There's even root beer for the little ones! Be sure to bring home a bottle of your favorite beer; after all, the best souvenir is one you can drink.
One of the best ways to describe the food scene in Estes Park is "eclectic." You'll find rustic chop houses serving up huge slabs of meat as well as some of the best pizza outside of Italy. There's a little bit of everything here! Just remember to pair a locally-made pint with your meal.
The best place for great food and a nice brew is Claire's Restaurant and Bar. Here you will find traditional American cuisine along with great views of Estes Park. If you're on the hunt for something sweet while here, pick out one of the 50 gourmet flavors of taffy at Purple Mountain Taffy Company. If you don't like taffy, they also sell other sweet treats including fudge, caramels, and stuffed bret bars, a special family recipe of crispy, peanut butter chocolate bars.
Best Time to Visit
Estes Park, Colorado, boasts dry, warm summers and snowy winters. The weather often dictates what type of trip you'll have. During colder months, take advantage of the snow-covered ground and enjoy snowboarding, skiing, snowshoeing, and other wintertime activities. In the summer, experience fishing, hiking, and wildlife viewing. No matter what time of year you visit, there are bound to be some great events happening in Estes Park or one of the nearby towns!
Where to Stay
When planning your trip to Estes Park, CO, the choice is simple: stay in a beautiful Estes Park bed and breakfast from Select Registry. Our properties everything you need for a memorable getaway. Enjoy fantastic amenities with great customer service, topped off with gorgeous, rustic accommodations and a view that can't be beat. Scroll down to find a bed and breakfast in Estes Park that is perfect for you!
New listings coming soon.