Educational Wine Tastings in North Georgia
Valid Through: Never Expires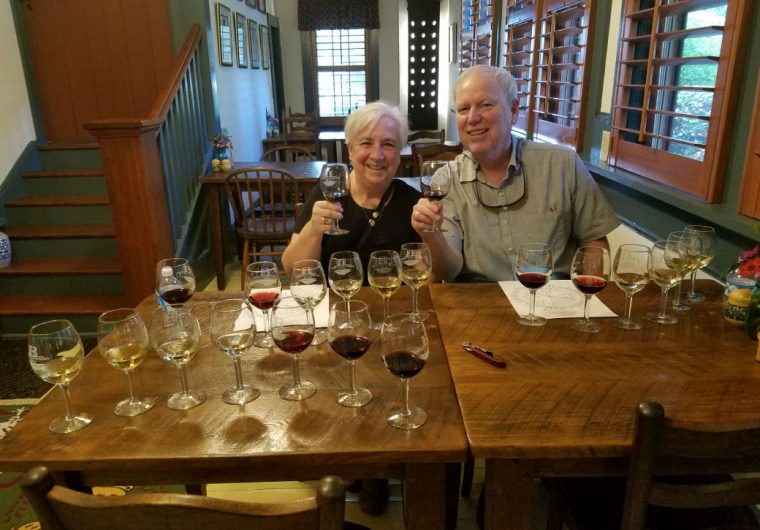 North Georgia Educational Wine Tastings: Would you like a personal wine tasting for you and your friends? The Beechwood Innkeepers can set up beginner, intermediate or wine tastings for experienced wine-tasters. Just let us know what your interests are and we will exceed your expectations.
Beechwood Inn Wine Tasting: Taste 5-6 different Beechwood Inn wines. We make 2 styles of Chardonnay (stainless steel and French Oak), plus Chardonnel, Chambourcin and Cabernet Sauvignon. In addition, you will get 4 bottles of our wines to take home in a special 4 bottle carrier and two Beechwood Inn keepsake logo wine glasses. During the tasting you will gain a wonderful insight into winemaking. $225 per couple.
Beechwood Inn Varietal Tasting: We make 5 (or more) different varietals from Georgia grapes: Chardonnay, Chardonnel, Chambourcin and Cabernet Sauvignon. We offer a private tasting of each of these wines along with commentary on how each is grown and made. Tasting is $36 per person, minimum 2.
Classic Varietal Tasting: Just beginning? Let us lead you through a tasting of some of the most popular varietals, including: Chardonnay, Pinot Grigio, Rosé, Merlot, Pinot Noir, Syrah and Cabernet Sauvignon. We will explain the difference in varietal characteristics and how the wines can be paired with foods. Tastings start at $60 per person, minimum 4.
Don't see a tasting you would like, just give us a call and we will be happy to work with you.
Innkeepers/Sommeliers David and Gayle Darugh grew up in the wine country of Sonoma and Napa California, respectively. David's parents owned and operated a restaurant in Sonoma during his youth. Together they taught wine appreciation at the University of Tennessee during the 1980's. Gayle was the President of the American Wine Society from 1998 to 1999. David was the General Counsel from 1990 through 2000. Both are Chevaliers in the Ordre Ducal De La Croix De Bourgogne, Dijon, France. Together they have traveled the world in pursuit of fine wines and interesting foods. They are happy to offer a variety of North Georgia Wine Tastings tailored to your interests.
Call us at (706) 782-5485 to schedule or plan a tasting.