Recreational Cooking Classes in North Georgia
Valid Through: Never Expires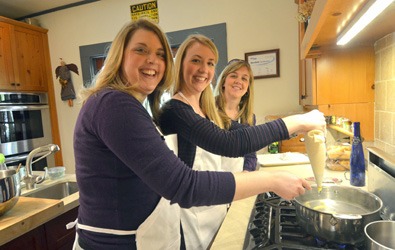 Recreational Cooking Classes in North Georgia – Beechwood Inn
Would you like a hands-on private cooking class for you and your sweetheart, or maybe for a girls' night out? Join Beechwood Inn chefs in our modern professional kitchen and prepare a variety of gourmet meals including ethnic dishes from around the world.
Wine Enthusiast Magazine places Beechwood Inn in the Top 5 Destinations "for your next wine and food-focused escape."
We are authentically Farm to Table, growing much of our produce with caring attention. We are as local as local gets and of the season to the moment.
Rustic Pizza and Tart Making Class: Our professional Chefs will guide you through the process on how to make authentic and delicious rustic pizzas and tarts.
Artisan pasta classes: Students will unravel the art of pasta making and learn how to make the perfect ravioli, gnocchi, tortellini and pasta ribbons. At the end of each day, all budding chefs will be invited to enjoy a well-earned glass of wine over a steaming bowl of pasta.
Tapas to Meze: Small Plates from the Mediterranean: Mealtime around the Mediterranean is a major part of daily life. In every country around the Mediterranean, small plates.
Prixe Fix Dinner: Pick a theme (Italian, French, Spanish, Asian Pacific Rim, Southern Traditional) and we will design a menu for your to prepare.
Classes are led by Beechwood Inn's Executive Chef David Darugh and are taught in Beechwood Inn's Commercial Kitchen. Chef Darugh grew-up in his parent's restaurant in Sonoma, California, and has studied at the Culinary Institute of America in Napa, Johnson & Wales in Providence Rhode Island, in Dijon, France and in Santa Fe, New Mexico. In addition to Chef David Darugh, his wife Gayle, the Inn's Head Pastry Chef, will share many of her famous dessert and pastry recipes. Both have been named as "Best Chefs America 2013 – 2019."
Choose and prepare seasonal fresh and local ingredients
Use a variety of cooking methods and techniques
Present your dishes with style and visual appeal
Find sources for natural, organic and local products
Use proper food safety and handling
Pair fine and rare wines to your dining selections
Class includes wine, a serving of each dish, an apron to keep and a complete recipe collection from that class. Students receive a 10% discount on wine or food product purchases made the day of the class and a 10% discount off their next culinary class at the Beechwood Inn. Classes can be tailored to your preferences. These run as short as 3 hours long and usually run from 2:30PM to 5:30PM, followed by a short break and then dinner.