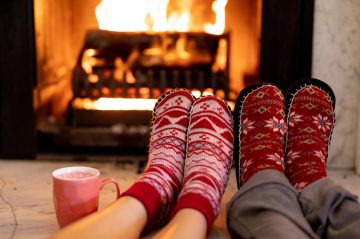 15% off any two or more night stay
The winter months are a quieter time in the Kennebunks and a perfect time of year to get a taste of New England's seacoast winter beauty! The trails at Laudholm Farm and Rachel Carson Reserve in Wells, Kennebunk's Franciscan Monastery and Hope Woods, offer gorgeous scenery and terrain suitable for snowshoes or hiking boots, depending on the depth of snow.
Winter visitors can also enjoy cross-country skiing at Harris Farm in nearby Dayton, and romantic horse-drawn sleigh rides at Kennebunkport's Rockin' Horse Stables. Our beaches are as beautiful and as walkable this time of year as in the summer…you may just need a couple more layers of clothing! And you'll be happy to know that many of your favorite restaurants are open year-round with delicious seasonal food and cocktail menus that are sure to satisfy! Finish your perfect winter day cozied up by the fire in one of our comfy common rooms or your guest room.