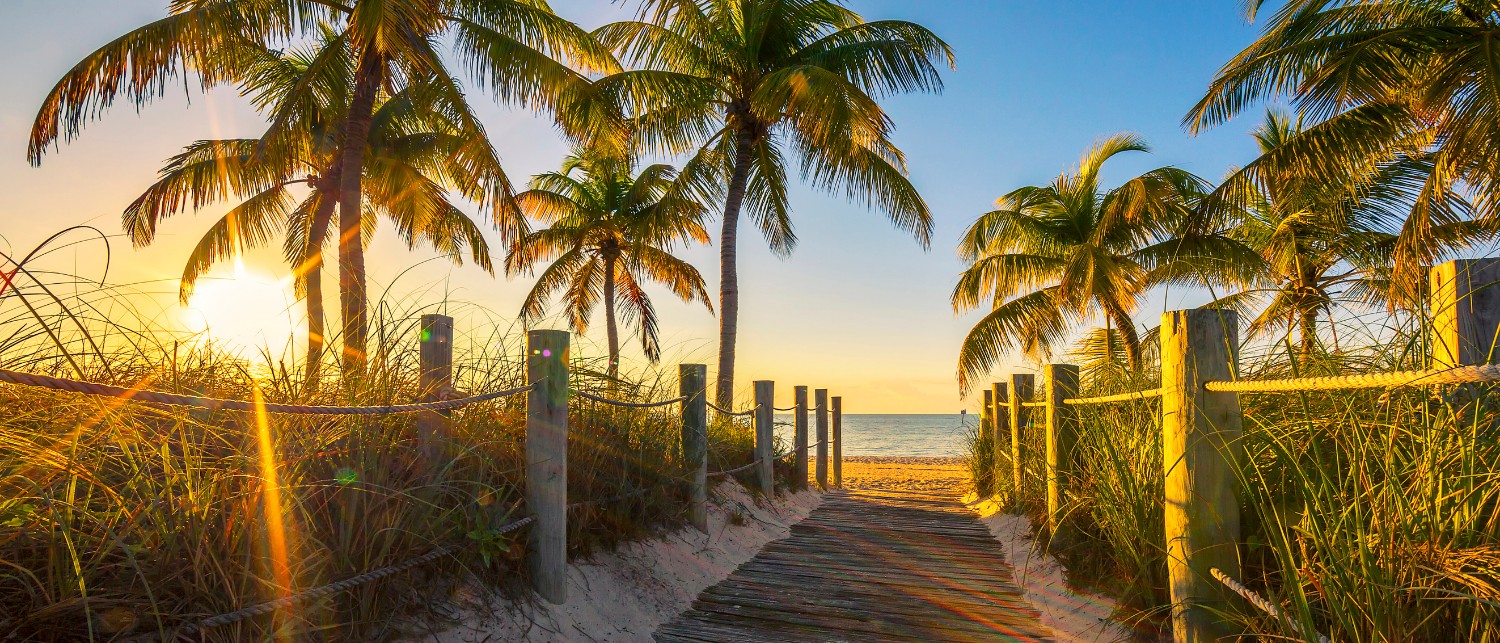 Key West, FL Bed and Breakfasts & Inns
Welcome to Key West, Florida
Key West is known for its beautiful shores and visitors from all over come here to get a glimpse of these serene shores. Located at the tip of Florida, Key West is the southernmost point in the United States. With gorgeous white sand shorelines and turquoise water, it is a favorite destination of sea lovers. This quirky town is also a haven for artists, creatives, and free-spirits of all sorts. It's the perfect place to come when you want to escape your day-to-day routine and let your hair down! Come see it for yourself when you stay at one of our recommended bed and breakfasts in Key West, Florida!
Things to See & Do
Key West is the ideal location for anyone who enjoys being in, on, or near the ocean. There are many water sports and activities available for everyone from the novice to the expert. Boating, kayaking, and jet skiing are just a few great options for things to do. Scuba and snorkeling are the perfect ways to dive below the surface and get a glimpse of the tropical gardens below the surface and the amazing aquatic creatures that live in the ocean. Or, if you prefer to stay above water, head to the beach where you can lay out and soak up the sun! Key West is also one of Florida's most historic places that boasts of rich history within beautifully restored houses. Visit the Hemingway House for insight into the life of Ernest Hemingway located in downtown Key West. In this area, there are many different things to do that are within walking distance of one another. There are also many artist houses and art galleries located on Duval Street that are beautifully designed. The Mel Fisher Maritime Museum includes one of the largest documented treasure finds, among other things. For more educational fun, try the Eco-Discovery Center. When it's time to retire, stop by Mallory Square for the daily Sunset Celebration before heading back to your Key West, FL, bed and breakfast.
Where to Eat & Drink
You can find plenty of great seafood in Key West, Florida. Make sure to try the Royal Reds at Conch Republic Seafood Restaurant. This large shrimp is more flavorful than the common pink variety. Stone crab, spiny lobster, and conch are also delicious options to taste while in town. The proximity of Key West to Cuba means you can find some excellent Cuban food on the island. Ely Siboney is an excellent choice. However, international cuisine doesn't end there. Key West also features Bahamian, French, and Italian restaurants. Regardless of what your taste buds are craving while you're in Key West, you will be able to find a cuisine to satisfy them. 
Best Time to Visit
Travelers love to visit Key West year round because there is always something amazing to do! Winter brings holiday fun, including the Lighted Boat Parade and the New Year's Stiletto Drop. Spring is full of parties geared toward coeds on break. Early summer has great weather, whereas temperatures can be quite high around late August and September. (These are wonderful times to get out on the water!) The end of October is an eclectic's dream; Fantasy Fest is a week of wild costume parties and an unforgettable parade!
Where to Stay
When you're ready to start planning your trip, let Select Registry help you pick the perfect place to stay. Book one of our bed and breakfasts in Key West, FL, and be confident that you're reserving one of the best spots in town with clean and comfortable rooms to come back to every day. With excellent amenities, great locations, spacious rooms, comfortable environments, and elegant décor, these accommodations ensure you have the ultimate vacation experience. Browse the B&Bs in Key West below and choose your ideal location!