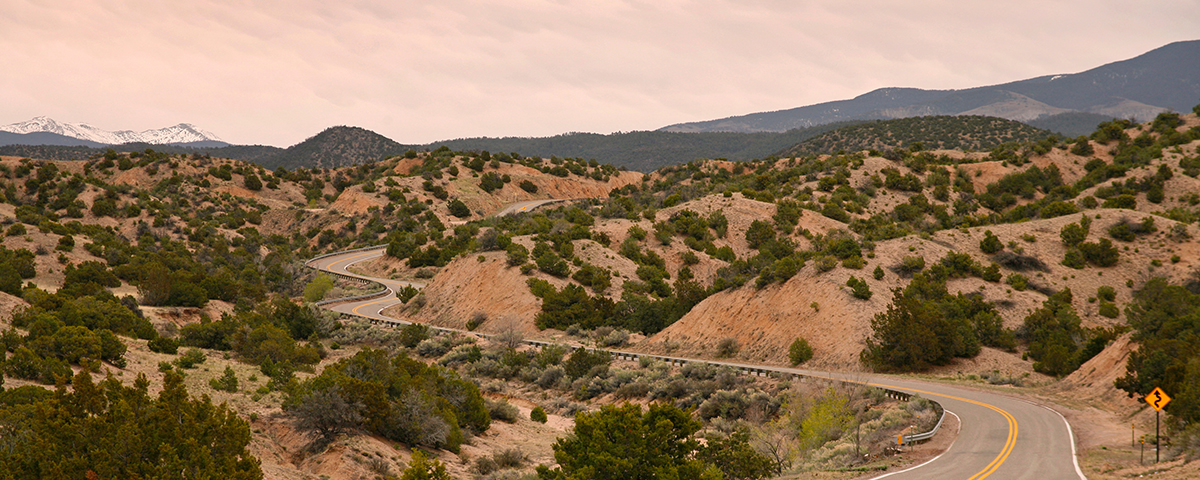 New Mexico Bed and Breakfasts & Inns
Welcome to New Mexico
Discover
New Mexico
, the most magical and remote area in the United States. Go on a journey through the desert landscape, rocky hillsides, and undeveloped nature, and learn about the Native American and Hispanic influences that shaped this beautiful state. New Mexico is part of the mountain states and shares the Four Corners with Utah, Colorado, and Arizona. Everything about New Mexico is whimsical; the air, the sun, the tumbleweeds rolling down the road, the festive and colorful way of life. Choose the
best bed and breakfast in New Mexico
and live out a real cowboy adventure! Stay in a stunning Native American and Spanish setting, stroll around the  
Central Plaza in Santa Fe
, dine at world-class restaurants, relax on your private patio, and go on an epic road trip around the state!
Things to See & Do in New Mexico
There is something to do and see around every corner in New Mexico. Even when you are driving through an endless desert, there might be an absolute gem down a dirt road. Nevertheless, the two main cities offer plenty of activities and museums to delight you and your loved ones.
Santa Fe
is the oldest state capital in the country and has plenty of galleries to keep you entertained. The Santa Fe Plaza is a popular historic landmark in the heart of the city with restaurants, art galleries, and more all within walking distance of one another. However, the best way to experience New Mexico is to go on a road trip. Get lost in the striking desert scenery and explore the wonders that abound. Go mountain biking at Valles Caldera National Reserve, explore New Mexico's greatest wonder at Carlsbad Caverns, travel to a prehistoric era at Lybrook Badlands, and walk on the world's largest gypsum dune field at White Sands National Monument. Mother Nature has a lot on display in the state of New Mexico!
Where to Eat and Drink in New Mexico
Taste the best flavors of New Mexico in the numerous top-notch restaurants throughout the state. Stop at Tomasita's near Santa Fe's railroad station and order their famous enchiladas. Order a Norleno Margarita at Coyote Cafe, a unique and delicious blend of green chili juice and fresh lime! Speaking of margaritas, you can find the best in the area by taking a stroll down The
Santa Fe Margarita Trail
. This is a one-of-a-kind experience where you get the opportunity to taste over 45 different margaritas! After trying out all those margaritas, treat yourself to some of New Mexico's best cuisine. For authentic Mexican food, be sure to pay a visit to Sadie's of New Mexico where you will find incredible salsa. If you are feeling adventurous, get in your car and drive to Pie Town, a small town in the middle of nowhere that serves the best pies you will ever eat. Don't fret, if you aren't in the mood for Mexican fare, there are many other options for you, like High Noon Restaurant & Saloon that offers some of the best steaks in New Mexico.
Best Time to Visit in New Mexico
Fall is probably the best time to visit New Mexico as some of the most popular times to visit fall between the months of September and November. Not only do you avoid the crowd of the peak season in June and August, but also the high temperatures. This time of the year is also very popular because there are many festivals and events, so be sure to check the calendar of events before planning your trip. And you get to enjoy all the landscape in comfortable temperatures that usually hover in the 60s. If you want to marvel at the wildflowers, come visit during the springtime. No place does spring like Santa Fe, especially when the cholla cactus and magenta bloom in the High Desert. The winter months in New Mexico tend to be chilly with the highs only reaching around 40 degrees. However, don't be fooled by the cold weather as the sun is always out and beaming in New Mexico. Don't forget the sunscreen when you come here!
Where to stay: New Mexico Bed and Breakfasts & Inns
Choose the
best bed and breakfast in New Mexico
with Select Registry. Wake up to a stunning view, with snow-covered mountain tops in the distance, blue sky, and bright pink crabapple trees right outside your guest room. Let the timeless beauty of New Mexico steal your heart away with its warm-colored sunsets, majestic mountains, remote areas, and inherent ruggedness. You'll get the most authentic experience in the comfort of a luxurious
New Mexico B&B
. Make memories you will never forget in the land of enchantment and experience a unique adventure!