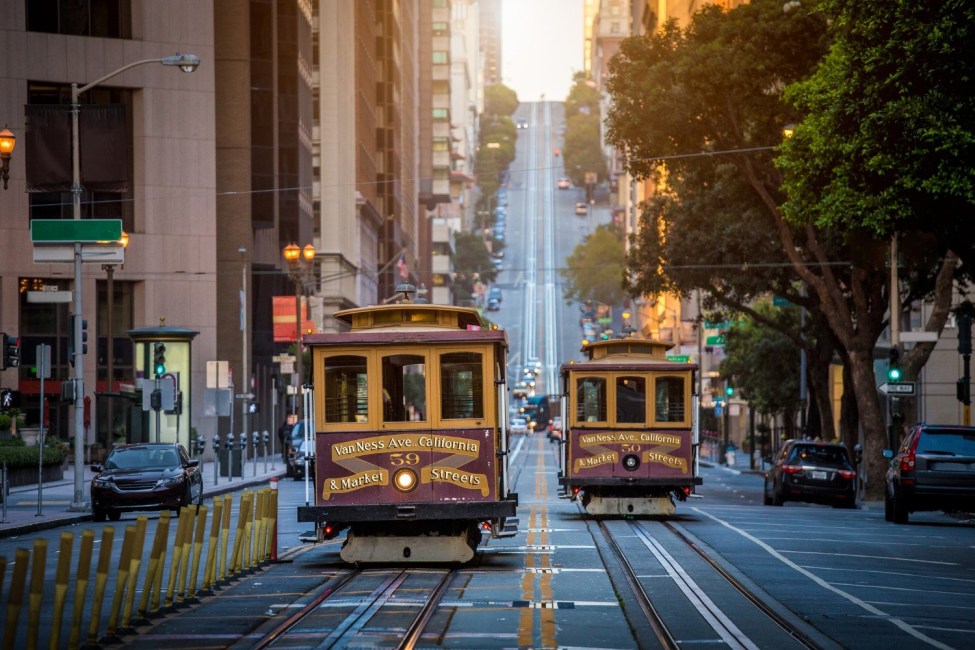 WELCOME TO THE BAY AREA
Welcome to the great blue Pacific, to the Golden Gate Bridge, and to rainbow painted streets. Whatever it is that you can dream, chances are that you will find it in the Bay Area. Exceptional cuisine, beautiful seascapes, and golden sunsets await. From the vineyards of Napa Valley to the Victorian houses of San Francisco, you are guaranteed to find a unique story and surprise behind every corner, valley, and mountain of the Bay Area.
THINGS TO SEE & DO
The Bay Area has captured the hearts and imaginations of America's greatest artists, writers, and poets, and it guarantees to capture you, too. This diverse area consists of San Francisco, Napa, Silicon Valley, Sonoma, and beyond. In San Francisco, you will find the Golden Gate Bridge, the Marin Headlands, Alcatraz, Ocean Beach, and so many more attractions. Sonoma Valley and Napa are year-round destinations for wine enthusiasts, boasting some of the world's most historic vineyards, greatest wines, and culinary masterpieces. With so many things to do in the Bay Area, it can be hard to plan your days. However, a trip to Las Trampas Peak for a glorious sunrise is a great place to start.
WHERE TO EAT & DRINK
The Bay Area is famous for exceptional cocktails, incredible wines, and some of the world's best cuisine. Whether you are craving sweet macarons, bodacious burritos, or even savory cheese and charcuterie, the Bay Area has it all. Visit Taqueria Guadalajara in San Francisco for heavenly tacos and a spectacular salsa bar. If you are searching for the Bay Area's best wineries, there are so many! Pangloss Cellars, B Wise Vineyards, and Lasseter Family Winery are exceptional wineries (among hundreds) in the area. The Bay Area is a cultural melting pot, so whatever it is you are craving, you will find it here!
BEST TIME TO VISIT
With beautiful year-round weather, endless recreation, and countless activities, it is always a great time to pack your bags for the Bay Area. Because of the area's favorable weather throughout the four seasons, you will always find an abundance of outdoor activity. This region enjoys warm summers and mild winters, typically not dipping below 50 degrees. The Bay Area is foggy year-round, so remember to bring a jacket (even in the summer)! Breathtaking coastal hikes are the perfect way to enjoy autumn's breezy weather. In addition, you will find brilliant mustard blooms in the winter throughout the Bay Area's Wine Country region.
WHERE TO STAY
The Bay area is one of the greatest regions in the world, so when you are visiting, you will want an equally impressive accommodation! Whether you are exploring the vineyards of Sonoma Valley or shopping in downtown San Francisco, you will find the greatest place to relax and unwind in one of our Select Registry properties. Our collection of boutique hotels, luxury inns, and bed and breakfasts are the perfect compliment to the ultimate getaway. Find the best bed and breakfast in the Bay Area when you explore our elegant accommodations below!