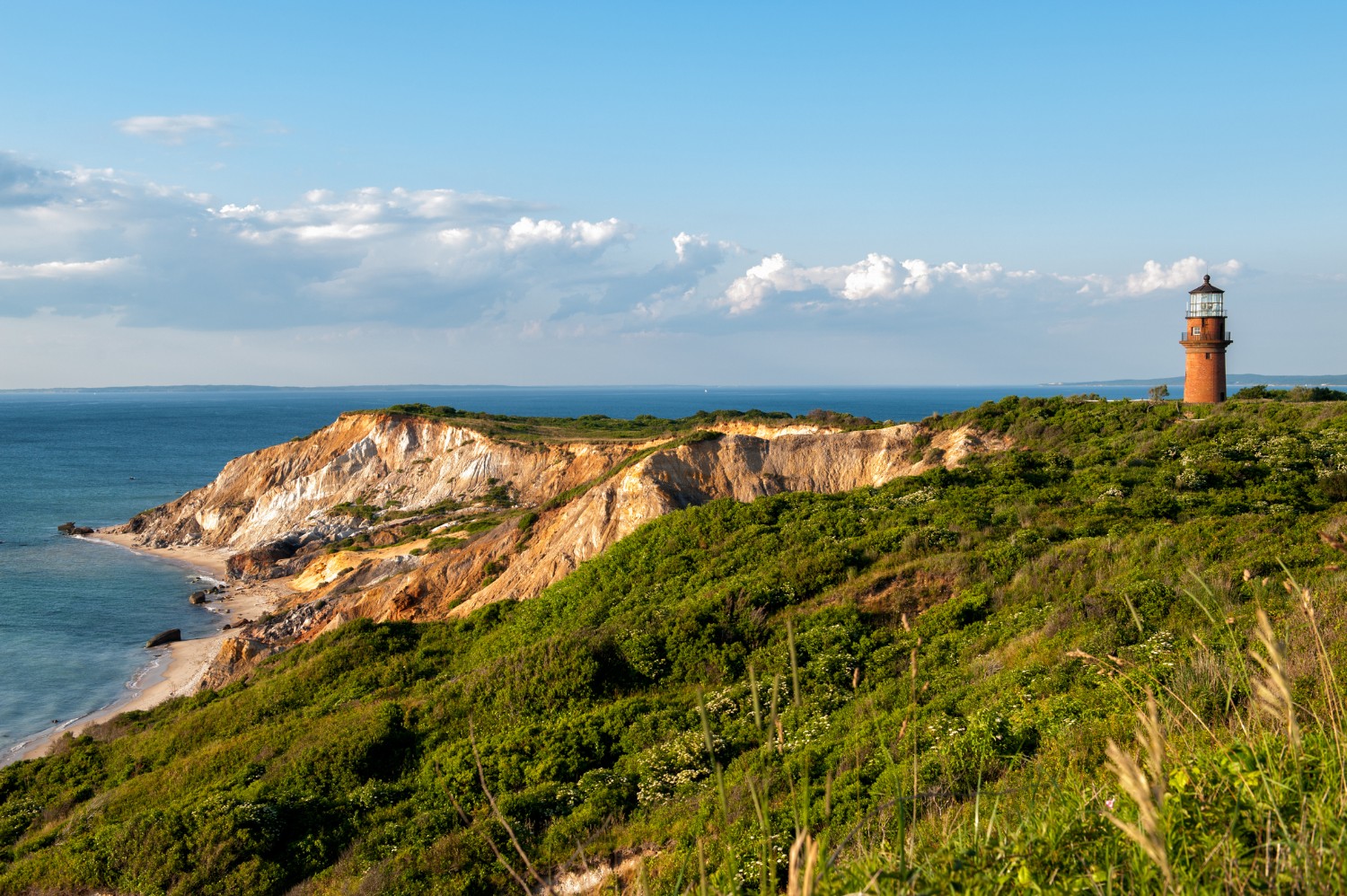 Welcome to Martha's Vineyard
The Massachusetts island of Martha's Vineyard is one that has appeared in countless novels and movies. It's always depicted as an upscale summer colony; its striking landscape dotted with luxurious beach homes and storied lighthouses. There are cobblestone streets, sun-bleached wharves, sparkling waters, and a cast of characters. In reality, this island is as beautiful as books and films make it out to be, and it's waiting for you to come and create your own storyline. Make plans now to escape reality and enjoy a luxurious weekend at a Martha's Vineyard bed and breakfast. Then, just let the rest unfold.
This little island in the Atlantic Ocean spans less than 90 square miles, but it's brimming with things to do and see. After you arrive (by ferry or plane), get settled in your Martha's Vineyard bed and breakfast and begin to explore your surroundings. While you can bring your car to the island by ferry, many travelers enjoy tooling around on a bike or moped. You can also rent a car or take the bus.
Things to Do
Martha's Vineyard is divided into six different areas. Each village has its own charm and offers a varied selection of restaurants, shops, museums, galleries, and attractions. You may be surprised to know that more than 40% of the island is protected. That means there are wonderful places to go hiking and biking and enjoy the natural surroundings. Be sure to visit the Cliffs of Aquinnah, Waskosim's Rock Reservation, and the Cedar Creek Neck Wildlife Sanctuary.
You should also plan to spend a couple of leisurely days at the beach. Pack a picnic, a chair, and towel, and plant yourself on the sand. While there are plenty of watersports to go around, it's important to make time to sit and listen to the ocean and feel the warm sun on your face. A simple but very romantic thing to do on Martha's Vineyard is to watch the sunset at Menemsha Beach. Grab a blanket, a bottle of wine, and snuggle up with your sweetheart as the sky turns brilliant colors and the sun sinks below the horizon.
Where to Eat and Drink
The restaurants on Martha's Vineyard range from full-service, upscale eateries to BYOB seafood shacks. Indulging in a lobster roll is a culinary must, so are oysters on the half shell, creamy clam chowder, rich lobster mac-n-cheese, fresh-caught fish, local veggies cooked to perfection, hot apple fritters, and more. Save room for a scoop of homemade ice cream to eat while you walk through the village or along the waterfront.
Best Time to Visit
While you can experience Martha's Vineyard any time of year, the high season is from May to September. The idyllic summer weather is perfect for outdoor activities such as sailing, fishing, hiking, and biking. If you like it a little less crowded, the weather and the water stay moderate well into fall.
Where to Stay
Deciding
where to stay on Martha's Vineyard
is one of the most important decisions to make when you travel. But, Select Registry makes it easy. By choosing one of our properties, you're sure to have the perfect setting for your vacation. Browse our Martha's Vineyard bed and breakfast options below and make reservations to set the stage for your most memorable getaway yet.