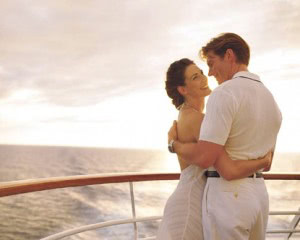 You are in love and marriage is in the air. You want to celebrate the joy of the moment when you make your vows, but the idea of a large wedding just does not seem right for you.
Eloping in the Olden Days
Long ago, eloping implied a woman running away from home to marry her lover. Against the wishes of her family, the term was pejorative, derived from German word "entlaufen," to run away. An interpretation from Old English was that of romantic theft, or stealing away to marry the man (or scoundrel, heaven forbid!) of one's dreams.
Old Fashioned Implications
Later eloping constituted an impulse marriage, perhaps based on little information regarding your mate, but certainly with all the requisite adventure to inject the deed with even greater romance. Today eloping still implies a type of escape, but by no means a necessarily clandestine one.
Eloping Today: Romantic and Practical
Elopement will always resonate with a certain romantic sensation, but these days it also rings of the practical decision to avoid the increasing costs of a traditional wedding ceremony and its requisite celebrations. The beauty of eloping is also appealing in that it comes with a natural implication of an included honeymoon.
An Intimate Setting
With all of these considerations, many couples are choosing to elope, often including family members along with close friends. Celebrating the moment in an intimate setting without the hullabaloo of a big to-do can often be more meaningful as you deepen your bonds far away from it all.
The Privacy of Romance
There are an amazing amount of luxury bed and breakfast inns dotted all over the country that cater to couples seeking an intimate location for a private wedding. With luxury accommodations, experienced innkeepers, and the chance to enjoy the privacy of romance, here are just a few examples of what you can expect from an all-inclusive elopement package:
Island Cottage Oceanfront Villa Inn
If the sound of the waves and the sensuality of warm, caressing breezes strike your fancy, let yourself be pampered at the Island Cottage Oceanfront Villa Inn on Flagler Beach, Florida. This small beach community is styled in Key West fashion, with a laid back feeling that speaks of romance.
Spend two delicious nights at this magnificent spot with a package that includes the specially designed Blue Lagoon Spa Service for two. What could be more inviting than a massage, body wrap, or facial to pave the way for a few days of sheer paradise?
Upon arrival, your room will receive you with a dozen roses, twelve chocolate-dipped strawberries, and a chilled bottle of French champagne. In the bathroom where you will find an inviting Jacuzzi for two, scattered rose petals and lighted candles will help you shed the city as you dip into the first minutes of your new life together.
This exquisitely appointed inn provides romantically intimate rooms, with private entries, magnificent ocean views, private decks and patios, and inviting king size beds. With only six rooms and suites, the location is perfect for a secluded celebration of love.
Enjoy sumptuous lunches with wine and dessert that are included with your spa experience. Take a bicycle to explore the surrounding area, or pull up a beach chair and umbrella to soak in the rays as you frolic in the caressing ocean waters.
With soothing music inviting you to lounge around the pool, you can relax in the shade, taking advantage of home baked cookies and beverages. Later on, whisper words of love at afternoon tea served on linen tablecloths complete with silver, crystal, and soft candlelight.
West Hill House Bed and Breakfast
If a location further north fits your taste, book your elopement package at the award-winning West Hill House Bed and Breakfast in Warren, Vermont. This 1850's home in the Mad River Valley is situated on a hill deep in the countryside and features beautifully manicured perennial gardens and beckoning virgin forests.
Whatever season you choose, you will find the setting designed to soothe and relax your soul. Bonding in this romantic spot so far from the roar of cities will create a memory that will last a lifetime.
The expert innkeepers claim that this magnificent inn provides the best of British and Canadian hospitality to its guests, and you only have to enter to feel the European sense of aesthetics. Every room is a treasure, with memory-foam queen or king size beds, a Jacuzzi tub for two, steam shower, and personal concierge service.
You will arrive to find six red roses, a bottle of chilled champagne, and sinfully sumptuous Lake Champlain chocolates to nibble on as you unwind. In the morning coffee or tea will be delivered to your room to help you start your day.
Just minutes from interesting shops and gourmet restaurants, the inn is only one mile from Sugarbush skiing and golf activities. And with a vast countryside to explore, you can get lost just wandering and exploring the beautiful scenery that awaits you.
The Lodge at Sedona
The Lodge at Sedona, Arizona provides a completely different elopement experience. Take three days and two nights to revel in a luxury king suite situated in a stupendously appointed property extending as far as the eye can see.
Here you can bask in the indoor and outdoor pools, hot tubs, and an exclusive outside meditative labyrinth. With gourmet breakfast, afternoon snacks, and evening appetizers you will feel as brilliant and shining as the nighttime Arizona stars.
But this is only a smattering of what you will get when you stay at this glorious inn. Included in your package is an air balloon ride for two over the breathtaking landscape of Red Rock country. Floating high above for three to four hours, you will experience magnificent vistas as you soar with the eagles, seeing what they see on this adventure in the sky.
This unique and memorable ride includes pick up and return from the inn, as well as a DVD of your experience. What a way to remember that exceptional day when the two of you exchanged vows!
Perfect Celebrations in Select Lodgings
No matter where you decide to elope to, there is a bed and breakfast designed just for you. Add to your lodgings a non-denominational or religious ceremony to cement your vows, along with a commemorative celebration, and you will have the experience of an all-in-one wedding and honeymoon with a value infinitely more precious than diamonds.
For more information on select lodgings across North America, please visit: www.selectregistry.com.
If you have any questions or looking for further information, please do not hesitate to contact us. It is our pleasure to help you.