Georgia's Golden Isles are Calling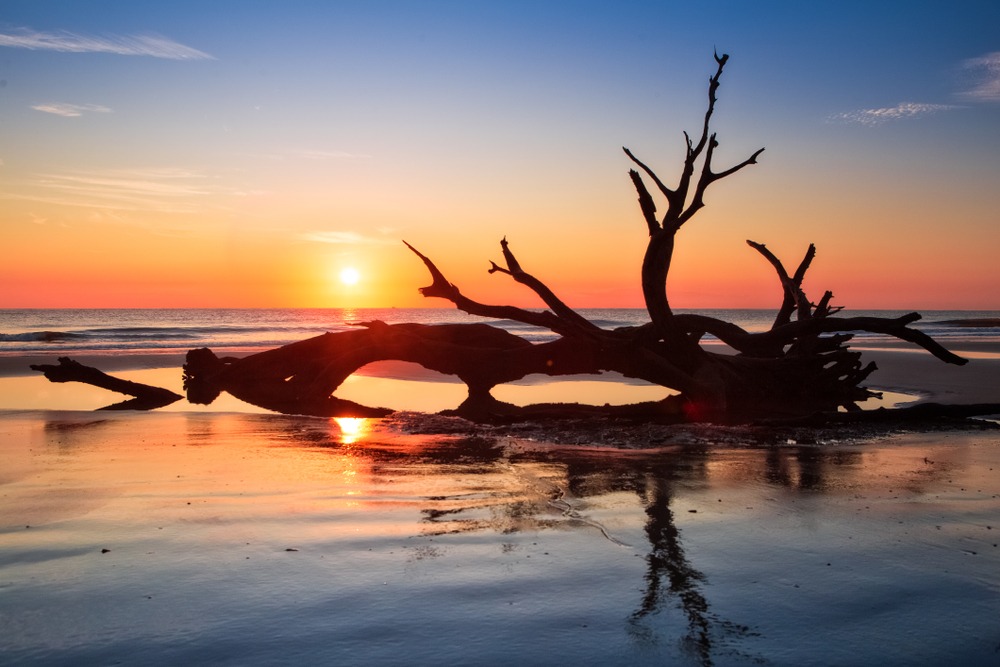 Just off the coast of Georgia's central coast, about an hour south of Savannah, are a group of sunny barrier islands called the Golden Isles.  These islands lie just off the coast from the historic port city of Brunswick, and consist of the popular vacation destinations of St. Simons Island, Little St. Simons Island, Jekyll Island, and Sea Island. 
Aside from the seasonably warm weather enjoyed in this part of the country, the Golden Isles are renowned for their beautiful untouched stretches of marshland and pristine coastal habitats, abundant wildlife, and beautiful beaches – including the famed Driftwood Beach pictured above. 
Beyond just being a beautiful destination, the Golden Isles also offers visitors a robust sense of history and place, dating back to Spanish explorers more than 400 years ago. There's also an incredible diversity of things to do in the Golden Isles, including fishing, biking, boating, and some of the best golf in the country. There's plenty of fun to be had, coupled with a historic sense of place and unbeatable Southern hospitality.  
Head to these stunning Golden Isles this spring, and embrace centuries-old oak trees draped with Spanish Moss, quaint coastal towns, and warm sandy beaches.  It's the perfect warm-weather getaway, and one of our favorite places to consider visiting this spring!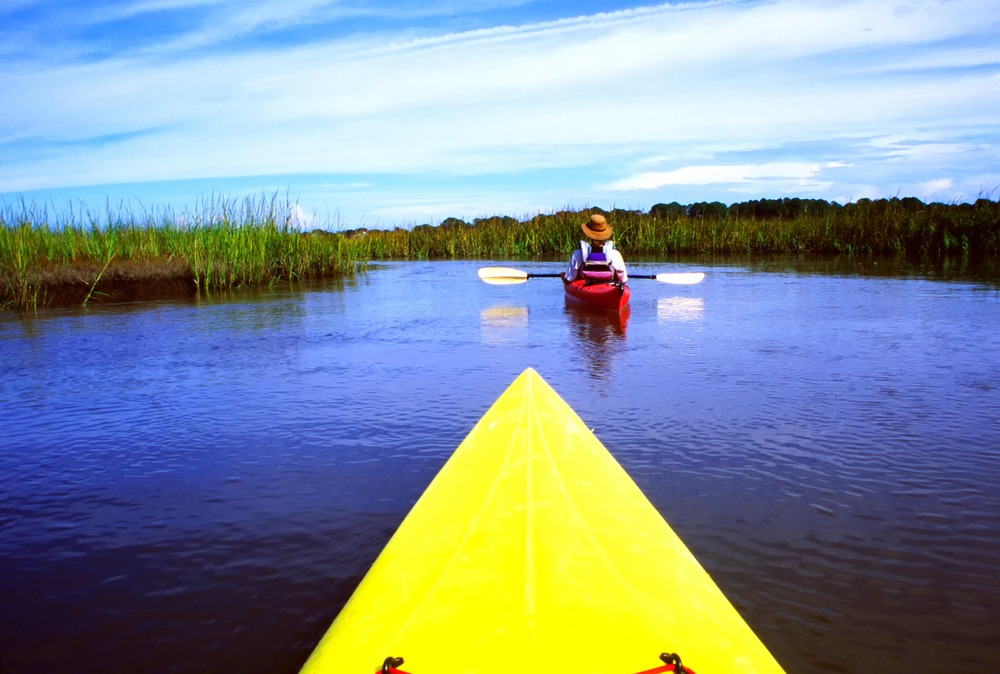 Things to do in the Golden Isles
Travelers have been lured to Georgia's coast by the pristine beauty of the Golden Isles for centuries. Whether you plan to spend your time meandering along the well-worn paths through the virgin forests, paddling down waterways like the famed Altamaha River, teeing off at the region's golf courses, or exploring the cultural and historic attractions in the area, there are plenty of things to do in the Golden Isles this spring. 
Though Georgia's coastline is relatively small, at just 90 miles north-south, it's incredibly diverse. This ecological diversity is on full display in the Golden Isles. In fact, these old-growth maritime forests and untouched marshes are a major migratory stop for wildlife. There are more than 300 species of birds that visit this area at some point in the year, including Great Blue Herons and Bald Eagles, not to mention the abundant wildlife beneath the waves as well!
Though the islands share many characteristics with each other, each of them is unique, with its own distinct offerings. We recommend you visit all of the islands, preferably more than once!
St. Simons Island
St. Simon's Island is the largest and perhaps best known of the Golden Isles. It's famously known for the Marshes of Glynn, made famous by poet Sydney Lanier. Beyond this beautiful marsh, though, St. Simon's Island is known for its moss-draped oaks lining the streets, its quaint villages and shops, and its stunning historical sites. 
Spend your days on St. Simons Island in the Golden Isles browsing historic sites, like the St. Simons Lighthouse Museum, the Bloody Marsh Battle Site, Fort Frederica National Monument, and Christ Church Frederica. 
Or, if you'd rather, get out and explore some of the beautiful natural surroundings found here.  Cannon's Point Preserve is a beautiful place for a hike, and there are also plenty of scenic biking trails that criss-cross the island. Nature enthusiasts will want to head to Gould's Inlet, East Beach, and the Marshes of Glynn to admire the scenery and enjoy a bit of bird or wildlife watching.
And, of course, you can spend a day lounging on the beach and enjoying the most typical of all beach activities; sunbathing and playing in the gentle surf of the Georgia Coast.  A great place to do this is East Beach. 
Little St. Simons Island
Unlike its big brother, Little St. Simons Island is accessible only by boat and is the place to stay if you're looking for an immersive and relaxing experience in nature. The entirety of Little St. Simons Island is a privately owned resort and is home to Select Registry Property The Lodge on Little St. Simons Island. With just 6 cottages and space for 32 guests, this island getaway is guaranteed to be secluded & peaceful.
Once on the island, guests are welcome to take guided walking tours through the ancient maritime forests or enjoy a variety of other activities like kayaking, canoeing, fishing, biking, and birdwatching. Guests also love to walk along and enjoy the pristine habitats along the 7-mile undeveloped beach. 
You don't have to stay on Little St. Simons Island to visit, though. There are day trips over to the island which included guided tours and plenty of time to explore this beautiful island.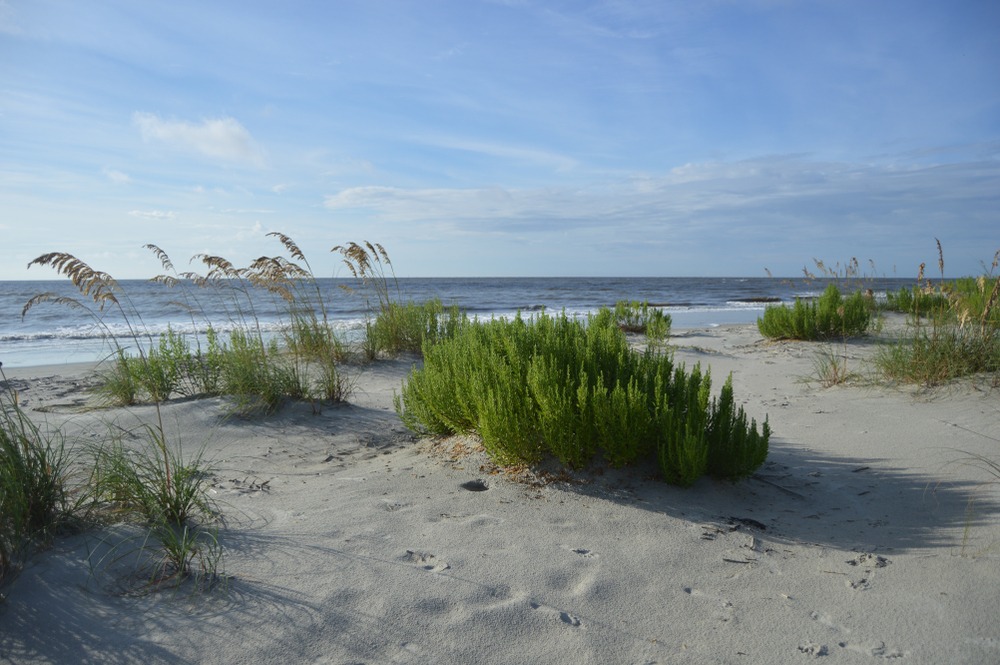 Sea Island
Sea Island is best known for its world-class resorts and for being a golfer's paradise.  This beautiful island is accessible from St. Simons Island, via a causeway. The famed Sea Island Golf Club, which is as beautiful as it is legendary, and is home to the annual PGA RSM Classic. This golf club has been rated Rated No. 1 in the U.S. among the "World's 50 Best Golf Hotels" by Golf Digest Index and features 3 championship 18-hole courses.  
Golfing isn't the only thing to do on Sea Island, however. You can also visit relax on the beach at Sea Island Beach Club, hone your game of tennis at the Tennis Center, go boating at the Yacht Club or enjoy the ultimate spa day at the Five-Star Cloister Spa.
Exploring the island's pristine marshes by kayak or sailboat is also a choice activity, as is horseback riding across the sandy beaches and through the beautiful marshes. 
Jekyll Island
With 10 miles of scenic coastline to explore and more than 5,000 acres, Jekyll Island is the second most popular island to visit in the Golden Isles, behind St. Simons Island. Perhaps one of the most iconic things to do on Jekyll Island, aside from golfing at the historic Jekyll Island Golf Club, is to visit the extraordinary Driftwood Beach. 
Driftwood Beach is aptly named. Strewn with a variety of driftwood of all shapes and sizes, the beach is hauntingly beautiful, especially at sunset.  It's an extremely popular place for photographers and weddings, too. 
Other popular attractions include the island's beautiful historic district, featuring a variety of homes from the Gilded Age, as well as the Georgia Sea Turtle Center, which offers rehabilitation, research, and education about these incredible animals.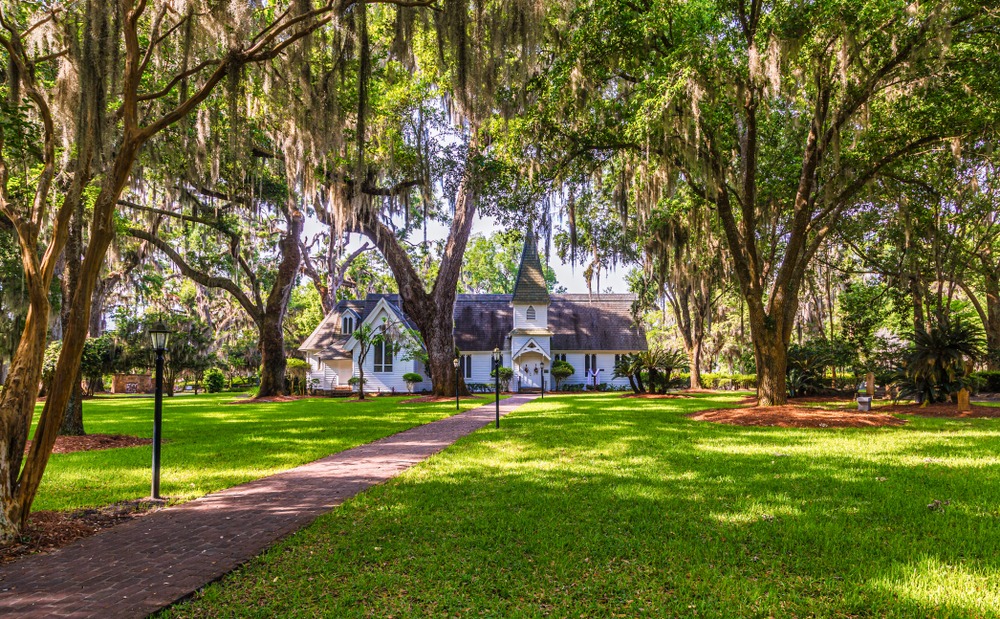 Explore the Entire Georgia Coast
While the Golden Isles are truly stunning and absolutely worth the visit, there's more to do on the Georgia Coast this spring.  This spring is the perfect time to visit, too, especially if you're looking for a place to beat back those winter blues.
Staying at Select Registry properties in Georgia makes it easy to combine a getaway to Georgia's Golden Isles with a visit up and down Georgia's gorgeous coast, from Savannah in the north to St. Mary's on the southern border with Florida and near Cumberland Island.
In Savannah, relish the history and period architecture of the town, and let the town take care of you with its traditional southern hospitality and delectable cuisine. From visiting nearby Tybee Island and browsing Savannah's historic district to celebrating some of the regional food and drink, there are more than enough things to do in Savannah to keep you entertained for days.
At the southern end of the Georgia Coast, you'll find the charming town of St. Mary's, the gateway to Cumberland Island. Cumberland Island, which is only accessible via boat, is a beautiful 45-minute ferry ride away.  In the area, you'll also find great attractions like the Colonial Coast Birding Trail, Crooked River State Park, regional golf courses, plenty of places to kayak and embrace the stunning coastal waters and so much more. 
As you can see, a trip down Georgia's Coast, traveling through the incredible Golden Isles, is going to be equal parts beautiful and fun.  It's possible when you combine stays at our wonderful Select Registry properties, too!  Enjoy the warm weather this spring, and start planning your escape to this scenic stretch of coastline. 
The Best Lodging on the Georgia Coast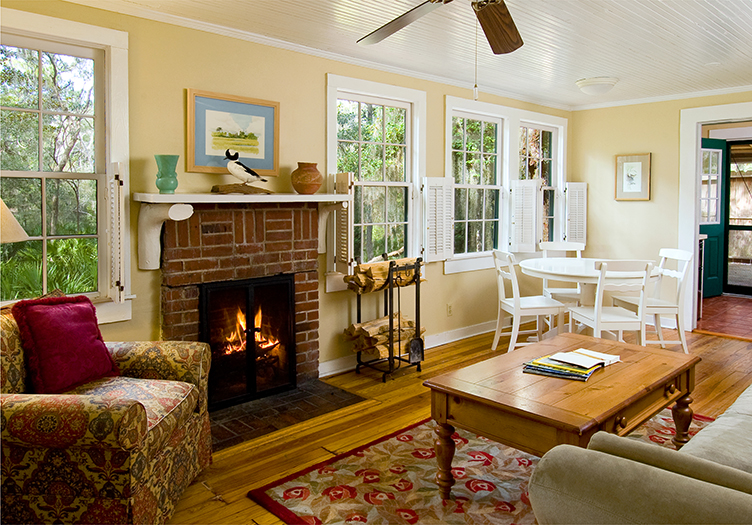 The Lodge on Little St. Simons Island
Located on the private and pristine Little St. Simons Island, the Lodge on Little St. Simons Island is an incredible escape for nature enthusiasts who are looking to immerse themselves in the scenic beauty of Georgia's Golden Isles. 
The Lodge is an ideal getaway for individuals and groups, and are all-inclusive of accommodations*, boat transfers, daily meals, and all island activities, including Naturalist-led excursions and use of all recreational equipment.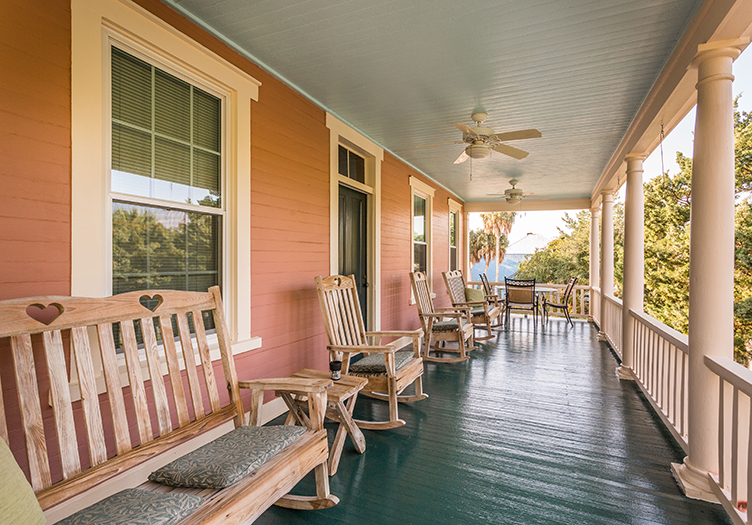 Spencer House Inn Bed and Breakfast
In the beautiful coastal area of St. Mary's, you'll find the Spencer House Inn Bed and Breakfast, located in the heart of the town's historic district and within easy walking distance to the Cumberland Island Ferry. 
In total, this coastal Bed and Breakfast has 14 guest rooms and is perfect for quiet getaways, family reunions, business travel, weddings, and more.  Plus, it includes a sensational breakfast, which often includes some delicious locally-sourced peaches!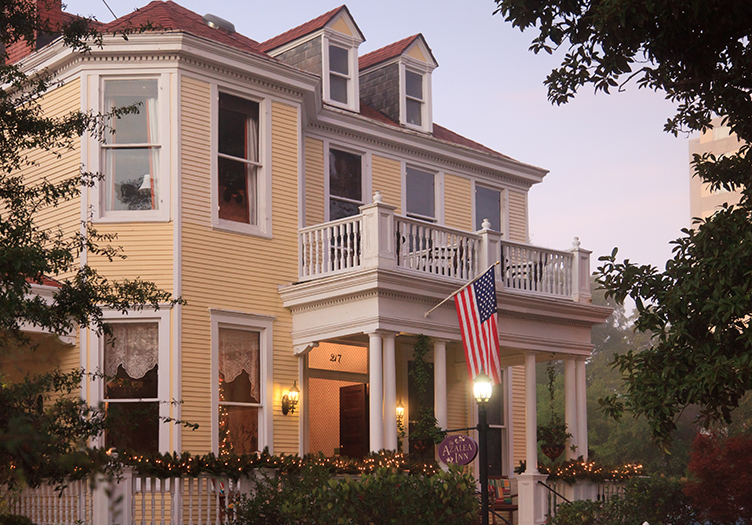 Embrace the laidback southern charm of Savannah at Azalea Inn & Villas. Relax on the beautiful veranda porches, swimming pool, and beautiful hidden gardens, or take a walk around Forsyth Park, in the center of the Historic District.
With just 10 beautiful guest rooms to choose from, all the modern amenities you crave, and a breakfast that you won't soon forget, this is a wonderful place to relax and unwind in Savannah this spring!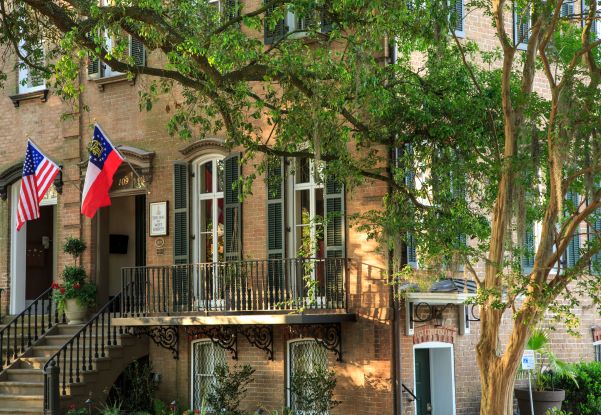 The Inn on West Liberty, located in the heart of Savannah's Historic District, offers guests the chance to explore and enjoy the historic charm of this coastal town.
With 7 guest rooms and a cottage, the Inn on West Liberty offers guests a glimpse of the timeless craftsmanship and elegance on display all over Savannah. Add a delicious breakfast full of southern hospitality, and you have an extraordinary stay at your fingertips.