With glacial lakes, limestone outcroppings, and an award-winning butterfly and hummingbird garden, Kittatinny Valley State Park is a must-see in Newton, New Jersey. This 5,656-acre area is ideal for outdoor recreation and is accessible year-round. The park supports a variety of wildlife including beavers, wild turkeys, and white tail deer. It's also home to many species of songbirds. No matter what time of year you visit, a trip to Kittatinny Valley State Park will leave you with lasting memories! Here are some of our favorite things to do there.
THE BEST WAYS TO EXPLORE KITTATINNY VALLEY STATE PARK
Multi-Use Trails
Kittatinny Valley State Park is full of hiking opportunities for visitors of all interests and abilities. The 27-mile Paulinskill Valley Trail and the 20-mile Sussex Branch Trail are former railroads that have been converted to multi-use trails. The wide cinder surface is ideal for walking, running, mountain biking, and horseback riding. Both trails are popular with cross-country skiers and snowshoers in the winter. If you're looking for a shorter route, the park has a two-mile, self-guided nature trail that offers a brief introduction to its natural and cultural resources. Motorized vehicles are not permitted on any park trails. Be sure to view a trail map before heading out!
Water Sports
Kittatinny Valley State Park has four lakes for fishing and boating: Lake Aeroflex, Gardner's Pond, Twin Lakes, and White's Pond. In May 2006, the NJ Division of Fish and Wildlife introduced landlocked salmon to Lake Aeroflex, providing anglers with a unique opportunity to catch this coldwater fish. Lake Aeroflex is also stocked with brown and rainbow trout. All lakes are open for ice fishing during the winter.
Interpretive Programs
Traveling with the kids? You're in luck! The park offers a variety of educational programs on a year-round basis. Guided nature hikes, mountain bike rides, and informative talks are conducted by the park naturalist and are scheduled each weekend during the spring and summer. There are even a few fall and winter programs. Contact the park or view their Calendar of Events for more info.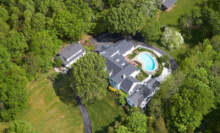 Where to Stay Near Kittatinny Valley State Park
When searching for lodging in Northern New Jersey, look no further than The Wooden Duck Bed and Breakfast. This secluded estate is set in the middle of the park and is just minutes from all that Sussex County has to offer. Enjoy a peaceful sleep in your room, then get out and explore the area's many shopping, entertainment, and dining opportunities. The inn also serves a scrumptious 3-course breakfast each day. Yum!