The Best Places to Work Remotely
Have you ever said to yourself at the end of a vacation "If I didn't have to get back to the office, I could stay here for longer"?  Or have thoughts like "I bet this place is awesome in the off-season without all these tourists"?  Do you have a remote work or work from home job and find yourself feeling a little stir crazy after staring at the same four walls for months on end?  If the answer to these questions is a resounding "YES", then the next question you need to ask is "Where are the best places to work remotely?"  
More and more travelers are taking advantage of the many benefits offered by a flexcation, also known as a workcation or "work from away".  If you're one of the estimated 38% of people who are working from home this year, then you may have come to understand that working from home doesn't necessarily mean that you need to be in your home to work.  You may also be aching for a change of scenery after spending both your work hours and your after work hours in the same location.  Enter the flexcation - an extended trip where you work and play in a vacation destination.  Whether you throw in some extra days off or just use your after work and weekend time strategically, heading to a new destination will revive your spirit and quench your thirst for adventure and new horizons.
Certainly, when you plan your workcation, there are specific things to keep in mind.  You'll want to choose a place that will be comfortable for a longer stay, has loads of things to do in your off time, and has great wifi.  The only other thing you need?  An awesome local host who can guide you to the best places to eat and under the radar gems in the area.  Read on for some of the best places to work remotely.
Best Places to Work Remotely for Outdoors Lovers: Sedona, Arizona
Sedona is a beautiful destination at any time of the year, and with amazing desert views to look at while you work, it's a great destination to work remotely.  With activities ranging from hot air balloon rides and horseback riding to hiking and jeep tours, there's a nearly endless variety of things to do.  Not only is Sedona home to famous red rock formations like Bell Rock and Cathedral Rock, but it is a great home base from which to take day trips to places like the Grand Canyon, Tucson, or Monument Valley.
Places to Stay near Sedona
Sedona, AZ
Villas with kitchenettes and large suites are perfect for longer stays in Sedona
Best Place to Work Remotely for Farm Markets and Americana: Lancaster, Pennsylvania

Visiting Pennsylvania's Amish Country allows you to step back in time to enjoy a slower, more peaceful pace – one where the horse & buggy remains a primary form of transportation, and where windmills and red barns dot the picturesque country landscape.  Explore farms and farm markets, sample Pennsylvania Dutch cooking, or shop for handmade crafts or antiques.  Visit the area attractions like Longwood Gardens or Hershey, PA.  Take day trips to the nearby Brandywine Valley for some wine tasting, go hiking in the Lehigh Valley or Poconos, or take in the history and sights of Gettysburg or Philadelphia. 
Places to Stay near Lancaster County
Annville, PA
Nestled in a three-acre botanical garden with sweeping views of the legendary Blue Mountains
Ephrata, PA
Originally a tavern/stage coach stop built in 1763, the location is great for exploring the diverse attractions throughout Lancaster County
The Inn and Spa at Intercourse Village
Intercourse, PA
Located in a little village where time stands still and you can hear the rhythmic clip-clop of the horse and buggies traveling down Main Street
Best Place to Work Remotely for History and Cliff Walks: Newport, RI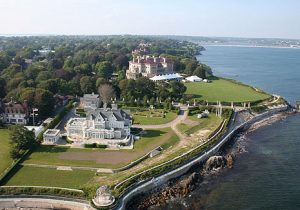 From luxurious historic mansions, lighthouses, and cliffside walks overlooking the sea to goat hikes on preserved farmland and seal tours, Newport has something for everyone.  Within an easy drive of much of the New England coast, there are amazing day trips to nearby Mystic, CT and Plymouth, MA.  So get yourself ready for clam chowder, sailing trips and gorgeous sunsets and plan a flexcation to Newport.
Places to Stay near Newport
Newport, RI
Located along Newport's harbourfront, The Francis Malbone House Inn exudes luxury
Newport, RI
The Hydrangea House Inn is located on Bellevue Avenue, the avenue of Newport's famous mansions
Westerly, RI
Enjoy a ferry ride to Block Island, a short day trip to Newport, Jamestown or nearby Mystic Seaport and Village
Best Place to Work Remotely for Undeveloped Beaches: Amelia Island, FL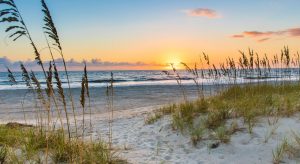 If palm trees, temperate weather, and pristine beaches are calling your name, it's hard to beat Amelia Island for a place to spend an extended getaway.  Known for its gorgeous beaches, pristine nature preserves, and a colorful history, the area is perfect for getting out and exploring.  In addition to that, it's a perfect location for day trips to places like St. Augustine, Cumberland Island National Seashore, Jekyll Island, and Daytona Beach.
Places to Stay near Amelia Island
Amelia Island, FL
Located in the historic district of Fernandina Beach and an easy bike ride to 13 miles of pristine beaches
The Amelia Island Williams House
Amelia Island, FL
Located in the historic seaside village of Fernandina Beach, situated in a quiet neighborhood of beautifully restored Victorian homes