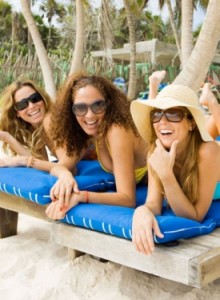 There's nothing like grabbing your best girlfriends and heading off for a weekend away from it all. Taking the time to reconnect without the restraints of day-to-day life-the career, the kids, and all the rest of it is a way to re-balance yourself and keep the closeness of your deepest friendships alive.
You've Earned the Right
"Sounds like a great idea, but I just can't," is the usual refrain, but who says this has to be true?  Get a local high school student to walk the dog and mind the cat, get your hubby to mind the kids on his lonesome for a few days, and take to the hills! You've earned it.
Letting Your Hair Down
Now that you've made the decision and your girlfriends are on board, the question is, where to go? A hotel can be too impersonal, so why not choose a cozy bed and breakfast where you can let your hair down and enjoy a weekend of pampering, gossiping, eating, and delighting in the joys of a new setting. Here are just a few suggestions to ignite your imagination, whether you want a quiet setting where you can commune with each other in a lush, natural setting; enjoy the perks of a spa-type atmosphere; or take advantage of some nearby social and cultural life.
A Weekend of Spa Treatments
Having a weekend of spa treatments is not a bad way to spend time with your girlfriends. Many bed and breakfasts have on-site facilities or are happy to accommodate you with a massage in your room or by the pool. Often, an inn has a good relationship with a local day spa, where treatments can be coordinated there, providing you with a few hours of pure bliss as you order up your beauty treatments.
In Bay City, Michigan, the Historic Webster House is a terrific example of luxury and comfort smack dab in the middle of a gorgeous historical district. The three-story Queen Anne style home was built in 1886 and features six bedrooms with all of the amenities you could want in a renovated and perfectly lovely bed and breakfast. Right near the river front in the downtown area, you are just a short walk from first class antique shops, marvelous little shops filled with curios and art, and cafes made for people watching. With year-round river front festivals, you can schedule your weekend accordingly to experience all that Bay City has to offer. The formal dining and living rooms at the Historic Webster House will put you and your friends in the mood for fine dining, and the feather top queen size beds with down duvets will invite you to do some luxurious dreaming when it's time to turn in. Awaken to a gourmet breakfast where you can plan the day's activities, and you'll be hard pressed to remember what life is like back home. Why not opt for the "Divine Diva Girlfriend Getaway Package" that includes a host of wonderful extras like chilled champagne, to-die-for chocolate covered strawberries that greet you upon arrival, and a wine and cheese hour every evening? You will also receive a three course gourmet hot breakfast, one evening of salad, pizza and brownies, a gift certificate for one night of dining at a local restaurant, and a souvenir Webster House wine glass or coffee mug.
The Hoopes' House Bed and Breakfast in Rockport, Texas is a gorgeous historic building that was built in 1890's.  Impeccably renovated, this cheerful beauty sports a wonderful view of the harbor, with just a short walk to local museums, shops, galleries and more. You and your girlfriends can relax in beautifully appointed guest rooms that feature twelve-foot ceilings, hardwood floors, carved fireplaces, and a plethora of art and antiques. What a way to feel like you're miles away from home as you catch up on each other's stories and enjoying hospitality, Texas style. If you go during the warmer months, you can take a dip in the pool, or in any season, enjoy sipping a fine glass of wine in the hot tub as you let the cares and stresses melt away. What a terrific way to reconnect with friends! Take some time to go antiquing in the many shops that dot the area, where you can discover unique finds to take back home to remind you of this special time with your friends. There's plenty of bird watching too, and if you plan a picnic or a good long walk, you'll find lots to see on the magnificent grounds of this historic and inviting bed and breakfast.
The Whalewalk Inn and Spa in Eastham, Massachusetts on glorious Cape Cod is the perfect setting for a spa weekend with the girls. With a daily gourmet breakfast at your own table on the sun porch or in the garden in summertime, you'll be ready for a day filled with countless possibilities. Walk the beaches of the National Seashore, swim in the invigorating water, cycle up the coastline, or shop in the local arts and crafts shops. You will be filling each day with the best of the best. Built in 1830 for whaling captain Henry Harding, the Whalewalk Inn and Spa later became a gentleman's farm, known as Whalewalk Farm. It was then purchased in 1953 and turned into an inn, undergoing extensive and authentic restoration to bring it to what it is today. Filled with a collection of Waterford crystal, 19th Century antiques, oriental rugs, and flowers, this is a special place to gather for any occasion.
The Port d'Hiver Bed and Breakfast in Melbourne Beach, Florida is on a barrier island that still holds the flavor of old Florida. Just across from the ocean, the views are spectacular, especially when seen from your private porch. Amble through the private estate, past the spa and pool, and breathe in the tropical setting that is so soothing to the nerves, the skin, the eyes, and the soul. This is a lush tropical setting that's just right for bringing girlfriends together in paradise, sipping margaritas while watching the sun go down. With complimentary concierge service, Wi-Fi, flat screen TVs to watch a chick flick on cable, and all the fine amenities you could dream of, The Port d'Hiver is a great choice for getting away from it all for a sublime girls weekend.
Contact Select Registry Today
For more information on packages, specials, and different bed and breakfasts you and your girlfriends may enjoy, please click here.