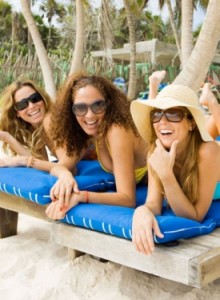 There's nothing like grabbing your best girlfriends and heading off for a weekend away from it all. Taking the time to reconnect without the restraints of day-to-day life-the career, the kids, and all the rest of it is a way to re-balance yourself and keep the closeness of your deepest friendships alive.
You've Earned the Right
"Sounds like a great idea, but I just can't," is the usual refrain, but who says this has to be true?  Get a local high school student to walk the dog and mind the cat, get your hubby to mind the kids on his lonesome for a few days, and take to the hills! You've earned it.
Letting Your Hair Down
Now that you've made the decision and your girlfriends are on board, the question is, where to go? A hotel can be too impersonal, so why not choose a cozy bed and breakfast where you can let your hair down and enjoy a weekend of pampering, gossiping, eating, and delighting in the joys of a new setting. Here are just a few suggestions to ignite your imagination, whether you want a quiet setting where you can commune with each other in a lush, natural setting; enjoy the perks of a spa-type atmosphere; or take advantage of some nearby social and cultural life.
A Weekend of Spa Treatments
Having a weekend of spa treatments is not a bad way to spend time with your girlfriends. Many bed and breakfasts have on-site facilities or are happy to accommodate you with a massage in your room or by the pool. Often, an inn has a good relationship with a local day spa, where treatments can be coordinated there, providing you with a few hours of pure bliss as you order up your beauty treatments.
The Port d'Hiver Bed and Breakfast in Melbourne Beach, Florida is on a barrier island that still holds the flavor of old Florida. Just across from the ocean, the views are spectacular, especially when seen from your private porch. Amble through the private estate, past the spa and pool, and breathe in the tropical setting that is so soothing to the nerves, the skin, the eyes, and the soul. This is a lush tropical setting that's just right for bringing girlfriends together in paradise, sipping margaritas while watching the sun go down. With complimentary concierge service, Wi-Fi, flat screen TVs to watch a chick flick on cable, and all the fine amenities you could dream of, The Port d'Hiver is a great choice for getting away from it all for a sublime girls weekend.
Contact Select Registry Today
For more information on packages, specials, and different bed and breakfasts you and your girlfriends may enjoy, please click here.