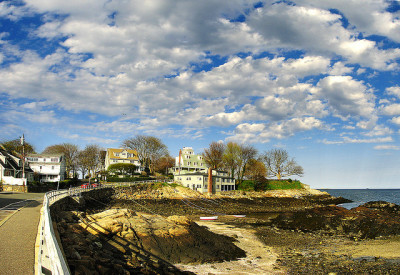 Marblehead, MA / Photo By Rick Harris
Marblehead, MA is a small coastal New England town bordering Salem – the site of the historic Salem Witch Trials. Marblehead has its own list of great attractions, and is in a great location just 16 miles north of Boston. The town is known for its roots in commercial fishing and yachting, as well as for being the birthplace of both the American Navy and Marine Corps Aviation.
Marblehead was settled by Mayflower Pilgrims in 1629, and its residents were instrumental in the Revolutionary War. This quaint town is home to lauded restaurants and luxurious bed and breakfasts, including the Harbor Light Inn. Located in the heart of the harbor district of town, the Harbor Light is surrounded by historic homes, shops, galleries and various restaurants making it a great location for walking around town. There are exciting things to do in Marblehead, MA from museums and parks, to festivals and historic tours.
Here Are 5 of the Best Things to Do in Marblehead, MA
Marblehead Museum
This downtown museum is responsible for the preservation and interpretation of local and national history – as it pertains to the town of Marblehead. The museum is located in three historic colonial buildings in which you'll find its historical archives of papers, books, journals, and photographs, as well as its collections and exhibits. This is the best way to learn the town's intriguing history.
Marblehead Neck Wildlife Sanctuary
Located in the center of the Marblehead Peninsula that juts out into the Massachusetts Bay, this refuge is made up of swamps, tickets and woodlands that offer reprieve for scarcely sighted birds during migratory seasons. Marblehead Neck is 18 acres of beauty that makes for a great place for walking and bird watching.
Crocker Park
This park, located right off Front St. in the Marblehead Harbor, offers some of the town's best ocean views. It is home to special events throughout the year and also hosts many weddings. The small park is home to a pavilion, gazebo, benches, restrooms and a swimming float.
Marblehead Lighthouse
Located in the Chandler Hovey Park the Marblehead Lighthouse was initially built in 1835 and rebuilt in 1896. The park is open all year and the lighthouse only by special arrangement. It is a cast iron structure with an oil house next to it, though the light was automated in 1960.
Devereux Beach
This is Marblehead's most popular beach and has over five acres of sand for patrons to enjoy, as well as picnic tables and a playground. It is a popular spot to watch the 4th of July fireworks, and is officially open in late June when lifeguards are on duty and there is a cost for parking. The beach is located right off the causeway over to the peninsula and right next to the Goldthwait Reservation. If you're planning a trip to explore the historic roots and natural beauty of this quintessential coastal town then you definitely want to indulge in these great things to do in Marblehead, MA to get the full experience. Make sure to book your stay at the Harbor Light Inn as well!