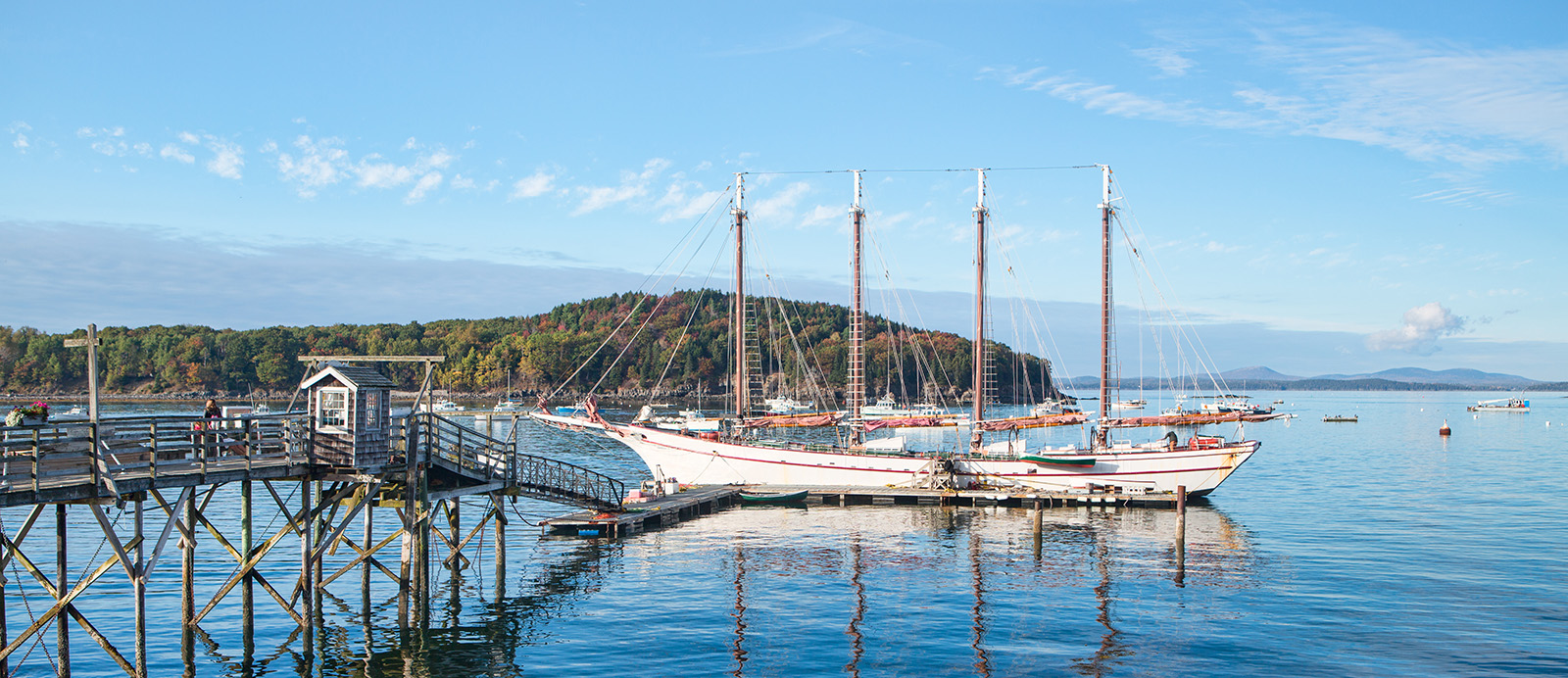 Bar Harbor Bed and Breakfasts & Inns
THINGS TO SEE & DO
We guarantee that everything you do in Bar Harbor will become a cherished lifelong memory. This seaside town on Mountain Desert Island combines locally owned shops, fantastic outdoor activities, and unique New England history to create an endless list of exciting things to see and do. If you're a fresh air junkie, spend a day or two hiking through Acadia National Park's striking trails or catch a sunrise on the nearby Porcupine Islands. If you go at the right hour of the day and have luck on your side, you'll be able to experience Thunder Hole in Acadia National Park - a semi-submerged cave that booms for only an hour or two each day before high tide. History buffs delight in museums and monuments like the Abbe Museum and Agamont Park. Love majestic lighthouses? We've also got plenty of those. Check out Bass Harbor Head Light located at the southwestern reach of Acadia National Park. It's a historic lighthouse built in 1858 that still has a fully functional light. There's also no better place to dine upon delicious, fresh seafood or try a world-famous lobster roll at Thirsty Whale Tavern! Head to downtown Bar Harbor for unique shops and restaurants. Don't worry, there's plenty of street parking here if you're planning on exploring for a few hours or having a nice dinner. Whatever you experience here will make you want to return.
WHERE TO EAT & DRINK
Bar Harbor, as the crown jewel of Maine's beloved coast, is one of the best places on the planet to indulge in sweet, juicy lobster and seafood of all kinds. Start your morning with a hearty, delicious breakfast at one of the best bed and breakfasts in Bar Harbor, Maine. Then, we recommend grabbing some tasty bites for an al fresco lunch at a place like Jordan Pond House in the Park or just stop in for afternoon tea and dessert. Finally, try West Street Cafe for an unpretentious lobster dinner, or Havana, a celebrated spot for high-end Latin cuisine. Havana not only has incredible food, but also amazing handcrafted cocktails, martinis, and an award-winning wine list. Before you visit one of these restaurants, be sure to check if they are open as some restaurants in this area operate seasonally. After dinner, don't miss out on Mount Desert Island Ice Cream where you will find premium, house made ice cream that will leave you wanting even more. Wherever you choose to dine, you'll find exactly what you've been craving!
BEST TIME TO VISIT
The best time to visit Bar Harbor, Maine, is "the summer season," which runs May through October. During this time, the weather is absolutely perfect (think sunny skies, comfortable temperatures in the 70s, and plenty of fun activities to enjoy). Many visitors enjoy coming during the 4th of July to watch the annual firework show over the harbor. Every other season offers something special, too. With spring comes peak whale watching season as well as beautiful blooms coming back to life. Visit during September as crowds will be gone and cruise ships won't be in full force yet. Fall transforms Bar Harbor into a leaf peeper's paradise; if you visit during this time, be sure to monitor fall color forecasts and witness the explosive reds, oranges, and yellows autumn brings - you'll remember it forever! Winters here are chilly, but offer unparalleled snowy views. Visit Acadia National Park for scenic drives, unusual wildlife, and you can't forget the country's finest cross-country skiing. Winter is just as magical as visiting during the peak season of summer.
WHERE TO STAY
Are you searching for the best bed and breakfasts in Bar Harbor? Select Registry's Bar Harbor properties are more than just places to sleep – they represent the finest accommodations, most memorable gourmet breakfasts, and personalized attention available. Comfortable rooms, fine linens, and rural charm are just the beginning. Whether you're searching for a waterfront bed and breakfast in Bar Harbor with a private deck or one of the best B&Bs near Acadia National Park, simply follow the link below and begin your search for a Select Registry property. Bar Harbor bed and breakfasts await along with the mystique of Maine's most celebrated seaside town!