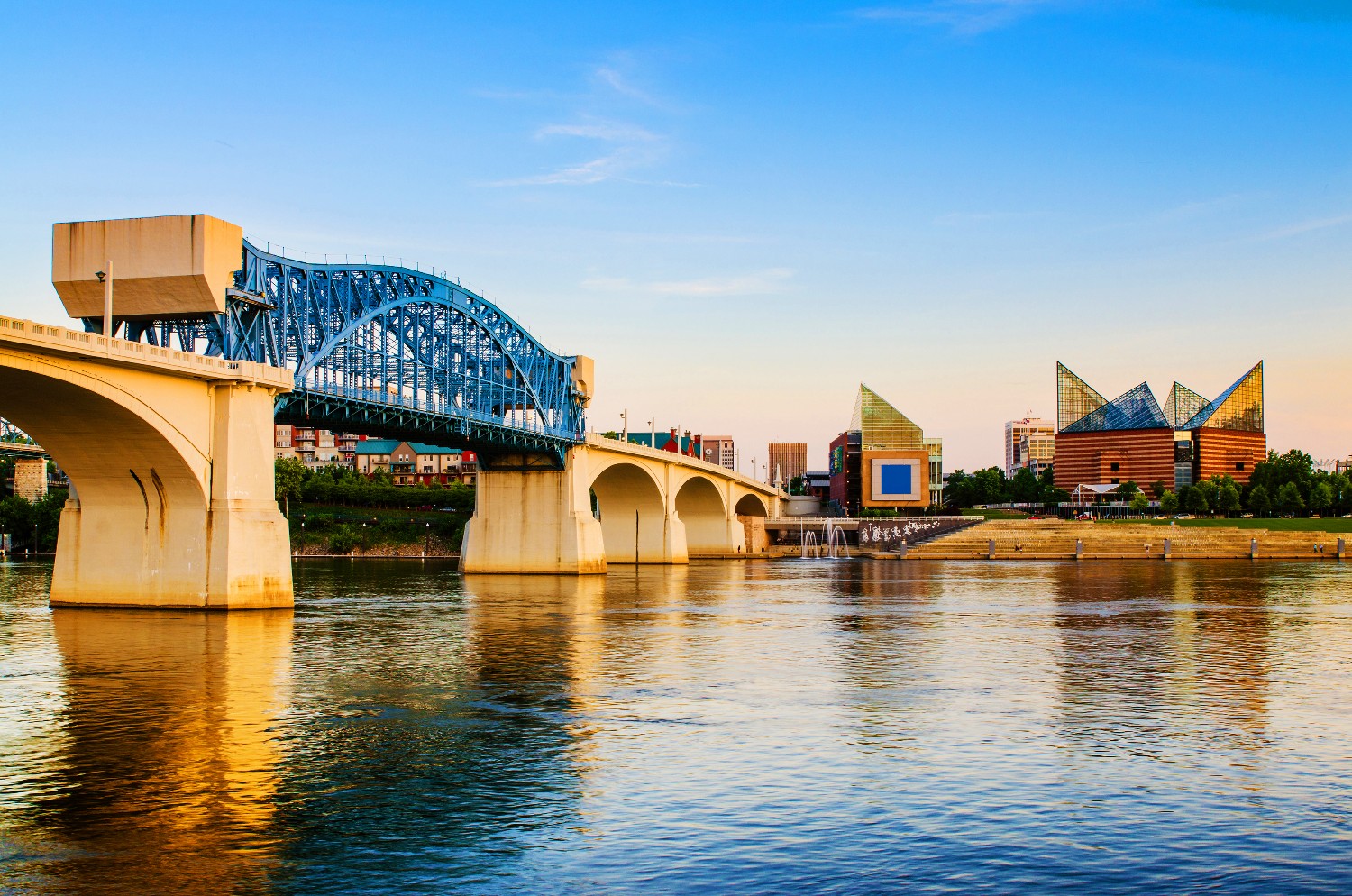 Home »
Chattanooga Bed and Breakfasts & Inns
Welcome to Chattanooga, Tennessee
Chattanooga is a city situated along the Tennessee River in the foothills of the Appalachian Mountains. The diverse landscapes draw visitors from all over the world, year after year. Exploring this region is like stepping into a fantasy novel. From stoic mountainsides and gushing waterfalls to sandstone formations and lush gardens, Chattanooga is a nature lover's dream. What was once known as "America's dirtiest city" in 1969 is now seen as a pioneer in urban sustainability and green living. Enjoy the fresh air as you take in the sweeping views. Whether you've got the whole family in tow or you're planning a much-needed romantic getaway, you'll find countless memories waiting for you in Chattanooga, TN.
Things to See & Do
While the obvious outdoor and wildlife-related adventures are an asset to the city's list of attractions, you'll discover a treasure trove of history museums and cultural events as well. Choose between hiking, rock climbing, or ziplining if you're feeling bold. Another popular destination for visitors is Lookout Mountain, a one-mile trip up an incline railway at a 72% grade with a number of activities and historical Civil War attractions. There's so much to do in the area and you can get to all these activities in mere minutes from downtown Chattanooga. Otherwise, consider a visit to the Tennessee Aquarium and the Creative Discovery Museum or catch a performance at the historic Tivoli Theater.
Chattanooga promises breathtaking views from every corner of the city. It also manages to inspire a calm and refreshing aura from everyone who chooses to visit. Rowdy family gatherings, newlywed couples, and daring solo travelers all find their place at this charming location among friendly locals. You'll feel right at home.
Where to Eat & Drink
Chattanooga is a gold mine of good ol' comfort food. Nothing quite hits the spot like a plate of southern-style barbecue, a bowl of creamy mac n' cheese, or a side of steamy collard greens. Are you vegan or vegetarian? There's no need to fret. Although the city is booming with highly-acclaimed seafood and BBQ restaurants, you'll still find your fair share of herbivore-friendly establishments. Be sure to check out the farmer's markets and peruse local vendors for fresh produce or artisan snacks. You can even plan an evening touring a micro-distillery and tasting room.
Best Time to Visit
Because of the abundance of natural beauty and endless entertainment, one could easily argue that Chattanooga is a great place to visit all year. The spring and summer draw travelers to enjoy the warm weather, clear skies, and breathtaking views of the Appalachian Mountains. When fall arrives, crowds disperse and the temperatures cool off, making strenuous hiking more enjoyable. It's also a great time to catch the leaves changing from vibrant greens to rusty reds and golden yellows.
Where to Stay
Picture yourself hiking solo in the Appalachian Mountains or imagine you and your family enjoying each other's company in the great outdoors. Your dream vacation will become a reality when you choose to stay in one of Select Registry's amazing bed and breakfasts near Chattanooga, TN. Relax with the cozy cabin vibes of nearby hideaway inns. Escape the hustle and bustle and retreat to the perfect getaway, immersed in natural beauty. What are you waiting for? Browse our Chattanooga bed and breakfast inns below!
New listings coming soon.