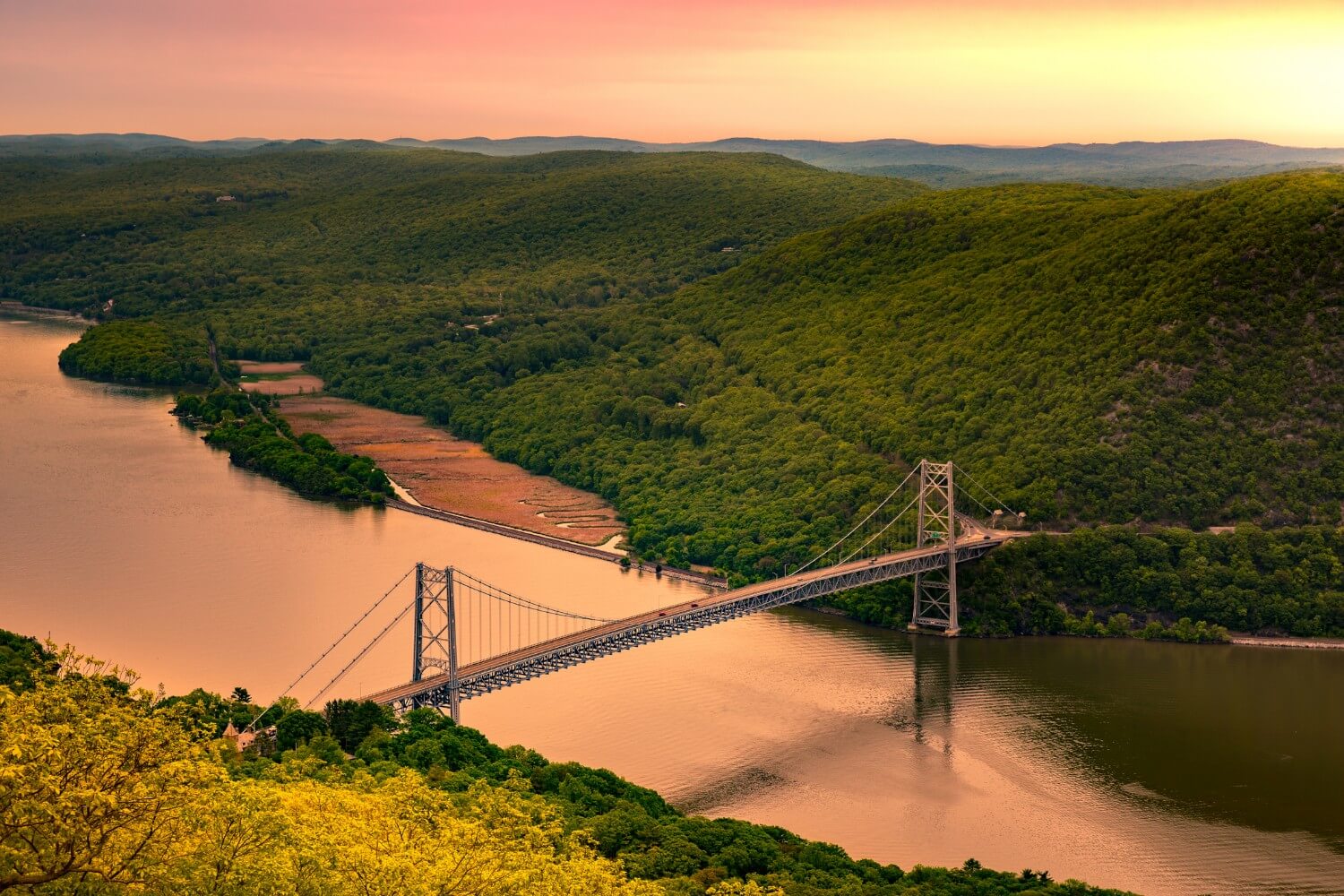 Welcome to the Hudson Valley
Known for its pastoral aesthetic, this area is an ideal location for a rejuvenating getaway. Visitors enjoy an abundance of natural beauty, and our
bed and breakfasts in the Hudson Valley
provide comfortable modern accommodations. Whether you want to get outdoors and be active or just lay back and relax, you'll have an experience to remember.
Located about two hours from New York City, the Hudson Valley provides respite for city-dwellers. However, no matter where you reside, you'll be enamored with what you find. This designated National Heritage Area is scenic, historic, and full of culture. It's also the location of a busy agritourism scene. You'll enjoy wineries, recreation, the arts, and more, all set to a backdrop of majestic mountains.
Things to See & Do
A range of attractions draws visitors to the Hudson Valley. The Appalachian Trail began here, so it goes without saying that there is great hiking. Take a guided tour or venture out on your own to explore thousands of miles of trails. The Hudson River also has plenty of fun to offer, including but not limited to kayaking, swimming, fishing, and boating.
Institutions of arts and culture abound. Visit museums, historic mansions, and even an outdoor sculpture garden. There are many opportunities to take in great performances. Music, theater, festivals, cinema, opera, and more make the Hudson Valley a vibrant artistic region.
Where to Eat & Drink
Delicious food and drink are a staple in the Hudson Valley. It is the location of the Culinary Institute of America, which produces some of the nation's best chefs. Many matriculate to the area's gourmet restaurants and share their skills with the region's eager eaters. Due to a rich farming heritage, foodies can indulge in locally-sourced produce almost anywhere. The well-established farm-to-table tradition includes high-end restaurants, quaint farm stands, and even
bed and breakfasts in the Hudson Valley.
Along with fresh, expertly-prepared meals, restaurant goers can expect excellent wines. The Hudson Valley was the first wine-producing region in the country.
Best Time to Visit
A trip to the Hudson Valley is great getaway any time of year. Autumn is a popular time to visit. The changing colors of the foliage are a sight to behold, and the weather is great for outdoor activities. In spring, visitors can watch as the area comes back to life and take advantage of ideal temperatures. Summers are typically hot, which makes them perfect for enjoying the river and water-based activities. Winters bring snow, and it is typical for many area attractions to close during the colder months. However, skiing and other winter sports still bring many to the region.
Where to Stay
For access to the best that the region has to offer, stay at one of Select Registry's
bed and breakfasts in the Hudson Valley
. Our comfortable accommodations are near some of the best activities, attractions, and restaurants. Plus, they provide all the amenities you need for a great vacation. Take a look at our recommended properties and reserve your room today!