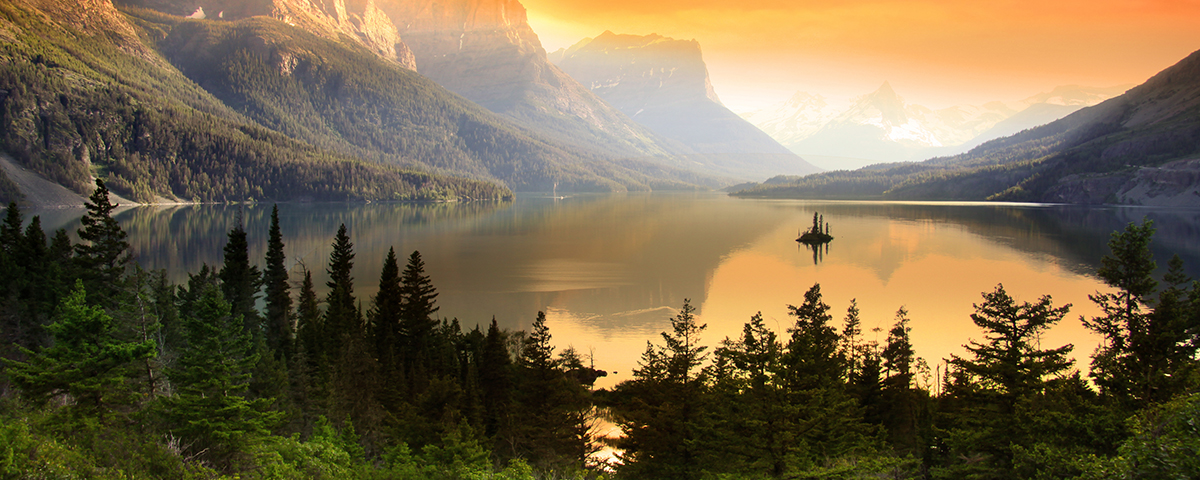 The Best Montana Bed and Breakfast Inns
WELCOME TO MONTANA
Welcome to "The Big Sky" state, where the opportunities for outdoor recreation are limitless! Montana has it all, whether you want to hike, bike, or explore your way through legendary destinations like
Glacier National Park
or ski under expansive blue skies. It's your turn to discover why millions of visitors each year choose to vacation in this great state. Improve the experience by staying at a Montana Bed and Breakfast. Select Registry offers a diverse selection of accommodations to help you plan the perfect getaway.
THINGS TO SEE & DO
Though Montana is well-known as an outdoor adventure mecca, the state does offer a little bit of everything. From hiking, biking, fishing, and more to taking in the bustling energy of Montana's cities, you'll be able to mix and match activities on your vacation and tailor it to exactly what you like. For a bit of fresh air and adventure, drive the famed Going To The Sun Road in Glacier National Park. When downtime is what you crave, heed the call of the gentle waters of Flathead Lake or Montana's world-class trout streams. When it's time to relax at the end of the day, kick back with a beer at a local brewery, and enjoy the hip and trendy urban vibe found in cities like Missoula and Whitefish. These cities are home to a surprising array of museums and cultural attractions, all while placing you in the heart of some of Montana's most legendary scenery. Snow lovers won't be left behind in Montana, either. Hit the slopes for some downhill skiing or snowboarding, or explore the state by snowshoe, cross-country ski, or snowmobile. The adventure never stops in the Big Sky State!
WHERE TO EAT & DRINK
Montana's craft brew scene is bustling, and locally-sourced foods are all the rage in cities across Montana. Montana might not be on your radar as a food-focused destination, but your palate will certainly be pleased throughout your vacation. Montana's rich agricultural heritage means you'll find a healthy selection of locally grown and artisan-made products everywhere you go, and that translates into a thriving culinary scene. The pacific northwest has grown increasingly well known for its hops-driven beverages, and Montana is no exception. There's a lot of wheat and barley grown in the state. Combined with some of the Pacific Northwest's best hops (Washington, Oregon, & Idaho lead the continent in hop production), you can expect a delicious pint of beer after your days of adventure.
BEST TIME TO VISIT MONTANA
The best time to visit Montana is truly whenever you can make it here! The state offers four seasons of fun! Western Montana features hot summers and cold, snowy winters. During the spring and fall, the temperatures can vary dramatically but, on average, are mild and seasonable. For many, the best time to visit Montana is from summer through fall, when outdoor activities can be enjoyed to their maximum. This is, without a doubt, the best time to enjoy mile upon mile hiking and biking through Montana's vast wilderness, not to mention all the lakes and rivers that offer excellent opportunities for rafting, paddling, and fishing. By winter, it will be time to strap on a pair of snowshoes or cross-country skis so you can get out and enjoy some of those same trails! With four seasons of adventure waiting, there's never a wrong time to visit Montana.
BEST PLACES TO STAY IN MONTANA
With so many wonderful things to do in Montana, delicious food and beer, and some of the most beautiful scenery in the country, you'll want to stay in equally impressive accommodations. Select Registry has the best selection when it comes to finding a comfortable room for your Montana vacation. Whether you're looking for the perfect weekend getaway in Montana or the ideal place to stay for your family vacation, you'll find what you're looking for in our catalog below. Coupled with the best hospitality on offer, Select Registry's collection of Montana inns, boutique hotels, and bed and breakfasts provide the perfect setting for your getaway to the Big Sky State.