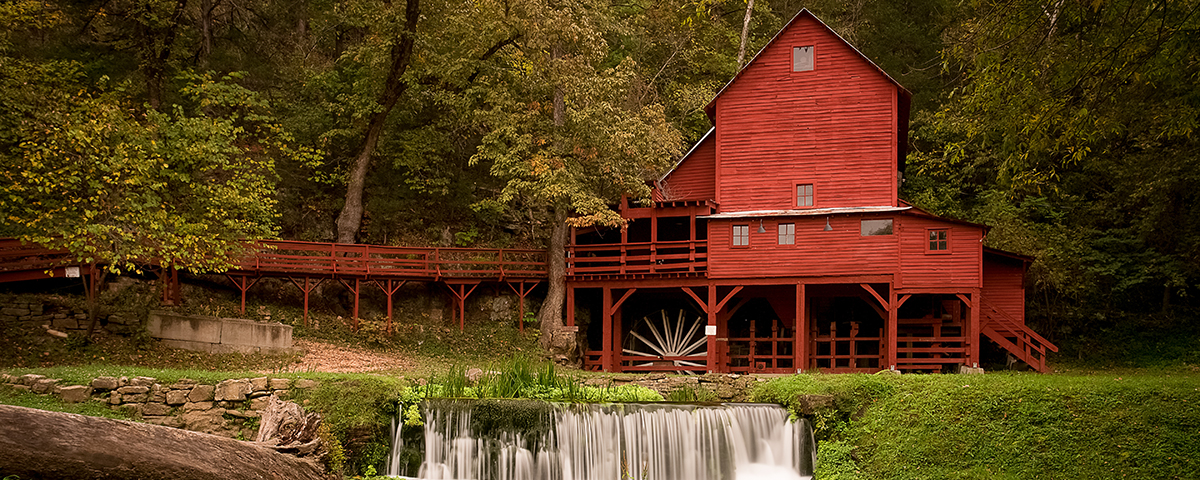 Missouri Bed and Breakfasts & Inns
Welcome to Missouri
Missouri's natural beauty, rich history, and warm hospitality are just a few of the qualities that inspire and stir the imagination of those who visit. Did you know that the charming town of Hannibal, Missouri, inspired the legendary Mark Twain to create the characters of Huckleberry Finn and Tom Sawyer? Although many know Missouri as a history buff's paradise and idyllic, romantic destination, Missouri's vibrant nightlife also leaves an abundance of activities to be discovered. Whether you are exploring the legendary restaurant scene, sailing down the Great Missouri River, or enjoying a baseball game at Busch Stadium, there are so many memories to be made in Missouri! Stay at a wonderful Select Registry Missouri B&B on your next romantic getaway to this beautiful state.
Things to See & Do
Outdoor enthusiasts love exploring the breathtaking depths of the Mark Twain National Forest or the Lake of the Ozarks. Here you will find a massive lake spanning over 1,000 miles of shoreline with the state's best fishing area. Whether you just want to relax in a small lakeside cabin or get out in the water, there is something for everyone to enjoy here. Couples look forward to a picturesque afternoon in Missouri's beautiful Wine Country. We recommend stopping by Stone Hill Winery to enjoy a glass of wine in their tasting room. A whimsical night in St. Louis exploring Missouri's legendary jazz scene is also a must. And while Missouri is the perfect destination for couples, it is also a wonderful place for families to vacation! Whether you visit the Kansas City Zoo or watch a St. Louis, MO Cardinals game, there is never a shortage of family-fun activities in Missouri.
Where to Eat & Drink
When you imagine classic Missouri cuisine, what dishes come to mind? Is it barbecue, gooey butter cake or creamy frozen custard? Whatever your taste, Missouri promises to deliver that and so much more! Amazing artisan cheeses and beautiful charcuterie boards are abundant in Missouri, and Parker's Table in St. Louis is one of the best places to find them! Take a day trip to Kansas City and discover the legendary Arthur Bryant's Barbeque. It is a necessity to get an order of the legendary ribs when you are here! For the most mouthwatering and buttery gooey butter cake in Missouri, you have to try Gooey Louie in St. Louis! Comfort food, upscale dining, and Midwestern hospitality are everywhere in Missouri, and we know that you can't find cuisine like this anywhere else in the world. There are an abundance of unique bars and pubs scattered across this state with a great one located in Kansas City called Harry's Country Club. Here you will find the finest and largest selection of whisky, traditional American eats, and special events happening often.
Best Time to Visit
Missouri offers a unique combination of breathtaking landscapes and a vibrant nightlife, so there is never a bad time to visit! The most popular time to visit is during the summer months of June and July. During this time there are many different festivals going on that guests can enjoy. You can look forward to gorgeous spring weather and wildflowers blooming throughout the Mark Twain National Forest, and warm summer days on the Great Missouri River. Enjoy cool and cozy autumn afternoons in the Wine Country, and an abundance of shopping during the snow-covered and holiday-inspired winters! Missouri has four distinct seasons, each of which offers you the opportunity to discover the Upper Midwest from a different point of view.
Where to stay: Missouri Bed and Breakfasts & Inns
Find an intimate and picturesque getaway at one of the best bed and breakfasts in Missouri. Whether you are visiting Wine Country or uncovering the great mysteries of Huck Finn and Tom Sawyer, you will find the perfect place to relax and unwind at a Select Registry Missouri inn. With gracious hospitality and Midwestern charm, our unique and upscale bed and breakfasts have helped thousands experience the best of what Missouri has to offer. Start each morning out with a gourmet breakfast before you begin exploring Missouri. Select Registry's standard for quality and personalized hospitality are sure to be an amazing addition to your retreat in Missouri. Don't just book a room; select the best accommodation at one of our unique MO bed and breakfast properties below.
New listings coming soon.