The Blue Ridge Parkway spans 469 miles from the Shenandoah National Park in Virginia, cuts through North Carolina, and ends in the Great Smoky Mountains National Park in Tennessee. Twisting and turning along this scenic route, you'll encounter towering mountaintops, roaring waterfalls, and lush forests. Read on to learn more about how to make the most of your Blue Ridge Parkway road trip. If you're planning a vacation with your sweetheart, then take a look at our Romantic Getaway Guide for even more suggestions! 
Where Does Your Blue Ridge Parkway Road Trip Begin? 
The Blue Ridge Parkway's northern entrance begins at Rockfish Gap, which sits at the southern end of Shenandoah National Park's Skyline Drive off of Route 64. The southern entrance of the Parkway lies near Cherokee, NC in the Great Smoky Mountains National Park. You will also find various entrances and exits along the way, where the Parkway meets major federal and state highways. For uniformity purposes, our suggested route begins at the northernmost access (Milepost 0) at Rockfish Gap, VA, and ventures to the southernmost access (Milepost 469.1), in junction with US-441. 
Navigation Tip: Oftentimes, GPS units do not work well on the Parkway. Don't fret. You can easily track the progress of your trip by counting mileposts and mile markers along the way!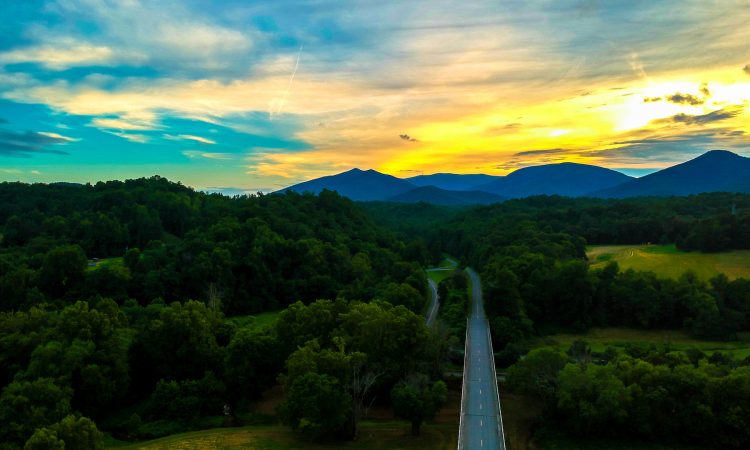 The Parkway in Virginia: Rockfish Gap to Roanoke |
Est Drive Time: 3.5 hours
Starting at Milepost 0 of the Blue Ridge Parkway, near Waynesboro, VA, embark on a road trip of a lifetime. From Rockfish Gap to Roanoke, you will encounter countless outdoor adventures with which you can fill your day. Hike along Humpback Rocks through a deconstructed farmstead and take in a 270-degree view of the mountains. 
Stop at the Yankee Horse and check out an old logging railroad and trek towards Wigwam Falls. Take in the beautiful James River and Kanawha Canal. Then, before reaching Roanoke, be sure to visit one of the most popular attractions along this section of the Parkway: Peaks of Otter. Here, you will see Otter Lake and the impressive Otter Lake Dam. 
Navigation Tip: Download the Blue Ridge Pkwy Travel Planner app for your iPhone or Android. This application is an excellent travel resource and works even without a cell signal.  
Stay at Steeles Tavern Manor
In Steeles Tavern, VA
Have you always wondered what it might be like to stay in an elegant manor house? Steeles Tavern Manor is a 100-year-old beautiful bed and breakfast that offers all the modern amenities of today while still capturing that historic charm of the past. You can't beat enjoying a cup of coffee while soaking in 50 picturesque acres while tucked into the foothills of the mountains. 
Stay at Brierley Hill Bed and Breakfast 
In Lexington, VA
With picture-perfect, panoramic views of the Shenandoah Valley, the Blue Ridge Mountains, and the Appalachian Mountains, Brierley Hill Bed and Breakfast paints the scene for an unforgettable stay. Imagine yourself rocking in a chair on the large wraparound veranda as the sun sets in the distance. Crisp linens, plush bedding, and beautiful decorations make it hard to leave!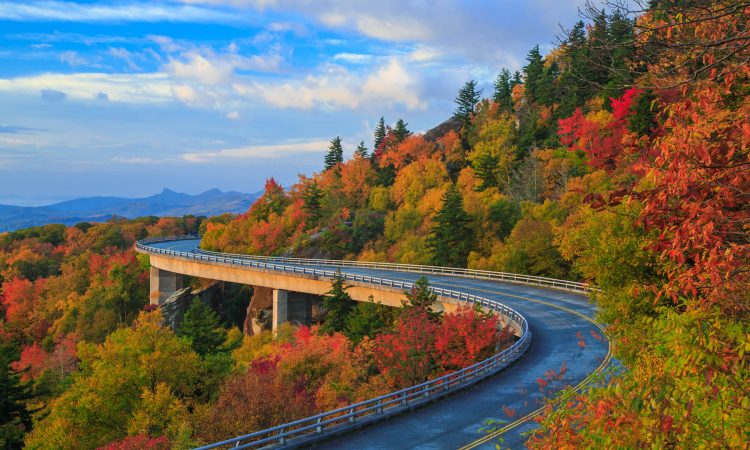 Entering the Tar Heel State: Roanoke to Asheville |
Est Drive Time: 8.5 hours
In Roanoke, get a taste of local art and culture when you visit the Pinball Museum, Taubman Museum of Art, and the Black Dog Architectural Salvage and Antiques. Additionally, treat your tastebuds to a delicious meal at Local Roots, Cedars Lebanese Restaurant, or Billy's while you're in town. Some of the most notable hiking trails from Roanoke to Asheville reside in the Rocky Knob area where you can take in the views of Rock Castle Gorge and the 3,752-foot Rocky Knob. Stop at Mabry Mill in the summer for some old-fashioned pancakes and country ham. You can also observe local interpreters demonstrating blacksmithing and milling skills. 
As you cross the Virginia/North Carolina border, get ready for even more natural wonders! If you have time, check out the Thistle Meadow Winery in Laurel Springs. You will also find unique arts and crafts in the town of Glendale Springs. Before reaching Asheville, be sure to make time for Grandfather Mountain State Park to see the highest peak in the Blue Ridge Mountains and the famous Mile-High Swinging Bridge. You might also like to stop through Little Switzerland for shopping, gem mining, and a scenic loop which showcases Crabtree Falls. 
Stay at Lazy Bear Lodge 
In Vilas, NC
The Lazy Bear Lodge sits nestled atop a mountain and surrounded by nature. Here, guests are just minutes from Boone, the Parkway, Blowing Rock, and Banner Elk. Stay in one of their rooms that features a private balcony. Look out through full-length windows from the dining room or great room. Then, spend time on the back veranda, soaking it all in.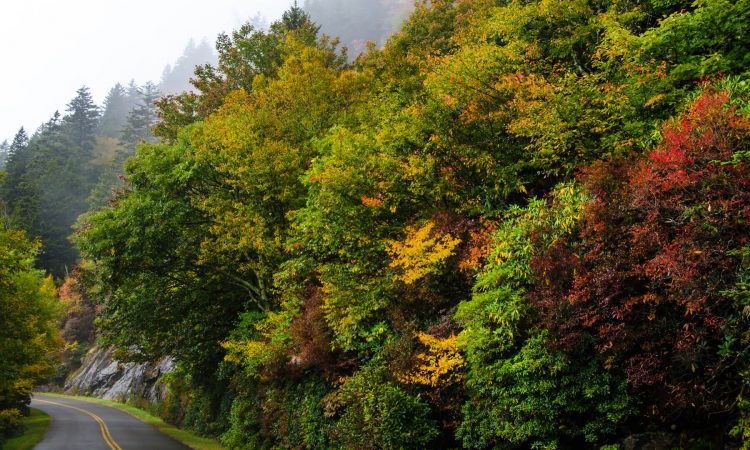 The Tail-End: Asheville to Cherokee |
Est Drive Time: 3 hours
Asheville, NC, is easily one of the best places to visit in the South. Maybe you're embarking on a deep south road trip. Perhaps you're simply planning a weekend getaway to the mountains of North Carolina. Either way, you'll want to make time to visit this eclectic city. Visit the Biltmore Mansion, Gardens, and Winery, the North Carolina Arboretum, or Folk Art Center for a taste of Southern Appalachian culture. Explore Pisgah National Forest and climb Mount Mitchell before continuing southwest to Cherokee. 
As you enter the wooded drive through Nantahala National Forest, you'll encounter the highest point on the Parkway (6,047 feet in elevation). At Milepost 431, you can wander along a self-guided nature trail through a beautiful spruce and fir forest. Further down the road, you will finally reach the southern end of the Blue Ridge Parkway where it meets US-441. Here, you can enter the Smoky Mountains National Park. 
Stay Select
With so many stunning views, enticing attractions, and exciting excursions to experience, it's difficult to determine what might be the best part of a Blue Ridge Parkway road trip. To make the most of your vacation, stay at Select Registry properties along the way. You will find a host of stunning boutique hotels, bed and breakfasts, inns, lodges, and luxury cabins on your route through the mountains. Our diverse collection of independent properties capture an unparalleled essence of quality while delivering a high standard of personalized service. 
What are you waiting for? 
Start planning the vacation of a lifetime and book your stay today.