Get Outdoors in North Carolina!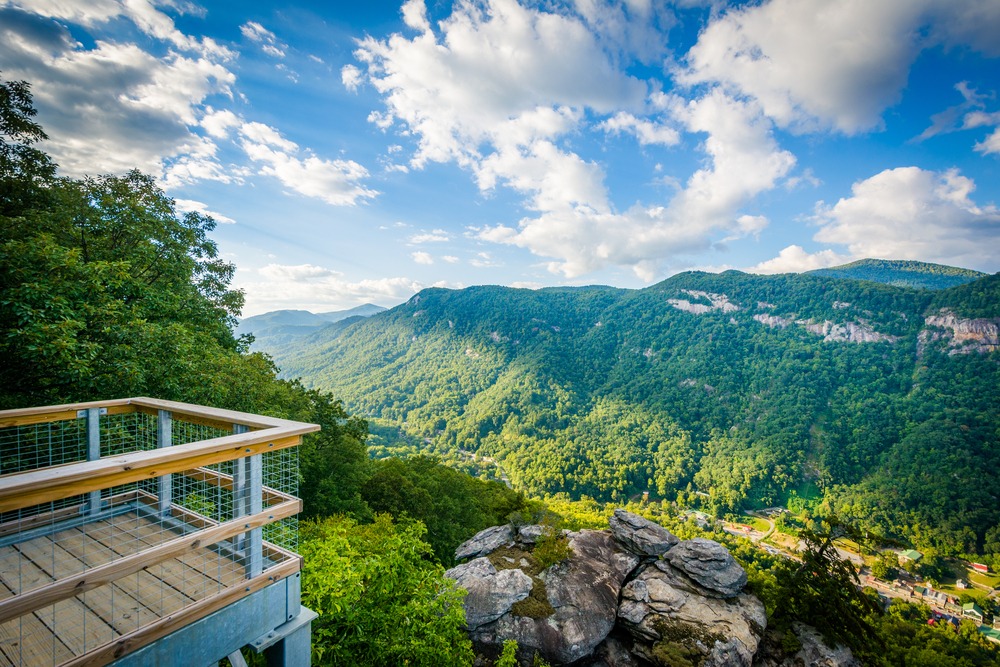 What's not to love about North Carolina, particularly when you have stunning destinations like Chimney Rock State Park to visit? Chimney Rock State Park, which is located just outside of the popular town of Asheville, is a true nature lover's paradise. With over 8,000 acres to explore, there are plenty of hiking trails and views to enjoy in  Chimney Rock State Park. 
No visit to Chimney Rock State Park would be complete without visiting the town of Asheville, which is located in the scenic Blue Ridge Mountains and a gateway to the famed Blue Ridge Parkway. Aside from its scenic beauty, Asheville is known for its thriving arts community and historic architecture, like the famed Biltmore Estate. 
Asheville is an exceedingly romantic destination to visit, and also offers plenty of things to do for all varieties of travelers.  Get outdoors for some hiking in the Blue Ridge Mountains, chase waterfalls, spend a day at mountain beaches, exploring the arts, and visiting the small nearby mountain towns, you'll never run out of things to do in Asheville NC. 
At the heart of any great getaway to Chimney Rock State Park or Asheville is a stay at Select Registry's local properties. There are several to choose from, each one just as unique and spectacular as the next.  As unique as these properties are, at each you'll experience unbeatable attention to detail, exceptional hospitality, and a broad range of amenities. Head to the Asheville area this summer, and do something more than book an ordinary hotel; Select an extraordinary Inn!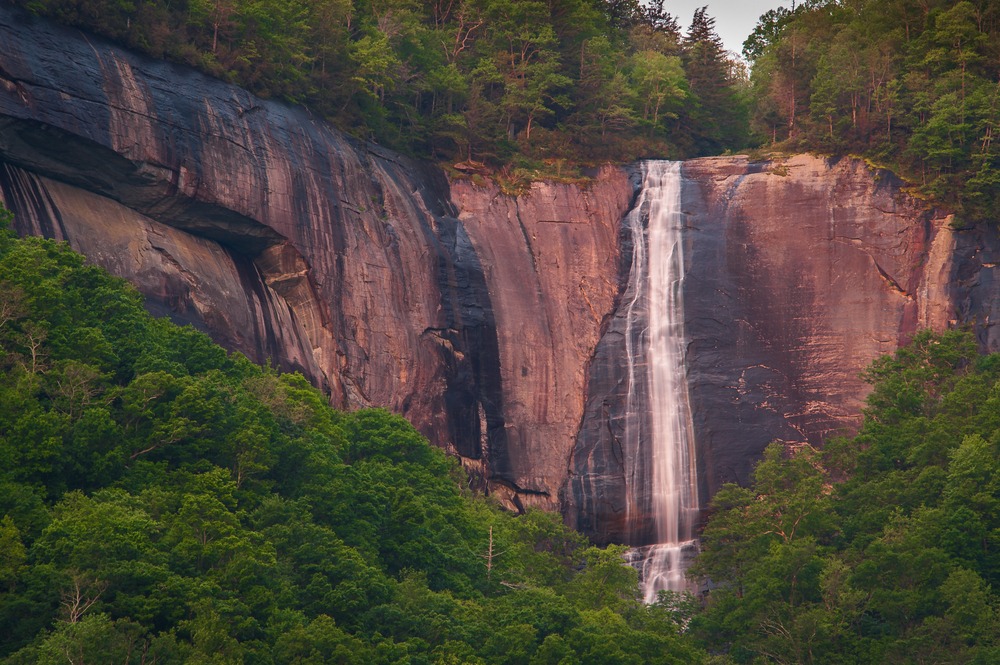 Explore Chimney Rock State Park
As we mentioned above, Chimney Rock State Park is a true nature lover's paradise. This probably comes as no surprise, but the highlight of the park is the park's namesake, Chimney Rock. Chimney Rock is estimated to be 535 million years old, and stands at an astonishing 315 feet! It's considered to be one of the most iconic natural features in North Carolina, and it's easy to see why.
You can reach the top of Chimney Rock by hiking the Outcroppings Trail, which is a challenging 494-step climb to the top. There's plenty of rewarding views waiting for you at the top, but it's a beautiful journey along the way, including the Gneiss Cave, and Grotto, Subway, and Pulpit Rocks. 
If you aren't up to the physical challenge presented by the Outcroppings Trail, you can also take a ride on the state-of-the-art elevator, followed by a short 44-step climb to the overlook. Once you're on the top of Chimney Rock, savor the breathtaking 75-mile view of Hickory Nut Gorge and Lake Lure.
The overlook view at Chimney Rock is simply spectacular, but it's not the only thing worth doing in Chimney Rock State Park! There are a number of other hikes worth taking.  They include the following: 
The Exclamation Point Trail provides access to some of the best views in Chimney Rock State Park and takes you to some of the most well-known geological formations in the Park, including Opera Box, Devil's Head, and Exclamation Point itself. 
The Hickory Nut Falls Trail takes you to the base of one of the tallest waterfalls east of the Mississippi River. This 404-foot tall waterfall, which was showcased in the movie The Last of the Mohicans, is absolutely stunning. The hike to get there is only 1.4 miles, and apart from the waterfall, it's a beautiful journey through a mature deciduous forest. 
If you're up for an extended adventure at Chimney Rock State Parl, head to the Skyline Trail for a 2-hour journey into the backcountry. The trail follows the ridgeline and offers extensive views of the Hickory Nut Gorge. It ends at Peregrine's Point, which is the highest lookout in the Park.
Chimney Rock State Park is also a rock climber's paradise. The park has partnered with Fox Mountain Guides to offer guided rock climbing adventures throughout the park. They'll give you access to Rumbling Bald, which is considered to be world-class bouldering and technical rock climbing and offers some of the best terrains in the Southeast.
When you've had your fill of Chimney Rock State Park, head to the beautiful town of Asheville, for even more fun adventures this summer.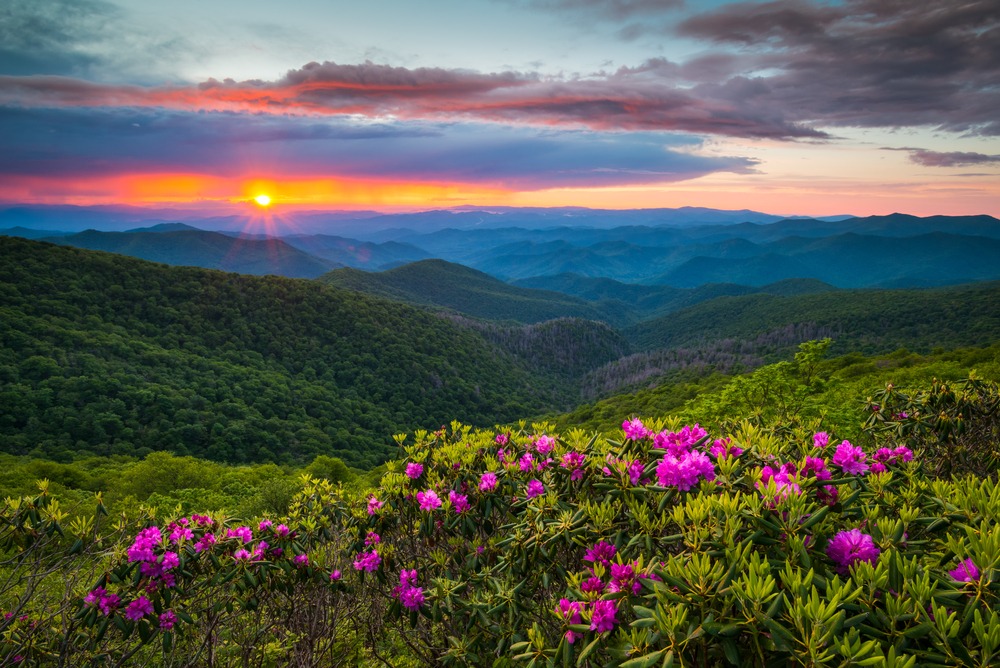 More Adventures Near Asheville, NC
Asheville NC is one of the most popular mountain towns in the Blue Ridge Mountains – and it won't take you long to see why. As great as Chimney Rock State Park is, Asheville might just be better! It's an incredible destination, filled with a fun variety of things to do. 
From adventuring in the great outdoors to meandering the streets of the historic downtown, there are plenty of things to do in Asheville NC this summer.  Here are a few of our favorites!
Take a self-guided or guided tour of Biltmore House, George Vanderbilt's stunningly beautiful French Renaissance castle. It's one of the most popular things to do in Asheville! Afterward, visit the iconic Biltmore Village, a sought-after dining and shopping destination.
Chase waterfalls in the Blue Ridge Mountains and surrounding areas!  Popular ones include Crabtree Falls, Rainbow Falls, High Falls, Looking Glass Falls, and so many more.  
It wouldn't be a trip to Asheville without driving along the stunningly beautiful Blue Ridge Parkway. There are plenty of overlooks and hikes to enjoy along the way. 
Exploring the charming and historic streets of downtown Asheville.  There are plenty of great shops and restaurants, along with several art galleries and some beautiful art-deco architecture.
Visit Asheville's River Arts District, which is not just the creative hub of the city, but is home to more than 200 working artist studios.
Taste your way down the Western North Carolina Cheese Trail. 
Explore Asheville's thriving beer scene, or visit local wineries for a relaxing summer afternoon.
Visit local farms and farmer's markets, where you'll find a wonderful variety of locally-made products and plenty of delicious, locally grown and made foods. 
Visit the Adventure Center of Asheville, which offers ziplining, tree-top adventures, mountain biking, and more. 
Take a Trolley Tour around Asheville, learning everything you ever wanted to know about this historic town in the Blue Ridge Mountains.  It's one of the most popular things to do in Asheville. 
We can't mention visiting the charming town of Asheville without also mentioning fall foliage.  Fall is simply spectacular in the Blue Ridge Mountains and a great time of year to explore attractions like Chimney Rock State Park and the Blue Ridge Parkway. A fall visit should definitely be on your radar. Whenever it is you come to visit, our Select Registry members would be more than happy to welcome you to their remarkable Inns. 
Lodging Near Asheville, NC
The Esmeralda Inn, Restaurant & Spa
The Esmeralda Inn is a historic Inn, Restaurant & Spa. It is a secret retreat nestled within the Blue Ridge Mountains just outside of Chimney Rock State Park and Lake Lure, near Asheville, North Carolina.
We are a premier destination for every season, offering rustic elegance while still preserving its long history. Many of our 14 guest rooms and 4 cabins offer stunning views of Chimney Rock and the Rocky Broad River. Enjoy the views from our Restaurant and Patio dining area and make sure to enjoy our spa services. If your plans include a Chimney Rock and Lake Lure vacation you owe it to yourself to stay at The Esmeralda Inn and Restaurant.
Abermarle Inn Bed and Breakfast
Enjoy gracious hospitality and Southern comfort in western North Carolina. An 11 room classic turn-of-the-century mansion, the Albemarle Inn is located minutes from artsy & Foodtopia downtown Asheville, Biltmore Estate, and the majestic Blue Ridge Mountains.
Experience the Inn's tranquil timeless appeal, relaxing on our veranda with morning coffee, or evening refreshments. Our sumptuous breakfasts are served in our sunporch or fireside in winter.
De-stress with In-Room Spa services. Energize with outdoor activities like our waterfall tours. Eat & learn with our In-house cooking classes.
Our 8-guestroom property is located at the top of the historical downtown district of Chestnut Hills in Asheville, NC. We are a convenient 10-minute walk to downtown Asheville, a quick drive to the Biltmore Estate, and 15 minutes to the Blue Ridge Parkway. 
Chestnut Street Inn invites you to think outside the box. Offering classic amenities and modern comforts are paramount to your stay, but we also try and surprise our guests with packages that allow you to try new experiences.
Above anything, we are Asheville fans, which makes it impossible not to share all of the city's treasures with our guests.
The 1900 Inn on Montford, situated in the heart of the historic Montford district of Asheville, provides a luxurious bed and breakfast setting for guests to experience a sense of southern and Austrian comfort and Gemütlichkeit. Built in 1900 the main house features five beautifully appointed guest rooms, all with private bathrooms. Situated across the courtyard from the main building is a lovely carriage house with three luxury rooms with steam showers, Shiatsu tubs, kitchenettes, King beds, fireplaces, and pet-friendly.
The property located at 296 Montford Avenue was built as a private residence in 1900 and received the Griffin Historic Preservation Award in 2012. The Inn has AAA Four Diamonds for 10 years running. Our Asheville bed and breakfast is eight blocks from historic downtown Asheville, and minutes from the Biltmore Estate, and the Blue Ridge Parkway.
Bed and Breakfast on Tiffany Hill
Truly and intentionally inspired by the pages of Southern Living Magazine, the Bed & Breakfast on Tiffany Hill is pleased to be the first B&B inducted into the Southern Living Hotel Collection. Designed with the traveler in mind, this is a purpose-built North Carolina bed and breakfast that offers casual elegance filled with Southern hospitality. Enjoy 6 acres of gardens and walking trails.
Tiffany Hill is conveniently situated in what is known as the "Playground of the South" in Western North Carolina, just 10 minutes from the Asheville Regional Airport nestled between the towns of Asheville, Hendersonville, and Brevard, with easy access to the Pisgah National Forest and the DuPont State Recreational Park for those seeking outdoor adventure in the "Land of the Waterfalls." Discover the Bed & Breakfast on Tiffany Hill and we will do our best to spoil you!