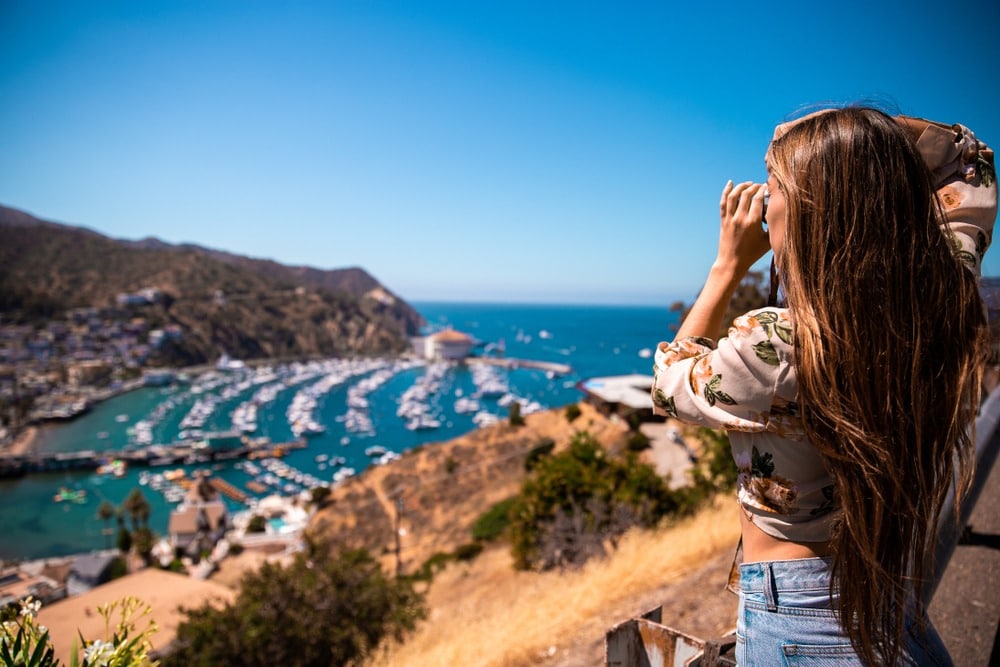 Just off the coast of California are the Channel Islands, one of the most popular of which is the stunning Catalina Island.  There are so many incredible things to do in Catalina Island, and it's a wonderful place to get away from the crowds in the Los Angeles area.  While most of the Channel Islands are preserved coastal habitat and part of the Channel Islands National Park, staying on Catalina Island allows you the opportunity to enjoy exploring this diverse coastal habitat with a little more ease of planning.
Santa Catalina Island (most commonly referred to just as Catalina Island), is best known for its wildlife, scuba diving, charming coastal towns, and Mt. Orizaba, its highest peak. There are two main resort towns on the island: The more rustic town of Two Harbors, and the quaint and historic town of Avalon.  In Avalon, you'll find an incredible Select Registry property, the Avalon Hotel on Catalina Island. 
Whether you're looking for an active and adventurous vacation, or something a bit more relaxing with plenty of downtime on the beach, you'll find exactly what you need on this beautiful island retreat. This truly is what California dreams are made of.  Stay select with us this summer. Book your room at our Select Registry hotel on Catalina Island today!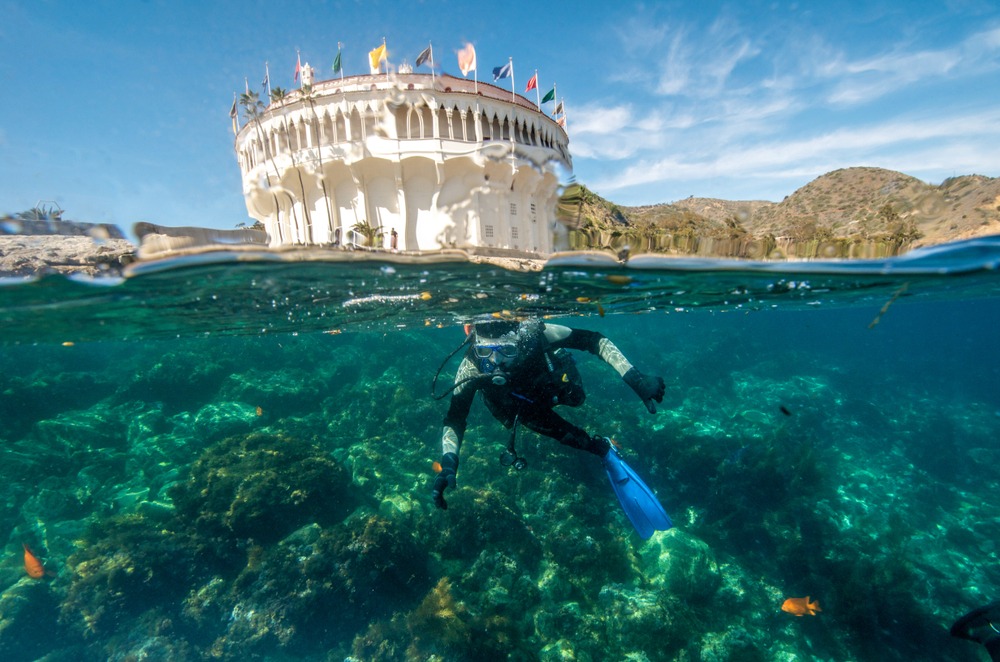 10 Great Things to do in Catalina Island
Whether you've visited the charming oasis just off the coast of Los Angeles before or not, there are plenty of things to do in Catalina Island, all of which are worth exploring this summer.  From floating effortlessly on the sparkling blue waters surrounding the island to plunging deep beneath the sea in a scuba adventure, we have no doubt you'll find exactly what you're looking for in this incredible place. 
We've compiled a diverse list of things to do in Catalina Island this summer, hoping to inspire you to adventure to this island getaway, just 22 miles off the coast of California.  
Scuba diving is one of the most popular things to do in Catalina Island – for many, it's why they come here. Go scuba diving at Casino Point Dive Park or one of the other many Marine Protected Areas off the coast of Catalina Island.  It's considered one of the best diving locations in California. 
If you'd rather stay on top of the water, there are a number of great boat tours off the coast of Catalina Island.  Whether it's whale watching, fishing, or glass-bottom tourism you're looking for, you'll find it here. 
Enjoy some shopping in the historic downtown of Avalon. 
There are some great hiking trails on Catalina Island. In fact, it's some of the best hiking in California, and certainly at the top of our list of things to do in Catalina Island. Popular trails include the 38.5-mile Trans-Catalina Trail, the East End Loop Trail, the Hermit Gulch Trail, the various Garden to Sky hiking trails, as well as the trail to the top of Mt. Orizaba. Before you start hiking, make sure you have the required Hiking Permits, which are free to get.
Enjoy some of the same views you'll get while hiking without all the sweaty exhaustion when you take a parasailing adventure over the water. 
Get your adrenaline pumping by taking a spectacular zip-lining ride above the Descanso Canyon.  It was not only the first zipline in the LA area, but it also happens to be the most scenic. 
Hit the water for a relaxing afternoon of kayaking or standup paddleboarding.  In total, there are 52 miles of shoreline, making this is one of the most popular things to do in Catalina Island. Rent a boat and plan your own adventure, or enjoy a guided tour from a local outfitter. 
We haven't yet talked about the beaches – but one look at the island and it's easy to see why spending a day at them is one of our favorite things to do in Catalina Island! Public beaches near Avalon include South Beach, Middle Beach, and Step Beach. During the summer months, there is a lifeguard on duty. You can also access the private beach at Descanso Beach Club.
Land tours are one of the surprisingly fun things to do in Catalina Island. Popular tours include the Bison Expedition and the Ridgetop Eco Adventure. 
Take a day trip up to Two Harbors from Avalon, and head to the Dive & Recreation Center, where you can rent mountain bikes, kayaks, paddleboards, snorkel gear, and more to explore Catalina's west end.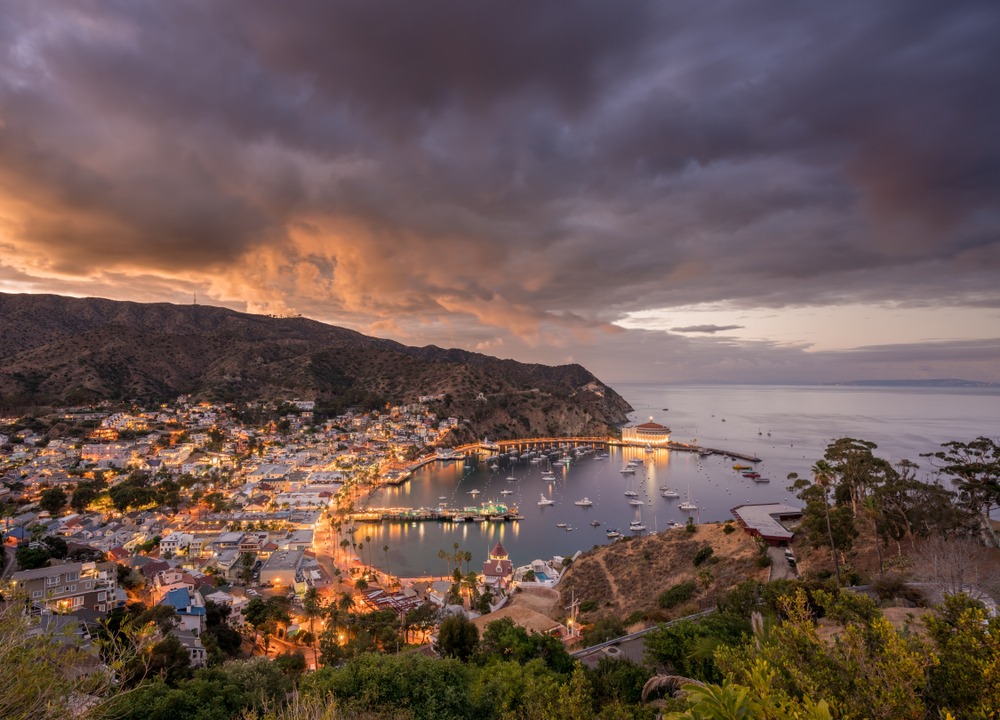 How to Get to Catalina Island
Apart from being able to enjoy the many varied things to do in Catalina Island, one of the best things about this island getaway is the relative ease with which you can get there.  Catalina Island is accessible by both boat and air. 
Catalina Express offers ferry service to Catalina Island from one of 4 mainland locations; San Pedro, Long Beach, and Dana Point. Catalina Flyer offers service to Catalina Island from Newport Beach. Alternatively, you can also helicopter out to Catalina Island, which is convenient in that it only takes about 15 minutes from either Long Beach, San Pedro, or Orange County Airports. Travel by boat takes about an hour. 
Once you're on Catalina Island, getting around on foot is pretty easy, and it's the best way to experience the quaint towns. If you prefer not to travel on foot, you can also rent a golf cart, which is available for rent on an hourly or daily basis. The Avalon trolley also circles around town, and they offer one-ride and all-day fares. In addition, there are taxis and various shuttles available. 
However it is you choose to get around and enjoy yourself once here, we know you're going to have a great time exploring all of the great things to do in Catalina Island this summer, especially when you stay at our Select Registry hotel in Avalon.  If California is what you're dreaming of this summer, then it's time to book your getaway!
Lodging on Catalina Island
The Avalon Hotel on Catalina Island
The Avalon Hotel was built in 1925 and features Craftsman-style architecture in a modern setting with unique artwork and handmade hardwoods. Remodeled in 2003, its 15 rooms offer garden, balcony with partial ocean views, and full ocean view rooms. Its rooftop terrace has panoramic vistas of the harbor and is an ideal setting for a small wedding. It accommodates up to 35 people and can be reserved with full rental of the hotel. A complimentary breakfast is served on the garden patio, where guests can also enjoy a fire pit, secluded seating, intricate landscaping, and a fountain.