There are 62 National Parks in the United States.  No matter which National Park you visit, you are sure to be treated to wide open spaces, amazing views, incredible history, and unforgettable experiences. With this in mind, if your idea of the perfect fall getaway is a tranquil day communing with nature and avoiding crowds, these under the radar National Parks should absolutely be on YOUR radar!
Valles Caldera is located about an hour outside of Santa Fe, NM in the vast crater of a dormant volcano.  Important to note that with grounds that extend over 95,000 acres of mountains and grasslands, Valles Caldera offers a huge variety of things to do and see.  Specifically, rock collectors will want to keep an eye out for black obsidian.  Also, fly fishermen can cast their lines in the wide, deep, slow waters of the East Fork of the Jemez River, which create an excellent habitat for large brown trout.  Additionally, wildlife enthusiasts should keep an eye out for elk, cattle, prairie dogs, coyote, and golden eagles. Above all, be sure not to miss the San Antonio Hot Springs, a series of three primitive rock walled pools that cascade into each other! 
Extend your trip: The cliff dwellings preserved at Bandelier National Monument - where Ancestral Pueblo people carved caves into the soft volcanic tuft roughly 600 years ago - are adjacent to the Valles Caldera, and make an interesting side trip.
Places to Stay near Valles Caldera National Park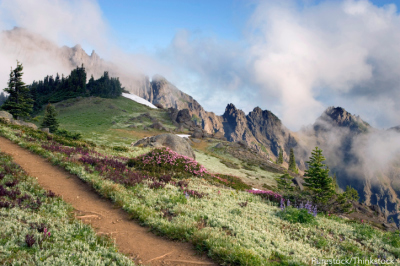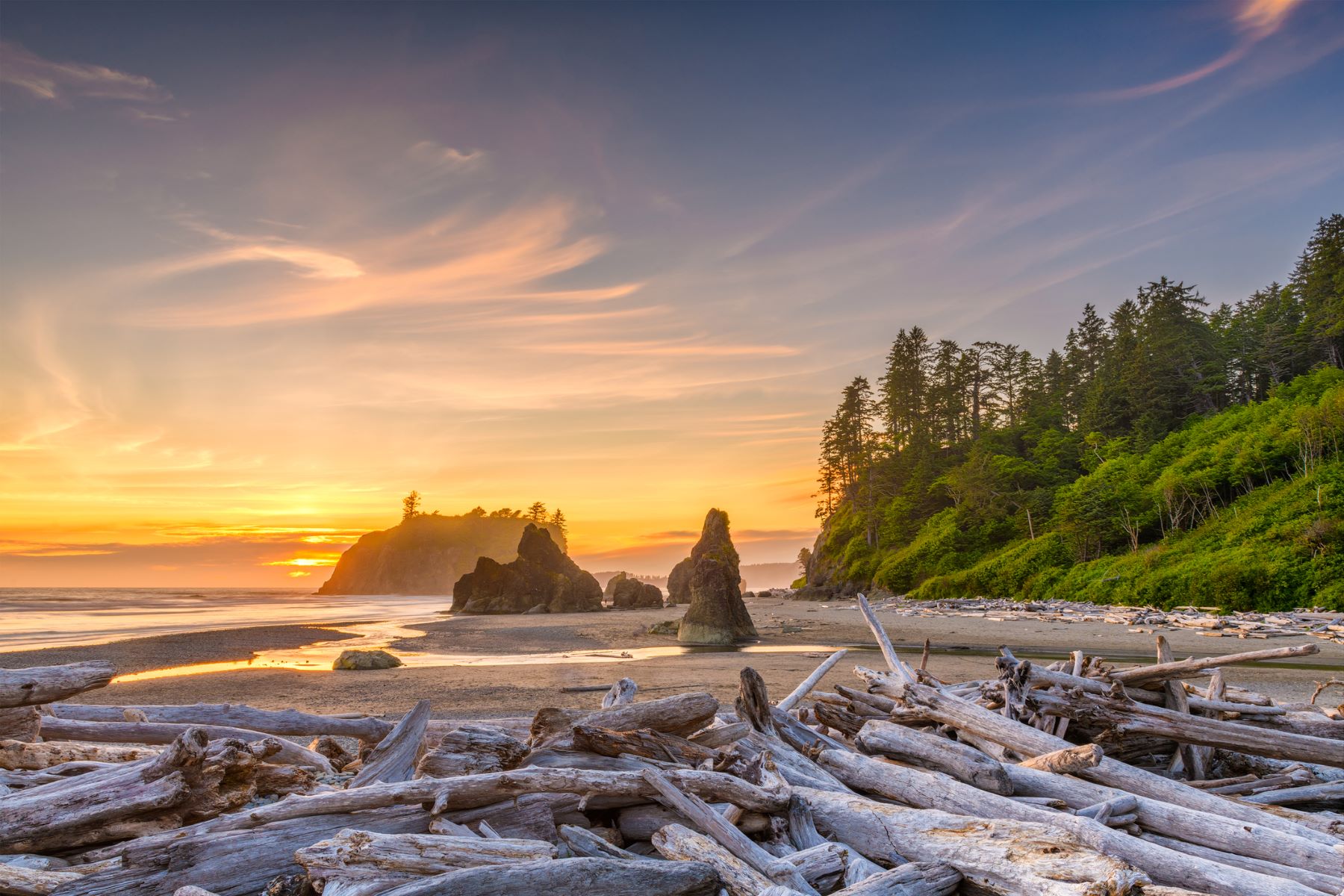 Olympic National Park in Washington State is one of the most wondrous and diverse places in the Pacific Northwest. Its variety of ecological environments make it the ideal place for the outdoor lover to explore. Of course, covering an incredible 922,650 acres of Washington's Olympic Peninsula, it is impossible to see everything in the park without spending a significant amount of time there. 
The National Parks Service refers to Olympic National Park as "three parks in one" due to the diversity of microclimates. To be more specific, the three parts of the park are the Coastline, the Glaciated Mountains, and the Temperate Rainforest. These habitats are home to a vast and impressive variety of plants and animals, many of which can only be found on the Olympic Peninsula. Specifically, these species include the Olympic Marmot, Piper's bellflower, and Flett's violet.
Places to Stay near Olympic National Park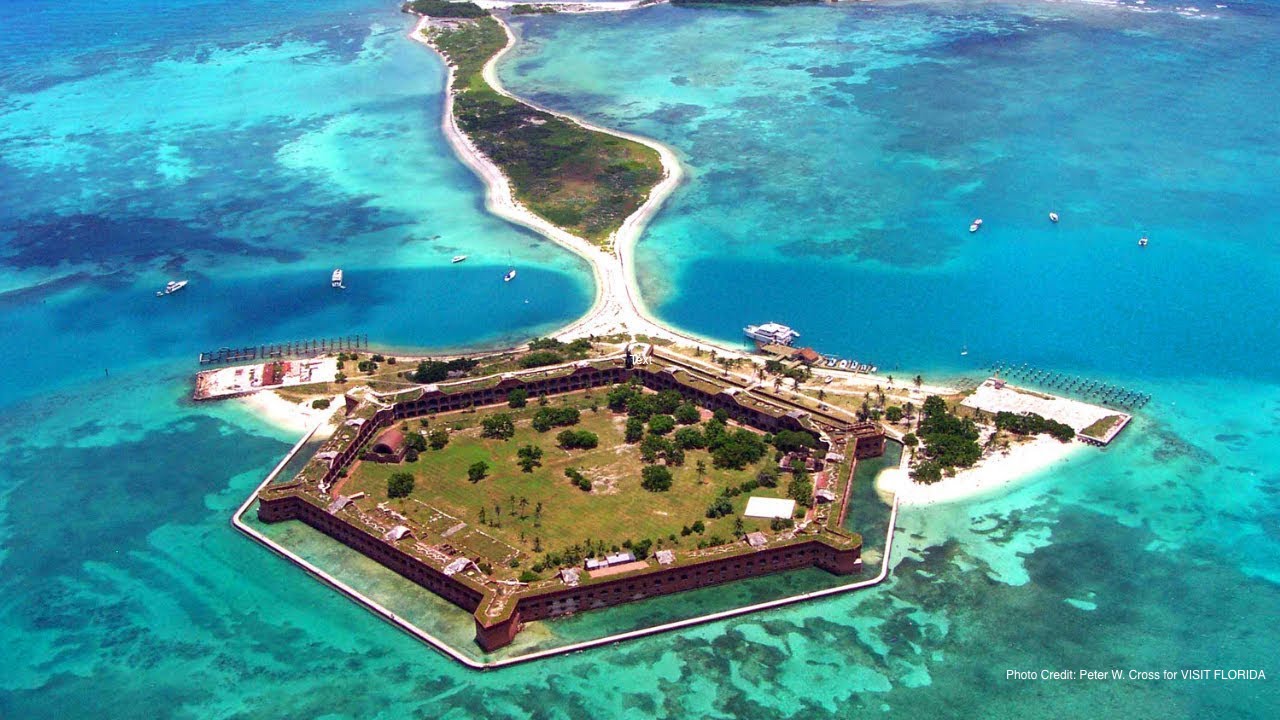 Dry Tortugas National Park is made up of 7 small islands surrounded by crystal clear blue waters about 70 miles west of Key West, FL.  Without a doubt, getting to this park is one of the highlights of the visit.  In fact, visitors taking the Yankee Freedom ferry, will be treated to an orientation about the area by an onboard naturalist. Additionally, during the 2 hour voyage, you will enjoy the beautiful scenery of the Marquesa Islands, Boca Grande, have an opportunity to see turtles and dolphins, and listen to pirate legends.
Subsequently, once having arrived at the Dry Tortugas, history buffs can explore the 19th century Fort Jefferson, used as a prison during and after the civil war.  Equally important, the Dry Tortugas are a birder's paradise, with opportunities to see nearly 300 species of birds, including ruby-throated hummingbirds, peregrine falcons, and the yellow billed cuckoo.  Undoubtedly, the shallow waters of the Dry Tortugas offer some of the best snorkeling in North America.  Both amateur and experienced snorkelers will find majestic corals, many varieties of tropical fish, starfish, queen conchs, and much more in this protected marine sanctuary. Last, but by no means the least, the secluded white sandy beaches throughout the park are some of the best beaches in the Florida Keys.
Mesa Verde National Park, located about 90 minutes west of Durango, CO, offers visitors a combination of natural and cultural attractions unfound anywhere else in the country. Certainly, this park is a must see for history and archeological enthusiasts, containing over 5,000 archaeological sites and 600 cliff dwellings built by the ancient Anasazi people.  Undeniably, walking among the storied ruins high in the clefts of the natural sandstone landscape is like walking backwards through time.   With numerous opportunities to see sprawling vistas and scramble among the ruins of cliff dwellings, there are correspondingly no shortages of things to see and do at the park.  Although there are 2 cliff dwellings available for self guided tours, the rest require buying tickets to ranger guided tours.  Point often overlooked is that there are some special guided tours only available at certain times of year, including a Twilight tour at the Cliff Palace or a Sunrise Tour at the Balcony House (only available twice a year!). 
Congaree National Park is home to the largest remnant of old growth floodplain forest in the country. Located south of Columbia, SC, the park features 26,000 acres of protected forests featuring a large diversity of plant and animal life. Although one might think that the best way to explore this forest is on foot, and there are hiking trails that will allow this, truly the best way to see Congaree is the free park ranger-guided canoe and kayak tours. Paddling along at a leisurely pace, you'll have the opportunity to marvel at the huge bald cypress trees and towering loblolly pines that make these majestic woods such a treasure. Expect to see things like a great horned owl, enormous darter birds, orange trumpet vines, turtles, numerous varieties of snakes, and maybe even an alligator!
Cuyahoga Valley National Park is just a short distance from Cleveland, OH, but seems worlds away.  Visitors will enjoy miles upon miles of trails suitable for biking and hiking in this beautiful park that follows the Cuyahoga River.  Hike the Virginia Kendall Ledges Trail for a trek through massive limestone ledges and beautiful scenic overlooks.  Visit the 65-foot tall Brandywine Falls - easily accessible along a wooden boardwalk from the parking area - for a gorgeous waterfall view.  Bike the Towpath Trail and pick up some beautiful fresh produce at Szalay's Sweet Corn Farm and Market.