EXPERIENCE THE MOUNTAINS, CITIES, AND SOUL OF WESTERN NORTH CAROLINA
To see western North Carolina up close, you need to leave the interstate behind. As someone who's been tromping around the mountains for more than a decade now, I know what happens when you take two-lane roads everywhere. You see places at their most granular level. You stumble upon waterfalls and produce stands. You stop in at small diners where folks are more appreciative that you're there. You feel the contours of the hills and the dancing shadows on your windshield.
Here's one way you can get the most out of a long drive through the Blue Ridge. Start on U.S. 23, head west until you pick up U.S. 25 south, then follow U.S. 176 to the South Carolina line. In between, you'll find enough good food, friendly charm, and mountain goodness to last you a long time.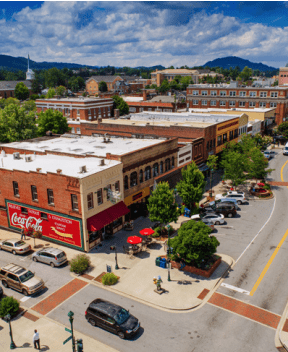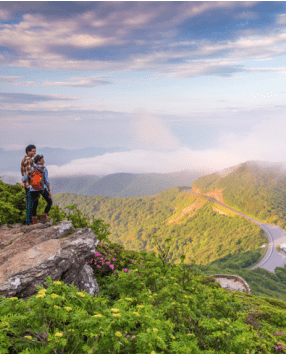 START YOUR TRIP in Waynesville, the town named for Revolutionary War general "Mad" Anthony Wayne. It's also good for more battle trivia: There's a monument marking the site of the (alleged) last shot fired in the Civil War, out on Sulphur Springs Road. 
Today, Waynesville is the largest city in North Carolina west of Asheville. It's surrounded by the Pisgah National Forest and sits close to legendary attractions like the Blue Ridge Parkway and Great Smoky Mountains National Park. Lake Junaluska, Skinny Dip Falls, and the Cradle of Forestry are a short drive away. If you're looking for a launching pad for a mountain adventure, this is as good a place as any. 
Down by Richland Creek is a part of town the locals call Frog Level, so named because when the area used to flood, the water would come up to "frog level." Today, it's the funkier part of Waynesville, home to Frog Level Brewing Company, which serves up a range of beers, from the Frogger Lager to the Bug-Eyed Stout. (Pro tip: Sit outside by the water.) Up on higher ground, there's farm-to-table goodness at Frog's Leap Public House, which is close to the award-winning Chef's Table, a tiny place with big wine-country flavor. 
Cruising around town, be on the lookout for public art, including the twisted metal creations of local artist Grace Cathey and Stefan Bonitz's enormous sculpture of jug-band troubadours. You can find good reads at indie Blue Ridge Books, stop in at Blue Owl Gallery to peruse the pottery, and pick up sweetsmelling supplies at family-owned Hazelwood Soap Co. There are galleries and antique shops and plenty of places to poke your head in for a bite or a glass of wine. You might even see some elk from the Cataloochee Valley wandering around nearby.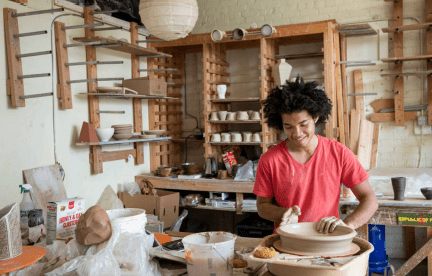 Where to Stay in Western North Carolina – Waynesville
From Waynesville, head east on U.S. 23 through Lake Junaluska and Clyde before taking a quick stop in Canton. This little town was built on paper, and a mill still runs here, looming over everything else. Its products include Starbucks cups, but if you want caffeine, try Papertown Coffee on Main Street. The 1932-built Colonial Theater still hosts movies and music, and the Imperial Hotel is another landmark that's seeing a revival (order cocktails at Southern Porch to get a closer look).
If you want to get off the grid, a side trip down to Lake Logan gives you hiking and paddling in a spot where Wi-Fi and a cell signal are practically nonexistent.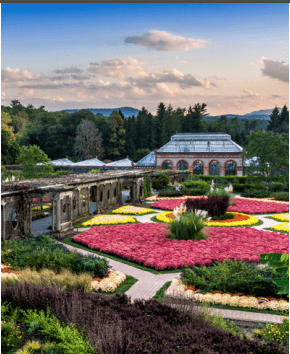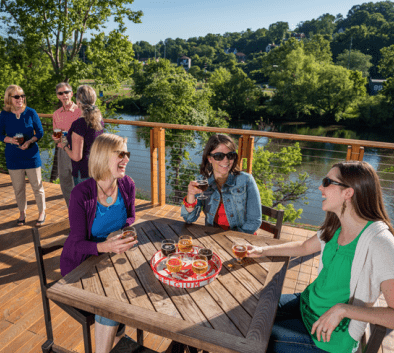 From Canton, it's only 20 miles down U.S. 23 to Asheville, and, okay, where do I start? You already know about the Biltmore. New Belgium Brewing Co. is a great place to have a beer and watch the French Broad River roll past. The Orange Peel? Wicked Weed Brewing? White Duck Taco Company? There are so many great spots to eat, drink, and hang out that it's impossible to run out of options. 
Asheville wasn't always this way. It was a booming place in the 1920s, when the city went on a building spree (see the Art Deco city hall, for example). But the Great Depression left Asheville with more per-capita debt than any city in the nation. Rather than default, city leaders paid the money back over the next 50 years. That, in a practical sense, put development on hold until the last bond was paid off in 1976.
After that, the revitalization of Asheville began in force, and new energy sprang from those old buildings. 
That energy has spread across the city. Off Haywood Road in West Asheville is Flora, a flower shop with a coffee shop named Forage inside; buy a potted plant to go with your espresso. Down the street is the Admiral, where locals grab a seat at the bar for dinner and come back for dance parties on Friday and Saturday nights. Tiny little Wedge Brewing in the River Arts District manages to break out of the shadow of other craft beer makers in town. An old church in the Montford neighborhood is now Chiesa, where a reservation will get you the best house-made pasta in town. 
Downtown, there's always music in the air; there are so many buskers, they've formed their own collective. You can take a walk around Pack Square. Get a Southern breakfast at Early Girl Eatery, or the original Tupelo Honey Cafe, or Biscuit Head. Pick up books at Malaprop's. I could keep going. And going. And inevitably I'd forget some deserving spot and you'd yell at me for a very glaring omission.
where to stay in Western north carolina – asheville
In any case, it's time to turn south and head through Arden and Fletcher to Hendersonville. This is not a sleepy little town. It has its own paid symphony and an aquarium. Once known for retirement communities and summer camps, Hendersonville now offers plenty to do for the ages in between. For one thing, Henderson County is home to a lot of apple orchards, which means Appalachian Ridge Artisan Cider has plenty of good fruit to choose from. (They make a French concoction called pommeau by mixing cider with brandy.) Downtown, Mezzaluna's pancettaand-fig pizza comes right from the brick oven. Black Bear Coffee Co. has been a meeting spot on Main Street since 1993. 
That street, by the way, was once 100 feet wide, supposedly so horse-drawn carriages could pull a U-turn. Over time, it became friendlier to cars than people, so in the 1970s, the sidewalks were widened, and about 15 years ago, the city planted trees, installed benches, and commissioned artwork, turning the main drag into something resembling an urban park. It's a refreshing walk, though if you really need a breather, hopping in the car and heading to Jump Off Rock will give you the Instagram shot that'll make your friends ask, "Where's that?" For that matter, you could continue on to the Flat Rock Playhouse, the official state theater of North Carolina, as well as the Carl Sandburg Home National Historic Site, where the legendary poet found the solitude he needed. 
On your way out of Hendersonville, stay off Interstate 26 and take U.S. 176. That way you'll run into Saluda, home to the time capsule known as Pace's General Store. Even if you don't need any hardware or overalls, just being in a place that's been open since 1899 is an experience. The Purple Onion and Green River BBQ are good places to fill up your tank if you're heading down to the Green River Gorge for some paddling or ziplining. 
Stay on U.S. 176 until you get to your last stop before the South Carolina line: Tryon. Nina Simone was born here, and thanks to a tremendous local effort, her childhood home has been preserved. This town is also the hub of western North Carolina's horse country, with the sparkling new Tryon International Equestrian Center a few miles outside of town and a giant toy horse named.
Where to stay in western north carolina – Saluda and Tryon
Where to stay in western north carolina – Mills River and Chimney Rock