For many outdoor enthusiasts, the winter means one thing: time to hit the slopes! Whether you're a skier or snowboarder, you probably have a favorite mountain. But, if you're looking to try a new destination, check out our list of the best states for skiing. While this topic is often hotly debated, everyone agrees that the country has tons of great places to experience world-class skiing. Each of our five favorite states for skiing offers unique experiences as the mountain terrain in every region varies.
Follow our guide to the best states for skiing, and you'll undoubtedly experience a memorable winter adventure. If you're looking for other intriguing places to take a different kind of nature-focused vacation,  check out our list of Select Registry properties that offer outdoor adventures.
Discover the Best States for Skiing
Colorado
With so many famous ski areas and resorts, Colorado always makes the top of the list for best states for skiing. From Aspen and Vail to Breckenridge and Telluride, the state is full of amazing ski resorts. The beautiful scenery and well-groomed trails of the Rocky Mountains will provide skiers of all skill sets with hours of fun. Offering easy, smooth runs and tree-dotted glades with rougher terrain, Colorado ski trails are undoubtedly among the nation's best.
Where to Stay
Golden Leaf Inn: Just 10 minutes from Rocky Mountain National Park, Golden Leaf Inn in Estes Park, Colorado sits on a beautiful five-acre piece of property. This charming, historic lodge was built in 1922 but offers modern and luxurious amenities.
Antlers on the Creek Bed & Breakfast: A true storybook property, Antlers on the Creek is the perfect destination for a romantic mountain getaway. The bed and breakfast is just ten minutes from downtown Durango, Colorado, and 30 minutes from Mesa Verde National Park.
Castle Marne Bed & Breakfast: Guests at Castle Marne have the unique experience of staying in a 19th-century lava stone mansion. Though there isn't a full restaurant at the property, guests can enjoy four-course meals in the private dining rooms.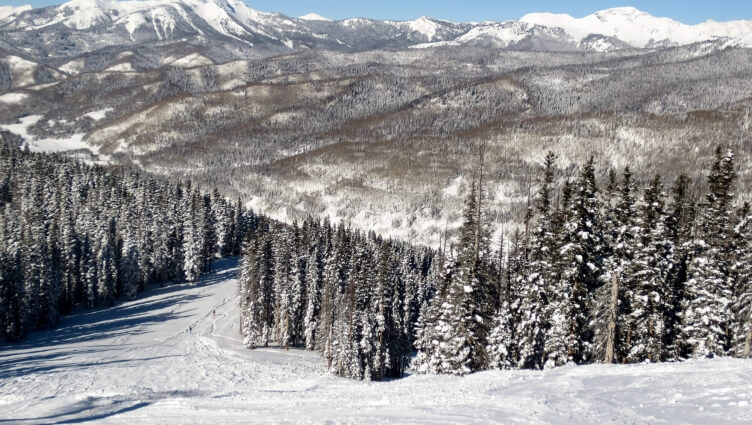 Massachusetts
Massachusetts is a hot spot for some of the best skiing in the northeast. Favorite ski destinations include Wachusett Mountain Ski Area, Nashoba Valley Ski Area, Ski Butternut, Jiminy Peak Mountain Resort, Blindfold Ski Area, Ski Bradford and Bousquet Ski Area to name a few. While visiting the mountains, travelers can skip the resort and enjoy a luxurious, one-of-a-kind stay in a Select Registry property.
Where to Stay
Hampton Terrace Inn: This elegant mansion constructed in 1897 is set amidst the mountains of the Berkshires region. Guests enjoy Georgian-era fireplaces and large bathtubs in the rooms as well as proximity to Berkshire ski trails.
Applegate Inn: Revel in the elegance of the Gilded Age while staying at the historic Applegate Inn in Lee, Massachusetts. Guests are privy to a wine and cheese service, evening cognac and chocolates, and gorgeous rooms.
Select Registry has many members across the state. Check out our other charming Massachusetts properties.
California
Most people don't associate sunny California with great skiing, but there are actually many skiable mountains in the northern part of the state. This region offers trails for all levels from beginner routes to steep, mogul runs. Bring the whole family on a ski trip and take advantage of other winter activities like snowshoeing, cross-country skiing, and snowmobiling. Popular areas for skiing are Big Bear Lake, Lake Tahoe, and Tuolumne County. Top resorts include Alpine Meadows, Big Bear Mountain, Heavenly, Kirkwood, Northstar, Sierra at Tahoe, Sugar Bowl, Donner Ski Ranch Homewood, and Boreal Mountain.
Where to Stay
Washington Square Inn: Enjoy the luxurious accommodations offered at this San Francisco property in North Beach. Washington Square Inn is the perfect place to stay for travelers looking to explore both the city and the mountains.
Carter House Inns: Guests at Carter House Inns can choose to stay in one of three beautifully restored Victorian mansions in Eureka, California. With an on-site restaurant that serves up local dishes and its own Bourbon, this inn is the perfect place to relax after a day on the slopes.
If you're looking to take a trip to southern California, check out our other properties in the state!
Vermont
For anyone looking to ski on the east coast, Vermont is hands down one of the best states for skiing. With perfect powder coating the trails and tons of mountains the area, Vermont offers outstanding skiing for all. Some of the most popular places include Killington, Mount Snow, Stowe Mountain Resort, Sugarbush, among others. While visiting the state on a ski trip, you can stay in a quaint, countryside inn to get the full scope of Vermont living.
Where to Stay
West Hill House Bed & Breakfast: Though this charming bed and breakfast is a wonderful place to stay year round, it's ideal for the winter months. Just two minutes away from Sugarbush Ski Resort, this 1850s home-turned-lodge serves a daily, three-course breakfast and offers amenities like mattresses topped with memory foam and Jacuzzi bathtubs.
The Inn at Weston: The Inn at Weston is located in the southern part of Vermont near other popular ski resorts like Okemo. While staying at the inn, guests can take advantage of the steam-showers and sauna or relax by the fireplace in the library.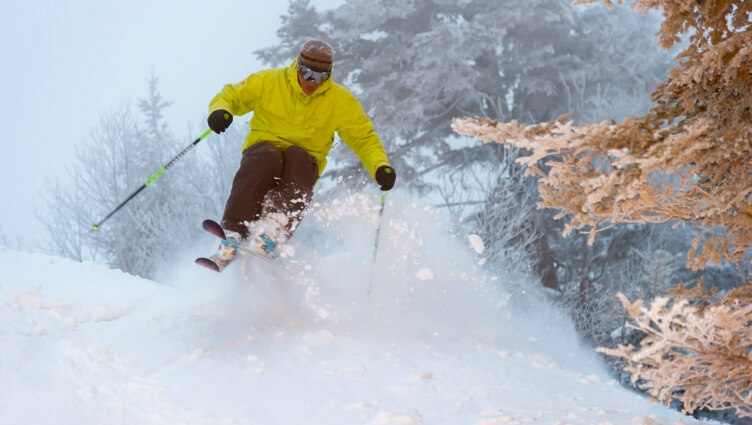 New Mexico
An abundance of snow and sun make New Mexico one of the best states for skiing in the U.S. Taos is one area in particular that visitors flock to every year. Other favorite ski areas include Angel Fire Resort, Pajarito, Red River Ski Area, Sandia Peak, Santa Fe, Sipapu, and Ski Apache. This state is also home to dozens of other unique outdoor attractions and beautiful independent lodging.
Where to Stay
Four Kachinas Inn: A quaint, Santa Fe property, the Four Kachinas Inn serves homemade breakfast daily and has a common area with complimentary snacks and beverages. The friendly, knowledgeable staff can suggest the best places for skiing near the inn as well as tons of other recommendations on things to do in the area.
El Farolito Bed & Breakfast: Another picturesque property in Sante Fe, El Farolito Bed & Breakfast is conveniently close to the historic central Plaza and also provides complimentary breakfast. Rooms at this inn boast private entrances, wood-burning fireplaces, and outdoor patios.
Stay Select!
Are you looking for more places to stay near alfresco attractions? Check out our catalog of Select Registry properties near or focused on outdoor adventures!