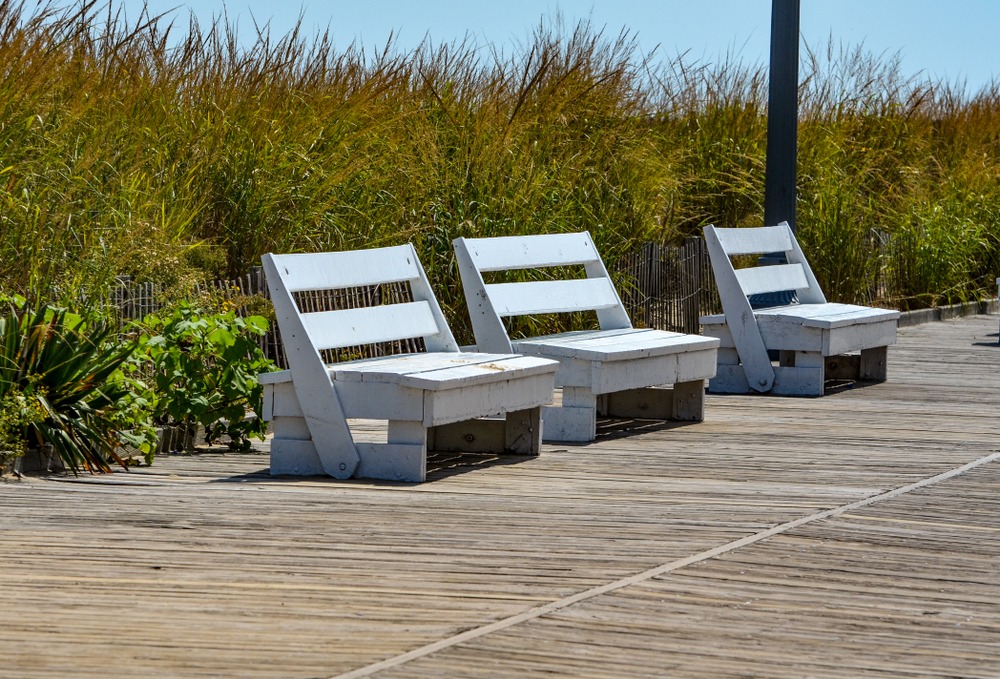 Walking along the Rehoboth Beach Boardwalk and visiting this quaint seaside city is at the top of our list of things to do on the east coast this summer. In a recent blog post, we wrote about all of the great things to do in nearby Cape May, New Jersey. In that blog, we connected Cape May to Rehoboth Beach via the Cape May Lewes Ferry, thus connecting two fantastic and beach-focused getaway towns. 
In this blog, we're going to talk a bit more about all of the things that await you in beautiful Rehoboth Beach, including the delightfully charming Rehoboth Beach Boardwalk.  
Whether you choose to visit both beach getaways or just one, know that there is a Select Registry Bed and Breakfast there, just waiting to take care of you.  All of our properties offer a unique combination of guest rooms and amenities, but they are all dedicated to high-quality experiences and excel in hospitality.  
With domestic travel looking more likely again this summer, we look forward to sharing our favorite parts of the country with you!  Ready to start planning?  Let's head to Rehoboth Beach for a bit of fun in the sun!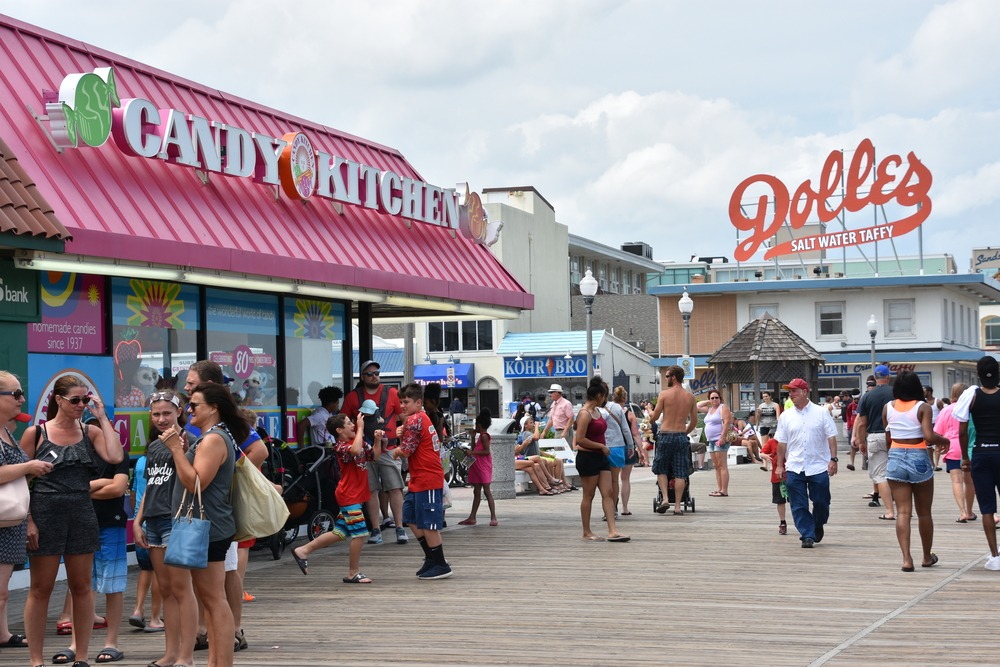 Stroll the Rehoboth Beach Boardwalk
The Rehoboth Beach Boardwalk is 1 mile long and is one of the top attractions in the city – aside, of course, from the stunning beaches nearby. Along the entire length of the Rehoboth Beach Boardwalk, you'll find a range of eclectic shops, restaurants, and family attractions. It was actually the Rehoboth Beach Boardwalk that led this charming coastal destination to be named one of the nation's 10 Great Coastal Boardwalks by National Geographic.
While you may think that the Rehoboth Beach Boardwalk is only a good place to spend time during the summer, you're wrong. This beating heart of the city actually serves as the backdrop for a variety of fun festivals and events throughout the year.
Whether you're looking for a place to people-watch or browse local shops, the Boardwalk is a "must" visit. Here are just a few of the top attractions you'll enjoy along the Rehoboth Beach Boardwalk:
No trip to Rehoboth Beach would be complete with some salty vinegary goodness from Thrashers. Their fries are legendary, having been served on the boardwalk since 1929, and they are the perfect thing to snack on as you walk the length of the Rehoboth Beach Boardwalk.
Grab a kite at the Rehoboth Toy & Kite Company, and then head out to the beach for an afternoon of fun.
Enjoy live music at the Rehoboth Beach Bandstand. The town has been offering free summer concerts here since 1963. The 2021 season will kick off on June 11!
For an old-fashioned treat, grab a funnel cake to share at the Funnel Cake Factory.
Though there's plenty to see and enjoy on the Rehoboth Beach Boardwalk itself, don't forget to stop and enjoy the views out over the beaches and ocean as well.
You can't skip a bit of old-fashioned fun on the Rehoboth Beach Boardwalk. For that, head to Funland, which has been operating here since 1962. Five of their original rides are still running and there are plenty of new ones, for a grand total of nineteen rides and games.
Cool off on a hot summer day with some ice cream, available at a few places along the boardwalk, including The Ice Cream Store.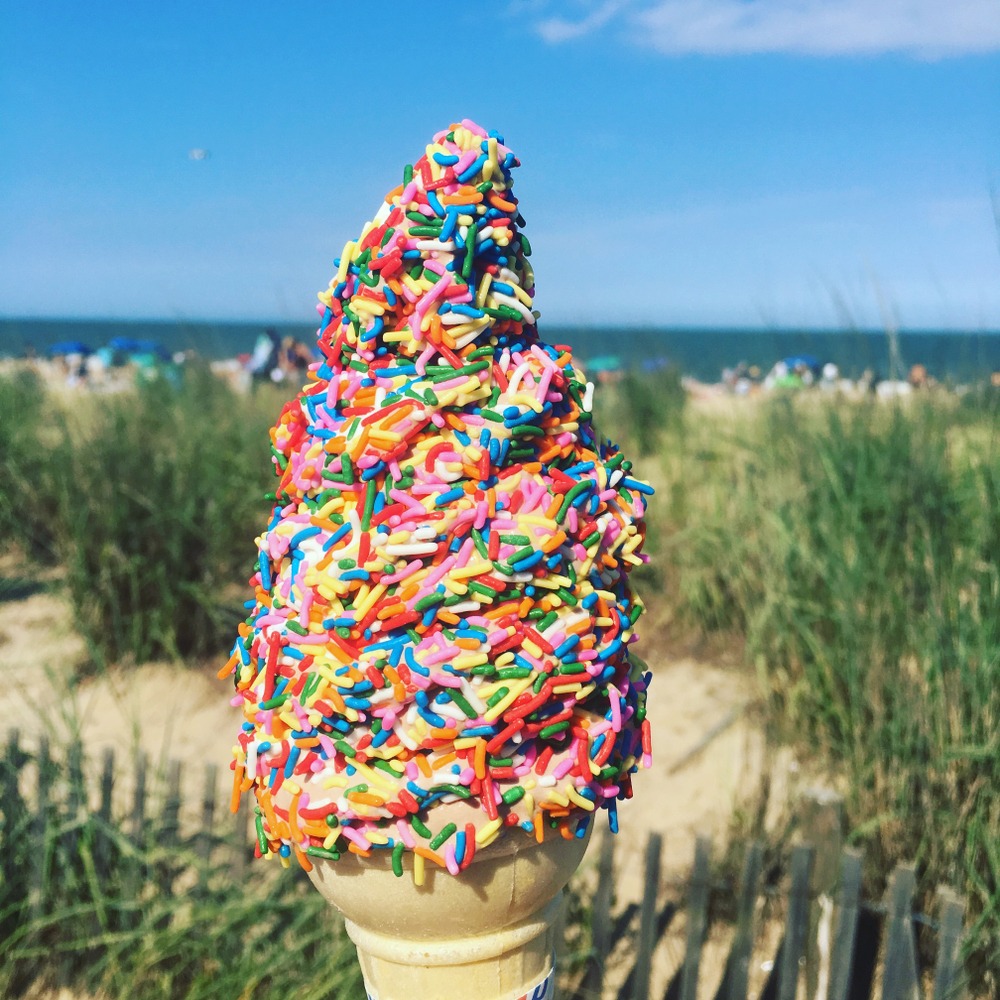 More Things to do Near Rehoboth Beach
Though the Rehoboth Beach Boardwalk is a sight to behold while you're in town, it's certainly not all this coastal town has to offer!  Here are a few other ideas for how to best enjoy your getaway to Rehoboth Beach: 
Spend a day on the town's namesake, Rehoboth Beach!
Get out on the water for some kayaking, paddleboarding, or sailing.
Dine at local restaurants, where the seafood is the star of the show. If you want a quick introduction to coastal cuisine, take the Eating Rehoboth Tour. 
Visit Cape Henlopen State Park, which offers a scenic view of the Atlantic Ocean and Deleware Bay, along with a former World War II Fort. The park is also home to Gordon's Pond and one of the most popular hiking trails in the area. It's a popular place for nesting shorebirds in the summer, too. 
Deleware Seashore State Park, just a few minutes down the coast from Rehoboth Beach, is a wonderful place for swimming, boating, surfing, and more. It's also one of the best fishing destinations in the area, with a number of charters available out of the Indian River Marina. 
If you'd like to extend your coastal vacation from Rehoboth Beach to Cape May, New Jersey, you'll find a guide to the area here, as well as links to Select Registry lodging in the area below.  We hope to see you out on the coast this summer!
Best Rehoboth Beach Bed and Breakfast
The Bellmoor Inn & Spa is a resort hotel offering an upscale lodging experience in Rehoboth Beach Delaware, with a variety of fabulous luxury hotel features and unique lodging amenities. Enjoy peace and relaxation in our spacious guestrooms and suites and take advantage of our elegant, beachside accommodations that are the ideal lodging option for family vacations, romantic weekend getaways, and corporate retreats.
The Bellmoor Inn & Spa features a central location near the best attractions, beaches, museums, entertainment, shopping, dining in Rehoboth Beach, and our casual, yet elegant, atmosphere, friendly staff, and unique vacation packages make The Bellmoor the ideal hotel choice in Rehoboth Beach.
Cape May Bed and Breakfasts
The Queen Victoria Bed & Breakfast
Welcoming guests since 1980, The Queen Victoria offers rooms and suites furnished with fine antiques and handmade quilts. The decor is uncluttered, with great attention to detail and many thoughtful extras. Choose from thirty-four unique, inviting, and spacious rooms and suites, all with private baths.
The Queen Victoria is conveniently located in the heart of Cape May's historic district, one block from the Atlantic Ocean, with tours, shops, and fine restaurants. For your true Victorian enjoyment, fifty rocking chairs fill porches, gardens, and a rooftop sundeck. A wicker swing takes you back to a quieter time.
The Mainstay Inn was originally known as "The Clubhouse," a 19th-century pleasure palace, where gentlemen gathered in an elegant setting for gambling and other amusements. Since 1976, visitors have been able to enjoy the same grand spaces, with fourteen-foot ceilings, and museum-quality antiques.
The twelve spacious guestrooms are furnished with splendid antiques, much as they were in the 19th century, but now all have private bathrooms with tub and shower. Guest in the Inn and Cottage enjoy a delicious breakfast each morning, and there is an afternoon happy hour.  We give you everything you need to enjoy a day at the beach, too.