Do you love spring's spectacular blooms? The longer, sunnier days and warmer weather make you want to get outside and enjoy your area's beautiful flowers. You could grow your own flowers, but why not spend a weekend somewhere that's known for its colorful blossoms?
See Beautiful Flowers Throughout The U.S. If you'd like to visit one of these properties, please ask when their flowers are in bloom so you can take advantage of the natural beauty during your stay! The innkeepers are happy to tell you more about their gardens and recommend local flower attractions and events to make your stay memorable.
Here are our top 10 places to visit with beautiful flowers.
1. Fall In Love With A Field Of Lavender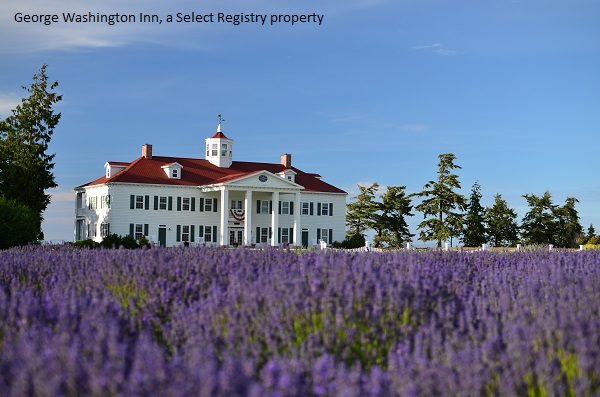 Where: The George Washington Inn in Port Angeles, Washington
If you've ever wanted to run through a field of vibrant flowers, this is your chance! Sitting on a high bluff overlooking the Strait of Juan de Fuca and the majestic Olympic Mountains of Washington, the George Washington Inn shares its property with a magnificent lavender farm.
The Washington Lavender Farm produces some of the finest essential oil and lavender products around! This breathtaking property is the perfect place for nature photographers and nature lovers to visit during the springtime.
2. Feel Pretty In Pink In Pennsylvania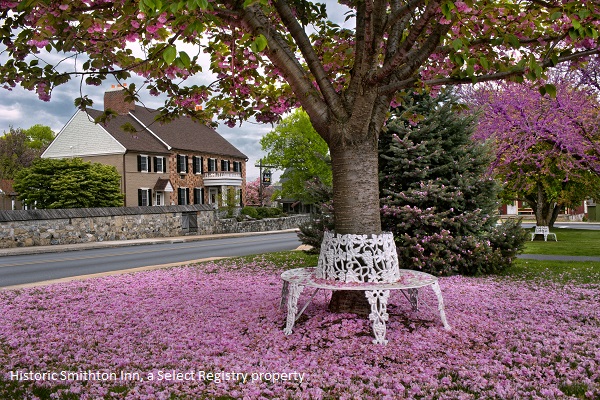 Where: Historic Smithton Inn in Ephrata, Pennsylvania
When you visit the Historic Smithton Inn during the spring, you'll appreciate how convenient its location is to all of the diverse attractions throughout Lancaster County! Restaurants, shopping, and other fun things to do are within a short 20-minute drive.
If you don't feel like exploring, this also happens to be a great place to appreciate nature. During the spring, the trees burst with bright pink and purple blooms! Take a moment to sit underneath one and be amazed by its beauty. Read a book, the morning paper, or just relax!
3. Dine On Fresh Flowers In Northern California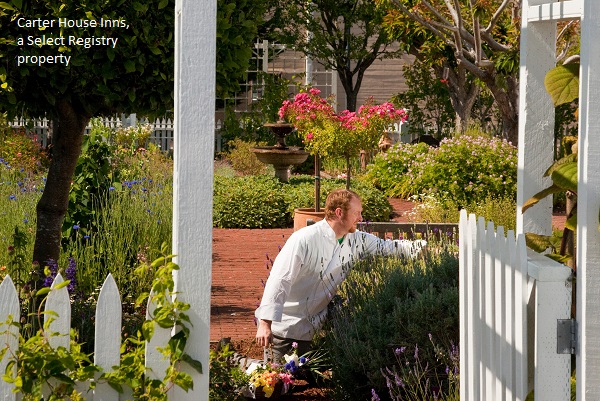 Where: Carter House Inns and Restaurant 301 in Eureka, California
A visit to Northern California calls for a delicious meal at Restaurant 301, the excellent culinary addition to the Carter House Inns. Considered one of the best places to dine in the area, Restaurant 301 serves award-winning cuisine crafted from local organic products and fresh herbs, greens, and veggies from the inn's extensive gardens!
The gardens at the Carter House Inn are full of beautiful flowers to eat and marvel at. It's one of the best places to connect to nature because the inn's flowers are deeply intertwined into your lodging experience!
4. Relax On The Porch Surrounded By Baskets Of Blooms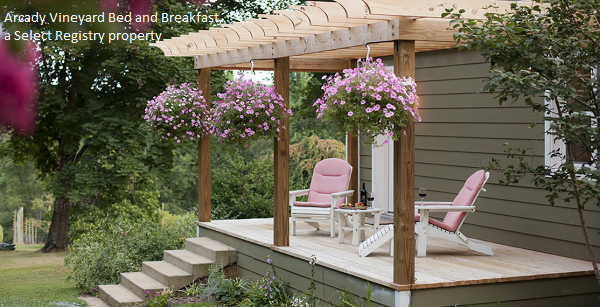 Where: Arcady Vineyard Bed and Breakfast in Charlottesville, Virginia
Did you know Arcady means "an ideal rustic paradise?" When you stay at the Arcady Vineyard Bed and Breakfast, you'll see firsthand how the B&B lives up to its name. Its 13 peaceful acres feature a vineyard of 450 grape vines, making it the only bed and breakfast in Charlottesville with a working vineyard!
When you'd like some quiet time, take a seat on one of the back porches and enjoy the view of the vineyard and wildlife. The vibrant hanging flower baskets also add a nice touch, making this a perfect spot to enjoy beautiful flowers!
5. Be Amazed By Historic Cape Cod's Beauty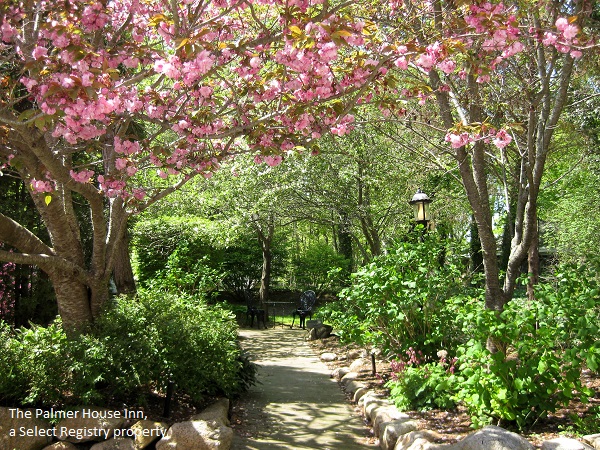 Where: The Palmer House Inn in Falmouth, Massachusetts
The beautiful flowers at the Palmer House Inn are as charming as the inn and the town of Falmouth itself! Located in the historic district, this Cape Cod bed and breakfast is a Queen Anne style home full of gentility and romance! The colorful garden is a source of relaxation for guests and ingredients for the inn's culinary pursuits.
Each morning, start your day with an excellent breakfast crafted with fresh herbs from the garden. Dine in the breakfast room, which overlooks the peaceful garden. After breakfast, spend some time outside exploring the property or head offsite to near beaches, quaint shops, and delicious restaurants!
6. Go Green In Vermont's Idyllic Countryside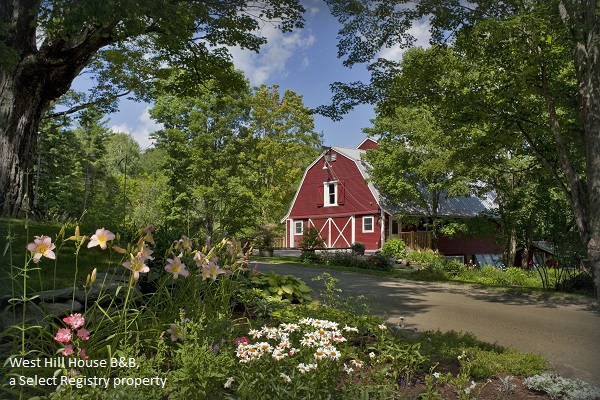 Where: West Hill House B&B in Warren, Vermont
Escape to Vermont's countryside this spring and choose the West Hill House as your home away from home. Dating back to the 1800s, this idyllic bed and breakfast is nestled in a hillside forest and surrounded by gorgeous gardens of bright perennials!
When you stay here, you're not only making a smart decision for yourself, you're also supporting the innkeepers' extensive efforts for a cleaner planet! The West Hill House is considered a green hotel in the state of Vermont because it makes every effort to minimize its environmental impact. It even offers guests complimentary overnight EV charging!
7. Relax Under Pink Blossoms In Stockton, New Jersey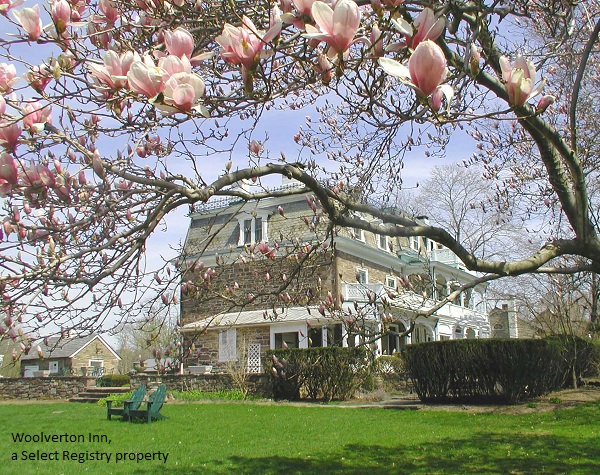 Where: Woolverton Inn in Stockton, New Jersey
Situated high above the scenic Delaware River, the Woolverton Inn is a beautiful place from another time. Dating back to the late 1700s, this romantic New Jersey bed and breakfast sits on 300 acres of rolling farmland and forests!
Its grounds offer guests a quiet, bucolic setting that becomes vibrant during the springtime! Pink blossoms and bright blooms can be found throughout the property. The beautiful flowers are complimented by the inn's sheep and goats, which graze in the back garden all year long.
8. Find Peace At A Prairie Style Inn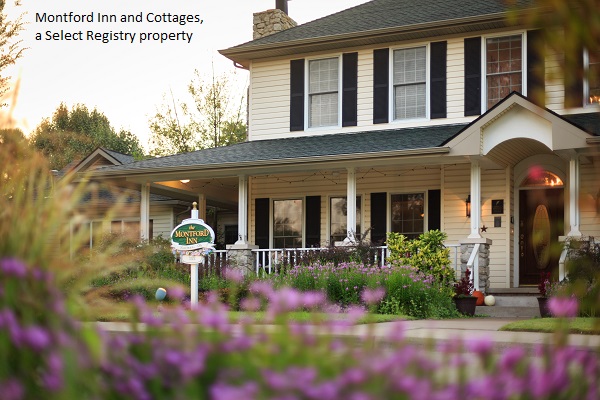 Where: Montford Inn and Cottages in Norman, Oklahoma
Centrally located in the heart of Norman's Historic District, the Montford Inn is a peaceful oasis a few blocks from the University of Oklahoma! With colorful grounds, this prairie-style inn offers guests a serene atmosphere.
Sit on the inn's lovely wraparound porch and enjoy the bursts of purple blooms! If you're visiting the University of Oklahoma for a sporting event or for your child, considering staying at the Montford Inn. It's a more peaceful and relaxing alternative to Oklahoma City, which is just 30 minutes away!
9. Escape To A Colorful Oasis In Durham, North Carolina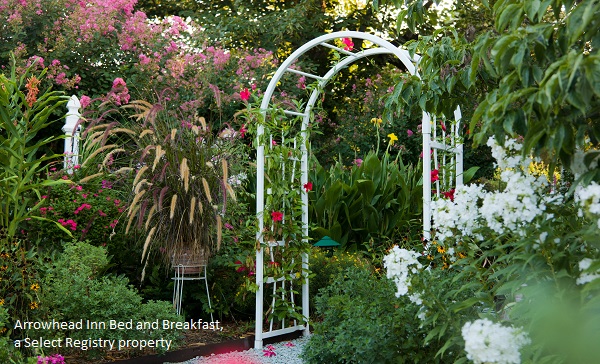 Where: The Arrowhead Inn Bed and Breakfast in Durham, North Carolina
A short drive from Duke University and other popular North Carolina attractions is the Arrowhead Inn, an 18th-century plantation estate set on six acres of green gardens. The lush grounds of this Durham bed and breakfast come alive during the spring!
Imagine spending the afternoon strolling under blooming magnolia and pecan trees and admiring all of the beautiful flowers on the B&B's grounds. Sit outside in the evening with a glass of wine and you might catch a glimpse of fireflies or even deer!
10. Be Amazed By Artfully Designed Gardens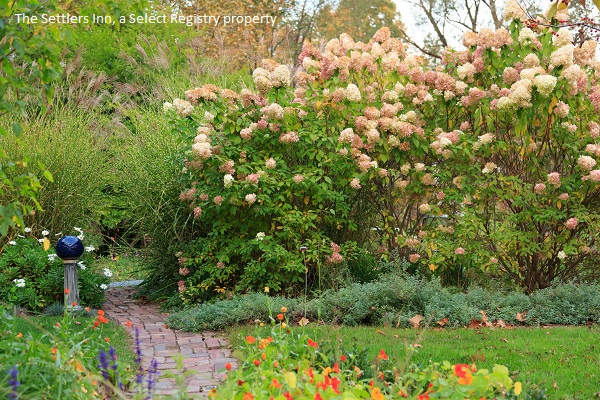 Photo by Jumping Rocks Photography.
Where: The Settlers Inn in Hawley, Pennsylvania
Considering the Settlers Inn is an authentic 1920's Arts and Crafts Lodge, it's no surprise the inn's gardens are also a work of art! During the spring, the gardens feature dozens of varieties of beautiful flowers bursting with every color imaginable.
There are several paths to follow through the gardens if you'd like to take a walk. Guests love to explore the property and admire the small pond and its wildlife. When you walk around the Settlers Inn, you never know what nature has in store for you. Some guests have even reported sightings of a bald eagle!
Where will you go for your spring vacation? Do you have any properties to add to our list of the top places with beautiful flowers?