With unparalleled fall foliage, snow-covered mountains, colorful spring blossoms, and gorgeous summer weather, Vermont is the perfect destination any time of the year. If you're looking to plan a getaway with your special someone, this New England state is the place to go. Envision yourselves cozied up around the fireplace in a quaint log cabin, or exploring the many hiking trails with spectacular summit views. To help you plan your trip, we've compiled a list of our favorite romantic things to do in Vermont.
As you research more about the Green Mountain State, be sure to check out our other properties in the area. Located throughout the state, these charming inns and B&Bs are located near plenty of other romantic things to do in Vermont.
Discover the Most Romantic Things To Do in Vermont
1. Cruise Through One of the Romantic Small Towns in Vermont
This state is well-known for its stunning natural landscape and dreamy little towns. One of our favorite places is Sunderland, Vermont, located in the southwest corner. Explore the rustic beauty of this charming village and take a photo with the pastoral Chiselville Covered Bridge. Cruise along the Skyline Drive to the summit of Mount Equinox for breathtaking views of the numerous surrounding mountain ranges.
Where to Stay:
Hill Farm Inn in Sunderland, Vermont
The Hill Farm Inn is the epitome of Southern Vermont history and beauty. Nestled in the Green Mountains near Mount Equinox, this property is more than 200 years old with a house built in 1790 and an inn crafted in 1830. The picturesque lodge has been restored and preserved but updated with modern amenities such as the onsite pub, game room with a billiards table, and the hot tub and saltwater pool. Explore the property's walking trails, interact with the farm animals, and stay close to nearby activities.
The Grafton Inn in Grafton, Vermont
The Grafton Inn is one of the oldest operating inns in America.  Beyond a comfortable home base for your Vermont vacation, a trip to The Grafton Inn puts you front-and-center with some of the most imaginative cuisine and farm-to-fork offerings in southern Vermont.  A stroll through Grafton village uncovers charming artist studios and boutique shops, while Vermont's great outdoors beckon with seasonal activities like snowshoeing, cross-country skiing, mountain biking, and hiking available just down the road at the Grafton Trails & Outdoor Center. Quiet and relaxing or active and adventurous, The Grafton Inn is here to help you create the Vermont experience you're searching for.
2. Take A Peek at the Vibrant Fall Foliage
There's nothing quite as romantic as taking in a view of the majestic Vermont mountains sprinkled in bright shades of red, yellow, and orange. Visit the state with your sweetheart in late September or early October for prime leaf peeping time. Hike through one of the many mountain trails together to truly experience the beauty of autumn in Vermont.
Where to Stay:
The Inn at Ormsby Hill in Manchester Center, Vermont
Surrounded by extensive views of the Green Mountains, the Inn at Ormsby Hill is the perfect place to stay in Manchester Center for leaf peepers. In the fall, you'll be greeted by towering trees bursting with color just outside the inn's front door. From the property, you'll also get panoramic views of the mountainous terrain. Stay onsite and stroll through the gardens or relax by the fire in the gathering room.
The Inn at Manchester in Manchester, Vermont
Tucked away in the breathtaking landscape of the Green and Taconic Mountains, the Inn at Manchester provides an idyllic home base for exploration of Vermont's Fall Foliage.  Browse local galleries, cast a fly in the famed Battenkill and Mettawee rivers, hike, bike, ski, shop and more.  Maybe take a stroll around the beautiful grounds, a dip in the pool, or just relax in a rocker on the porch. Then head in for cocktail hour in the cozy, living-room style pub – one of the places where guests gather to relax and socialize.
3. Experience the Magic and Intimacy of Smaller Lodging
One of the best aspects of staying at an inn or bed and breakfast is the personalized experience. You're welcomed into the property like an old friend with home-cooked breakfast each morning and an attentive staff to help tailor your experience. Every couple wants to experience different on their romantic getaway, so staying at a bed and breakfast is a great way to take a vacation suited to your needs.
Where to Stay: Deerhill Inn in West Dover, Vermont
Featuring all of the charm and personalization you seek, Deerhill Inn is conveniently located near the ski trails of Mount Snow and two area golf courses. Order a delicious breakfast or dinner from the menu focused on incorporating local ingredients. Stay in one of the 13 rooms and enjoy the outdoor pool, library with a chess board, and scenic views of the Green Mountains.
4. Hit the Winter Slopes With Your Special Someone
While many people claim that March is the best time to ski in Vermont, it's also the most popular time for familiar to hit the slopes together. Planning a romantic ski trip with your sweetheart a few months early is a good way to avoid crowds and advantage of quieter trails. Skiing is one of the best romantic things to do in Vermont during the winter. Experience this exhilarating sport while taking in the stunning scenery with your special someone.
An excellent place to ski is the Mad River Glen, whose catch phrase is "Ski it if you can". While some people choose to stay at the ski resort, booking a room at a quaint inn is a more intimate and relaxing way to spend a romantic trip.
Where to Stay:
West Hill House in Warren, Vermont
Though this charming bed and breakfast is a wonderful place to stay year round, the West Hill House ideal for the winter months. Just minutes away from Sugarbush Ski Resort and Mad River Glen, this 1850s home-turned-lodge is a great choice for a ski getaway.  Their amazing three course breakfast will fuel you for your day on the slopes.
The Swift House in Middlebury, Vermont
The Swift House Inn's three buildings are on 4 acres of extensive lawns and gardens.  The Middlebury College Snow Bowl is an excellent location for great family skiing offering terrain for all skill levels. If you want the big mountains, Mad River Glen, Sugarbush, or Killington are less than an hour drive away.  After your day on the slopes, Enjoy a casual dinner in the bar, or in Jessica's Restaurant. Relax, sip a glass of wine from their Wine Spectator Award winning wine list by the fireplace.
5. Spend A Weekend At the Lake
A visit to Silver Lake in Barnard, Vermont, is an excellence spring or summer getaway. Plan a picnic by the lake or spend the day fishing from the shore. There's no end to the list of romantic things to do in Vermont when you visit this quaint area. Head 15 minutes north to Woodstock, Vermont, and explore the popular farmers market or sample delicious cheese at Sugarbush Farm.
Where to Stay: Jackson House Inn in Woodstock, VT
A stay with at the Jackson House Inn is like visiting your most fashionable friends in the country--if your friends are given to world-class art, Italian linens, and English landscape gardens.  The works of local artisans such as Shackleton Thomas, Simon Pearce, and Farmhouse Pottery are featured throughout the inn.  Savor unique, "out of the ordinary" breakfasts featuring local ingredients with a focus on fresh and organic, and explore three acres of landscaped gardens.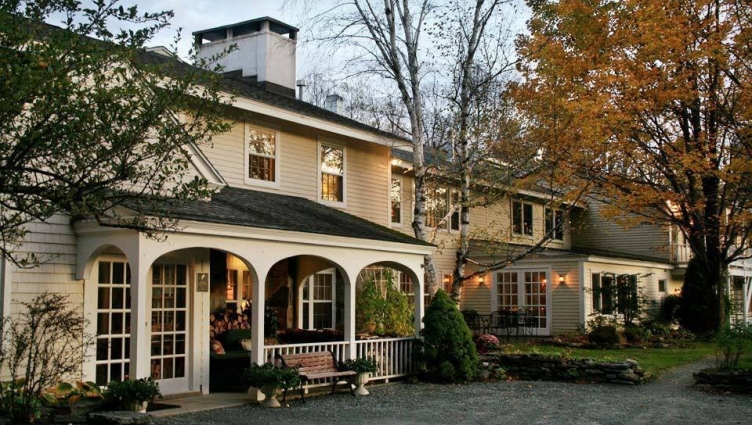 With so many different towns and sites to explore, Vermont has an endless list of places to take a romantic trip. Browse our complete catalog of Vermont properties and start planning your special trip today!